Local
In call for systemic change, Boston city councilors have backed Ayanna Pressley's resolution against police brutality
"This system will not crumble easily. Dismantling it will take work, it will take political will, and it will take all of us – every one."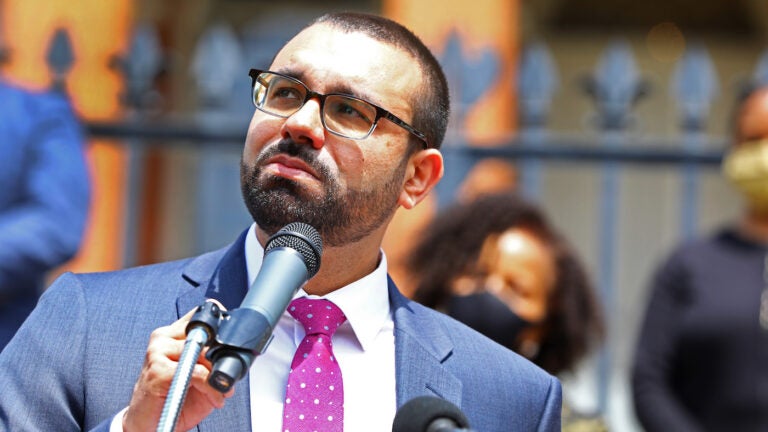 Boston city councilors Wednesday re-affirmed the need for systemic changes to usher accountability and racial equity into everything from housing and public health to law enforcement practices, energized by the outpouring of anger and frustration that has gripped the country over the death of George Floyd.
"So often during this COVID-19 pandemic we hear of the desire to return to normal," Councilor Julia Mejia said, referencing Black Americans killed by police in recent years, including Floyd, who was killed in police custody in Minneapolis last week. "But if this is what normal looks like, we have no business going back there in the first place."
Mejia said that work starts with the resolution she and co-sponsors councilors Ricardo Arroyo and Kim Janey offered in support of the Congressional resolution condemning police brutality, racial profiling, and the use of excessive force recently filed by U.S. Reps. Ayanna Pressley and Ilhan Omar, of Minnesota.
The council voted 12-0 during a remote hearing to support the resolution. Councilor Frank Baker was not accounted for during a roll call vote.
Pressley has said her resolution seeks to ensure law enforcement agencies are held accountable and calls for systemic reforms "at all levels of government to end the scourge of police brutality in our society."
The filing also calls for improving oversight of law enforcement agencies by supporting the creation of all-civilian boards to review alleged cases of police misconduct, and by calling on the Department of Justice to investigate and litigate cases of racial profiling and police brutality for officers and departments who "routinely" violate civil rights.
Mejia framed the council's supporting resolution as a statement of values, and was among several councilors who said a widespread, systemic response requires city officials to reconsider how Boston spends its money.
"Our budget is also a values statement. We don't just need resolutions — we need to change how we fund our police department," Mejia said.
"If the goal of the police is to protect and serve, we need to start focusing on the service part," she added. "That means less money for facial recognition software that disproportionately misidentifies black and brown people, military gear that injures peaceful protesters, and that so-called 'gang' database, and yes, overtime as well."
Arroyo, a first-term councilor who made systemic racism the focus of his maiden speech in March, said the issue has tangible components.
"They look like a gang database that classifies you for life and that you can be added to without being seen or alleged to have committed a crime. A gang database that is 97 percent people of color and well over 7 percent Black in a city where Black people only comprise 23 percent of the population," Arroyo said. "They look like the same 23 percent of the city's population accounting for 70 percent of the Boston Police Department's field interrogation and observations. They look like the Boston Police Patrolmen's Association declaring in a written letter just three months ago during Black History Month no less that Boston Public Schools should not participate in Black Lives Matter at School Week."
"I could go on and on, but systems … are creations with real offices — our offices — we're at one system's headquarters," he added later. "We have a responsibility to hold it accountable and to speak and act on these deep inequities every day."
Other councilors offered that systemic change includes establishing a civilian oversight board to review complaints against police, upgraded body camera policies, and amending civil service processes to diversify law enforcement.
"Right now in our police department, our top bureaus, which are overseeing gang units, the major bureaus, the ones with the most significant power, are all run by white men," Councilor Andrea Campbell said. "We need to fix that."
Councilors also turned a critical eye towards monitoring how the city decides who gets its business.
In 2018, less than 1% of the city's $664 million in procurement contracts were awarded to businesses owned by minorities or women.
"We need legislation that lifts up the people who have been left behind. We need legislation that tackles discriminatory housing, we need legislation that deals with our overwhelming and persisting development and achievement gap in our schools," Janey said. "We need the strategies to deal with the health disparities. And we all know about the wealth gap in Boston … I hope we recognize how we got here with that wealth gap, and that that was created by policy.
"I know that this system will not crumble easily," she added. "Dismantling it will take work, it will take political will, and it will take all of us — every one."
Janey opened Wednesday's meeting with a moment of silence lasting 8 minutes and 46 seconds — the amount of time, as seen on video, that Floyd pleaded for his life as Officer Derrick Chauvin pinned his knee against his neck and Floyd went unconscious. She urged councilors and those watching the meeting to reflect on what they can do to prevent a similar death from happening again.
"I would ask that that be the only silence that we take in moments like this because what we really need is everyone's voice … When you see injustice — and it's all around us — I really hope people speak up," Janey said.
Read the full resolution:
<hr>
<h2>Peaceful protesters gather in Boston Common Wednesday</h2>