Local
'A nation in peril': In Boston and throughout the U.S., the NAACP grapples with a state of emergency
"This frustration and anger and fear that we have, turn it into jet fuel and let it take you exactly where you all, and we all, need to go, and that's to a voting booth."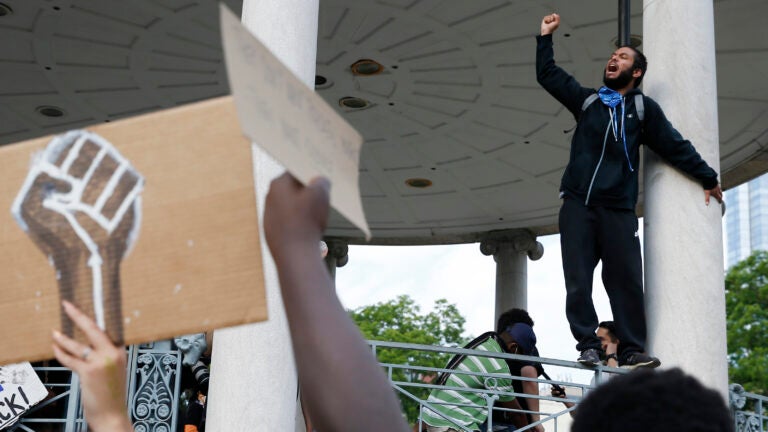 The unrest and outrage over systemic racism and police violence against Black people in the wake of George Floyd's death in Minneapolis has transfixed the nation, leading many to ask: Where does America go from here? 
"There are household names that are known for the pain and the hurt associated with them — Tamir Rice, Eric Garner, the names go on and on, Michael Brown, Trayvon Martin," said New Jersey Sen. Cory Booker. "These are men that should not be household names for these reasons. Tamir Rice should be a Rhodes Scholar, he should be a Stanford student, he should have gone on to have the kind of promise and possibility that his precious life presented us."
People are angry, Booker said, and they should be. 
"The question is and has to be, how will we respond?" the U.S. Senator asked Wednesday evening during the the National Association for the Advancement of Colored People's "Emergency Virtual Town Hall: A Nation in Peril," which discussed how the images and energy surrounding recent protests, both in Boston and throughout the country, can bring about structural change through public policy. 
#WeAreDoneDying #JusticeForGeorgeFloyd #BlackLivesMattter https://t.co/C6NgiGo5jD pic.twitter.com/SZ0OXRWkwr

— NAACP (@NAACP) June 3, 2020
"I do not want to go through these cycles, where every reality for so many Blacks in America is captured on videotape for the horror, for everyone to see, and becomes a moment of national spasm, and uplift and tumult, and then we go back to normal," Booker said. "A normal that is insidiously unacceptable."
Hoping to sustain the movement, Booker and Sen. Kamala Harris, two members of the 55-member Congressional Black Caucus, are working on a comprehensive piece of legislation that offers a vision for police reform, including data collection, holding police officers to levels of accountability in civil and criminal law at the federal level, re-evaluating certain policing practices like implicit bias training, and putting a ban on chokeholds, he said. 
As a society, Booker said America tends to deal with challenges facing Black Americans, not with policies addressing health care, mental health care, drug treatment, housing, or education first, but with ones that "ultimately snuff out the promise of humanity."
"We deal with our challenges with police, prisons, and jails," he said. "Now [we're] at a distraught present, where there are more African Americans under criminal supervision, prison, jail, parole or probation, than all the slaves in 1850."
Booker said Floyd's death is not new ground, and that the country has seen this violence against Black bodies before, but "the power of the people is greater than the people in power." 
The recent protests flooding the streets, he said, have been like glimpses into the past, though this moment in history is different from the rest. 
"This is gonna be hard … it is going to be gut-wrenching, but we've got to keep up the fight," Booker said. "This is a moment in American history where there's a confluence of disasters and things happening —  we have a potential economic condition as bad as the Great Depression of the 1930s. We have a pandemic as bad as the pandemic of 1918. And we potentially have upheavals [just] as significant with over 100 cities' demonstrations in all 50 states." 
All of this, he added, happened just since the start of 2020. 
"Yes, this is difficult and painful, but this could be a year also that marks a tremendous, great change," he said. "We can make that happen. We will have to work. But all of us have a responsibility to keep the pressure on."
'The ghost in the room'
One way to keep up the fight is by voting, said Dr. Cedric Alexander, a retired public safety director of DeKalb County, Georgia. 
"This frustration and anger and fear that we have, turn it into jet fuel and let it take you exactly where you all, and we all, need to go, and that's to a voting booth," Alexander said.  
Val Demings, U.S. representative of Florida's 10th congressional district, and former chief of the Orlando Police Department, said for "a country that we say is the greatest country in the world, the land of opportunity," it's painful to still be talking about police misconduct and racial inequality.  
"Racism is still the ghost in the room and it rears its ugly head in every walk of life," Demings said. "In police departments, in the corporate world, in education, housing, certainly in health care as we look at the disproportionate response of COVID-19 on African American communities with all of the tragedies and the pains that we witness, not just in this incident, but through the years." 
Yet she said the rallying cries of people from all backgrounds demanding change during the recent demonstrations have kept her faith high.
"I still feel extremely hopeful," she said, adding that the dramatic scenes from the last few days have been different because several law enforcement executives, including the president of the police union, spoke out almost instantly after Floyd's death to condemn it, and instead of looking at isolated incidents within police departments, many are calling for systemic change.
'Awakening' in Boston
At the local level, Tanisha M. Sullivan, president of the Boston NAACP branch, said while Floyd is not the first person to be killed in the manner he was, she's encouraged by the "awakening" that so many people in Mass. have had as they join protests. 
"I'm just prayerful that that outrage is turned into legislative action, and policy changes, because we cannot have another killing like that of George Floyd, and it is totally within our collective power as a society, as a community, to help ensure that that does not happen," Sullivan said. She nodded to the power behind the pen when local officials sign policy change, such as Somerville Mayor Joseph A. Curtatone declaring systemic racism a public safety and health emergency on Wednesday.
Moving forward, she said the Boston NAACP chapter is pushing for the establishment of a civilian review board with subpoena power, a full implementation of body-worn cameras for the Boston Police Department, a review of all de-escalation protocols, a ban on the use of chokehold and knee holds, and advocacy to implement a decertification process for police officers. 
"These types of reforms are about keeping us all safe," Sullivan said. 
What really makes this moment in time different, she added, is that millions have witnessed Floyd's death from multiple camera angles and in broad daylight. 
"We've all seen that, and we can't unsee it," she said. "We've all heard Mr. Floyd's cries out for help. We can't un-hear those."
Sullivan said the images of his murder "are searing." 
"They have left a brand on the hearts and the minds of so many people that it is different," she said. "There was always an excuse before, it was always an excuse of, 'Well, maybe we don't know the whole story.' In this situation, oh my God, the world knows the story."
That's what makes her hopeful that more people will join the fight to become aware of racism and "the power that racism can have if we do not work collectively to fight against it," Sullivan said. "This truly is a matter of life and death."