Local
Photos: The National Guard's daily presence in Boston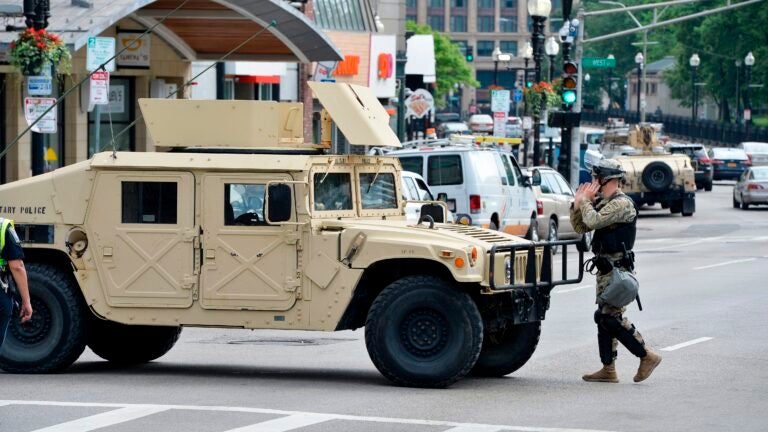 In the days since violence and looting erupted in downtown Boston, the presence of the Massachusetts National Guard has remained visible on the city's streets.
The National Guard was deployed to Boston on Sunday night, after hours of peaceful demonstrations against the death of George Floyd gave way to destruction and violence. Boston police arrested 53 people, and officials said nine officers and 18 bystanders were transported to local hospitals with injuries. Dozens of businesses in the downtown area were looted and suffered damage. Since Sunday, peaceful protests have continued daily in the city and across Massachusetts, with thousands of people demonstrating against the deaths of Black Americans at the hands of law enforcement.
Below, a look at scenes from downtown Boston since the unrest erupted on Sunday.
The National Guard is still out in force in downtown Boston. pic.twitter.com/Pa0Ucg0u8T

— David Abel (@davabel) June 3, 2020
These are military police, heavily armed, at the site of the Boston Massacre. There are several sizable groups of them as well as an armored vehicle. #bostonprotest pic.twitter.com/w4OQBtOCnA

— Sam Mawn-Mahlau (@BostechLegal) June 3, 2020
for people at the boston protest right now please be careful very heavy police and national guard presence pic.twitter.com/9IsIgAVSdS

— ashley (@prfctfilms) June 3, 2020
Military vehicles and troops with automatic weapons on Boylston Street in Boston#Boston#NationalGuard pic.twitter.com/zg7W6RGch8

— jeff zilberfarb (@zilberfarb) June 3, 2020
It's raining in Downtown Crossing now. A bunch of military police are on Washington Street. No protesters. pic.twitter.com/VLkdpCIrL6

— Gal Tziperman Lotan (@tzigal) June 2, 2020
The marked military police vehicles are back at Park Street and at Downtown Crossing. And all around them people are walking around like things are (sort of) normal — occasionally somebody stops to take a picture. pic.twitter.com/6Nii0RssBz

— Gal Tziperman Lotan (@tzigal) June 2, 2020
Military police outside Brooks Brothers on Newbury Street in Boston, MA pic.twitter.com/5xNqUYxe3l

— Stephanie Murray (@stephanie_murr) June 2, 2020
To give you a sense of the seriousness of what's going on in Boston right now, I haven't seen humvee on Boylston Street since the Boston Marathon bombing. I just saw three on Boylston and three on Newbury Street. pic.twitter.com/1p57cqAdaf

— Lisa Kashinsky (@lisakashinsky) June 2, 2020
Across town from the Black Lives Matter Boston rally in Franklin Park, police are walking down a boarded-up Newbury Street batons in hand, and military police just rolled up. They're telling people to stay safe. pic.twitter.com/NyxmFpMkkN

— Lisa Kashinsky (@lisakashinsky) June 2, 2020
24 hours later in downtown Boston #BostonProtests #bostonprotest #NationalGuard #boston #BlackLivesMatter pic.twitter.com/Mm4xVdpD0d

— geocomeau (@geocomeau) June 2, 2020
The last time I remember the national guard in #Boston was after the bombing and they were SPARSE. Today, all of downtown and back bay are closed and boarded up with ntl guard on every corner with humvees and weapons. Totally proportionate response to potential looting. Damn pic.twitter.com/PGFZIIndOe

— Kate LaGarde (@KateLaGarde) June 2, 2020
National guard entered Boston Chinatown. pic.twitter.com/uu4qwv8KYQ

— Boston Summer 夏一树 (@bostonsummerx) June 2, 2020
Just another spring night in Boston, where the National Guard has taken over many corners. pic.twitter.com/wTvdDPZQnf

— David Abel (@davabel) June 2, 2020
Cops with large sticks. Military police with assault rifles. Humvees with what might be water cannons. This is one corner of America tonight. pic.twitter.com/uj0EgHHLHo

— David Abel (@davabel) June 2, 2020
A friendly posse, taking control downtown Boston. pic.twitter.com/BdSh5ShMtx

— David Abel (@davabel) June 2, 2020
And here come the Humvees, a caravan of military policeman in fatigues, patrolling downtown Boston. pic.twitter.com/bhhw7mRSwq

— David Abel (@davabel) June 2, 2020