Local
'Aspiration isn't good enough': City councilors urge action after Marty Walsh pledges to make Boston a leader against racism
"I don't need pledges, I don't need hashtags, I don't need ideals."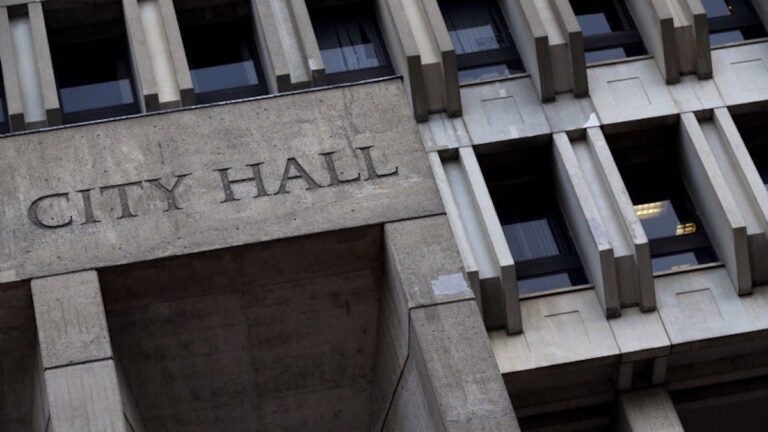 Mayor Marty Walsh pledged Thursday to make Boston a national leader in combatting racism, urging white people to listen to their Black neighbors amid the outcry against police brutality over the past week.
"It's time for us to roll up our sleeves, work together — work together — to get some real work done. I am committed to making real change," Walsh said, speaking to fellow elected officials and vowing to have the city lead the country "in healing the wounds of our history and building a more just future."
Several city councilors, particularly councilors of color, say the commitment must go beyond pledges and into policy that uproots and changes longstanding, systemic racial equity problems within Boston, from policing protocols to housing reform.
"Aspiration isn't good enough," Councilor Michelle Wu said in a tweet Friday. "We need action and plans. We need a budget that reflects our priorities."
Early steps: Boston needs an independent civilian review board with subpoena power to investigate police misconduct. Here's what we have now: https://t.co/DMUFLA2dd3 @jamarhlcrawford

— Michelle Wu 吳弭 (@wutrain) June 5, 2020
Some councilors outlined some of those steps during a meeting Wednesday, where a dozen of them backed U.S. Rep. Ayanna Pressley's proposed House resolution condemning police brutality, racial profiling, and the use of excessive force.
But officials also targeted needed changes to how the city awards procurement contracts and called for legislation to address discriminatory housing, among other issues.
"I don't need pledges, I don't need hashtags, I don't need ideals," Councilor Lydia Edwards told The Boston Globe regarding Walsh's pledge. "He has the power to make immediate and complete change right now."
According to the newspaper, Edwards supports requiring the Boston Planning and Development Agency to review plans with a focus on equity to prevent "another Seaport from happening," she said.
Boston's newest neighborhood, the Seaport is also one of the city's whitest neighborhoods and is often cited as an example of how Black residents and businesses were shut out of the city's lucrative building boom, the Globe reports.
For policing, Wu and others have raised the need for an independent, civilian review board to investigate cases of police misconduct.
Wu also voiced need for demilitarizing the police force and for closing loopholes in the police department's body camera policy to require that the devices be worn during all shifts.
During the controversial "Straight Pride Parade" in August, not one officer had a camera on despite reports that officers collectively worked nearly 9,000 hours of overtime that day. Walsh later said in October supply and battery life issues were to blame.
"Police brutality is one of many violences inflicted on Black residents and communities of color because of government's failure to act," Wu wrote. "We must act on all of them: housing crisis, climate change, food insecurity, mental health, transit justice. Budgets, legislation, oversight. NOW."
Again, police brutality is 1 of many violences inflicted on Black residents & communities of color bc of government's failure to act. We must act on all of them: housing crisis, climate change, food insecurity, mental health, transit justice. Budgets, legislation, oversight. NOW.

— Michelle Wu 吳弭 (@wutrain) June 5, 2020
Councilor Andrea Campbell, in a statement, said city police should work to meet several recommended standards, including de-escalation tactics in situations where using them is possible. She said police are not required to stop excessive force used by other officers or to report those incidents as soon as they happen, according to the Globe.
Walsh should review and change use-of-force policies within 60 days, she said.
"Now it's time to go beyond words, and commit to real action," Campbell said.
Boston police told the newspaper that department rules and regulations already cover those procedures.
Walsh responded to Campbell in a statement, saying, "Now is a time to roll up our sleeves and get some real work done, not separately as the Mayor and City Council, but together as one government."
On Thursday, Walsh highlighted how the department does not train its officers to use chokehold tactics. But he said reviewing police operations and protocol is an evolving process and that the city could consider whether to expand the role of the Community Ombudsman Oversight Panel, the independent, civilian group appointed by the mayor that reviews complaints against the department's Internal Investigation team.
Walsh's office told the Globe that the city earlier this year sought proposals for a consultant to help create and carry out racial equity training for all of the city's 18,000 employees.
Councilor Ricardo Arroyo said he supports Walsh's pledge to make Boston a leader in fighting racism, but told the newspaper it is "imperative we ask what has the mayor done, and what will he do, to make that a reality?"
"Until there is an action plan to make that real, and accountability to that plan, we will never achieve that goal," he said.