Local
Portland Sea Dogs, businesses cut ties with Shain's of Maine ice cream after allegations of racism
"What happened Wednesday was shocking and disappointing and unacceptable."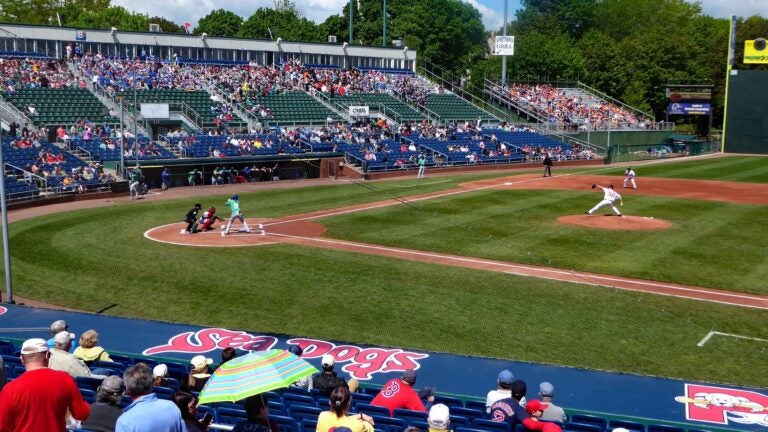 The Portland Sea Dogs and several businesses have cut ties with Shain's of Maine after allegations of racist remarks made by the ice cream maker's owner surfaced this week.
In a Facebook post Wednesday, Melitta Nichols wrote about an incident in which her daughter Iaomi, who worked at the Sanford-based company and who is Black, was asked by owner Jeff Shain why he could not use a racial slur, The Portland Press Herald reports.
According to the newspaper, the post triggered an outpouring of calls for businesses and customers to end their relationships with Shain's, an ice cream manufacturer and distributor.
After the post, Alvia Parris, of Alfred, a Black woman and former employee, also said she saw Shain make racially insensitive statements several times — experiences others on social media also recounted, the Press Herald reports.
The Portland Sea Dogs, the Red Sox's minor league affiliate and the ice cream maker's most prominent customer, announced on Twitter Friday morning it ended its relationship with Shain's of Maine "in light of recent reports and after conducting our own investigation."
— Portland Sea Dogs (@PortlandSeaDogs) June 5, 2020
Geoff Iacuessa, president and general manager of the Sea Dogs, told the newspaper the investigation began as soon as the team heard about the accusation. The team received "direct community input" during its review as well, he said.
"It was extensive work and what we found made it apparent to us very early in the process that this was a company that didn't represent the values we represent," Iacuessa said. "So it was an easy decision to sever ties. What happened Wednesday was shocking and disappointing and unacceptable."
Friday marked the end of the organization's 26-year relationship with Shain's of Maine, which supplied the team's fan-favorite Sea Dog Biscuit treats and hard-serve ice cream, the Press Herald reports.
Vice president of communications Chris Cameron told the newspaper the team is looking for a new vendor and will have Sea Dog Biscuits available once the season begins. According to the Press Herald, the name Sea Dog Biscuit is owned by the baseball organization.
Shain, the owner of the ice cream company, did not return the newspaper's requests for comment, but wrote on Facebook Wednesday his statements to Iaomi Nichols were regarding words in a song, the newspaper reports. Workers were playing music inside the ice cream shop with "offensive language for our place of business," he said.
"Let this be clear: I was commenting on the offensive language used in the music. At no time did I comment on anyone's race, or direct racial slurs at anyone. I did not mean for any of this conversation to be offensive and there was absolutely no intent to hurt anyone," Shain wrote. "I am sorry for any hurt that it has caused. I believed then, and I still believe, that songs with offensive language should not be played in businesses that serve the public and that was the context in which this conversation took place. I want to assure the community that our business is welcoming to people of all races."
According to Melitta Nichols's post, Shain asked her daughter "how come I can't say…" and said a slur against people of color.
"I am aware of the current climate in our country concerning racial inequality and I cannot imagine the pain that many, many people are feeling. It is my responsibility to be better," Shain wrote. "I will continue to learn and listen, and I will create a culture for my employees that continues to make them and our community proud."
Parris, 21, was among three women who called the Press Herald to detail incidents where they said Shain used racially insensitive language.
According to Parris, Shain once asked her and another employee to take out garbage "because we were both black," and, on another occasion, told her "if it wasn't for slavery I wouldn't be here," when the two were speaking about immigration policy, the newspaper reports.
Parris, who worked at Shain's of Maine between 2015 and 2019, recounted a third incident where after a hot fudge was spilled on the floor, Shain told her it looked like the color of her skin, according to the Press Herald.
A student at the University of Southern Maine, Parris said Friday she had not previously spoken about her experiences because she didn't want to lose her job while she tried to pay for college.
Shain's post received mixed comments — over 1,700 in total — before it was deleted and the business's Facebook page taken down by Friday afternoon, the newspaper said.
According to the Press Herald, The Saco Scoop in Saco, the Ice Cream Dugout in North Windham, and Maxim's Desserts in Kennebunkport have all said they will no longer conduct business with Shain's of Maine.
Carter's Green Market in Gorham wrote in a Facebook post Saturday morning that it will no longer offer the company's products either.