Local
Should Boston defund its police? Here's what Marty Walsh said.
During an interview on WCVB's "On the Record" segment, Walsh was asked about the call among protesters to defund police departments.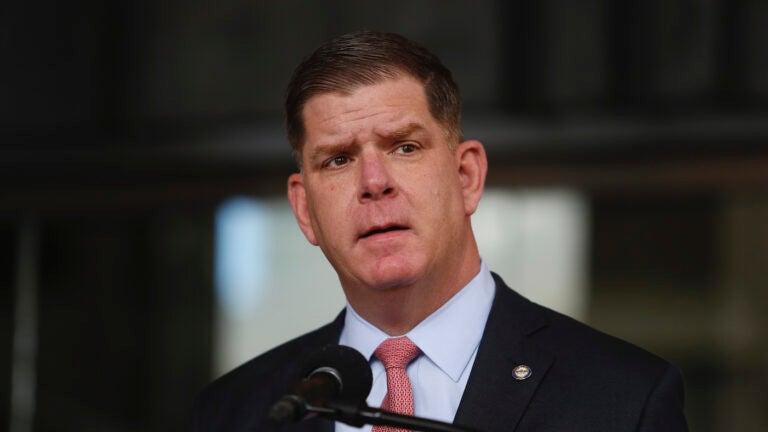 With calls around the country to "defund the police," Boston Mayor Marty Walsh said his administration is going to talk about potentially reallocating some money spent on policing elsewhere for the upcoming fiscal year.
In an interview on WCVB's On the Record, Walsh said he wants to have some "really serious conversations" about reforms he had instituted back in 2014 and 2015, when he first took office.
"I think there's an opportunity or us to reallocate some of that money, whether it's a training, or it's a community involvement, getting the community more involved," he said. "I think that just arbitrarily cutting the budget isn't the answer. I think that we have to really think about, if we're making cuts and reallocating money into different parts of our budget, what are those programs and are they going to make difference."
Calls to defund the police have arisen as protests have rocked the country over the killing of George Floyd, a Black man who died while being taken into Minneapolis police custody on May 25.
Boston isn't the only community looking at reevaluating how police departments are budgeted.
Somerville Mayor Joseph Curatone and his administration have proposed putting funds in the next fiscal year's budget for hiring an independent facilitator who would create and lead a task force to  make recommendations on the "purview, composition, and implementation of a civilian oversight and advisory structure for the SPD." The new task force would consider things like the department's policies around use of force, and investigating alleged misconduct.
"We need to bring new voices and perspectives into the oversight and rank and file of the police department. This committee will play a critical role in establishing and maintaining trust between the community and the police. It will also provide independent guidance on critical policy questions, like how to best address the state's outdated civil service law, which has interfered with some of our efforts to achieve greater diversity in our police force and command staff," Curtatone said in a prepared statement. "If we're serious about advancing compassionate and unbiased policing, everything has to be on the table."
Several thousand Somerville residents have signed an online petition calling for the city to use money that would have been used for policing on public services instead.
"Our needs must be addressed by the provision of care, and not the threat of violence," the petition says. "We must invest in public services that build towards 'a free and fair society' rather than an armed force that endangers us."
When asked about the looting in Boston last weekend following protests, Walsh said he wants the focus to remain on the protests, and the issues that have sparked them.
"The focus needs to be on the issue, the racism, and the feeling that people have," he said.
Watch that portion of Walsh's interview below.
https://www.youtube.com/watch?v=ggQc_33g2I8