Local
'They can be heard dusk to dawn': Dozens of Boston residents complained about fireworks, related debris
"If you hear or see fireworks being displayed in your neighborhood, please call 911 immediately for a police response."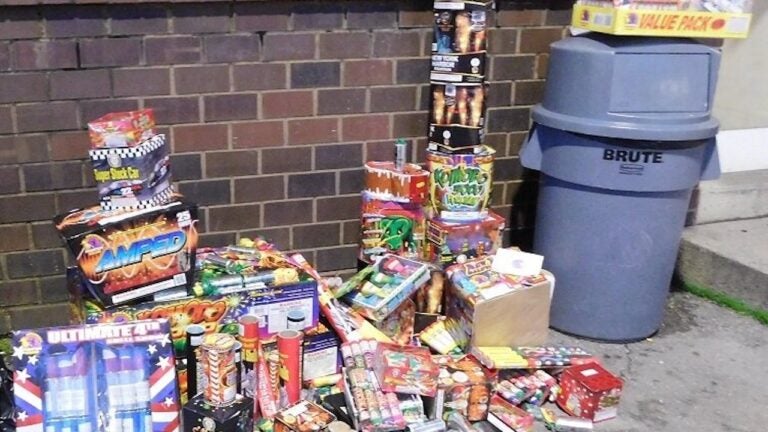 Fireworks rocked multiple Boston neighborhoods over the weekend, as residents flooded the city's 311 reporting service with complaints.
Over the previous 14 hours from around 12:30 p.m. Monday, the city had received upwards of 50 reports to the service of either fireworks going off overnight or related debris found.
"PLEASE STOP THE FIREWORKS," one resident reported via 311 from Worcester Street in Roxbury. The report was accompanied by what appears to be a firework lighting the night sky a short distance away. "I'm done."
Boston police had reminded the public in a news release on Friday that the explosive devices are illegal in Massachusetts, and that it's also against the law to buy them elsewhere and bring them back.
Despite the warning, police confiscated fireworks in South Boston on Friday night from a group in the Saint Peter's Church parking lot who reportedly told officers they didn't know they were illegal.
In a separate incident Saturday night around 6:41 p.m., police responded to 68 Astoria St. in Mattapan for a report of two vehicles parked with fireworks placed on top of them. When officers arrived, they found the vehicles and could see the fireworks, the department said in a news release.
In the process of taking the fireworks, officers allegedly found a loaded handgun in one of the vehicles and then, upon doing a pat and frisk of a man present, found a second loaded handgun on him. They arrested Wesley Pereira, 25, of Dorchester, for unlawful possession of a firearm, unlawful possession of ammunition, and carrying a loaded firearm.
On the city's 311 service, there were many more reports of fireworks, and related trash, from across the city.
"Trash, beer cans, fireworks, all along path and road between back entrance to Franklin park zoo and the golf club house," reads a report from Circuit Drive.
Another report says that fireworks "have become a nightly occurrence" in Fallon and Healy fields, as well as other Roslindale locations.
"They can be heard dusk to dawn and are causing harm to those with PTSD (post-traumatic stress disorder), not to mention the hundreds of neighbors jolted awake by thunderous bangs repeatedly every night," the report says. "It must stop. It's not a minor disturbance or inconsequential. It's tearing the neighborhood apart — just look at the online discussion boards."
Many of the 311 reports were closed with a note saying that complaints should go through 911 instead.
"If you hear or see fireworks being displayed in your neighborhood, please call 911 immediately for a police response," police said Friday.