Local
Photos: Monday's protests in honor of George Floyd
More rallies were held in Massachusetts on Monday after a busy weekend.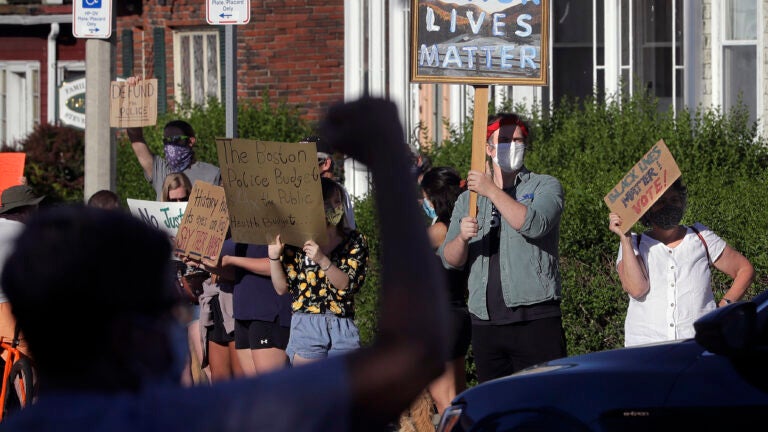 After a busy weekend of protests across Massachusetts calling for justice for George Floyd and other Black Americans who have been killed by law enforcement, the rallies continued on Monday.
The protests included a rally in Roxbury's Nubian Square organized by public defenders, a protest at West Roxbury's Holy Name Rotary, and a rally outside Cambridge City Hall calling for the defunding of police.
Here are photos and social media posts from Monday's events.
Roxbury:
West Roxbury:
Hundreds gathered in West Roxbury in honor of #GeorgeFloyd #BlackLivesMatter ⁦@boston25⁩ pic.twitter.com/Z89yligkQA

— Malini Basu (@WFXTMalini) June 8, 2020
Cambridge:
Protest being held outside of Cambridge City Hall to "Defund the Police." #WBZ pic.twitter.com/WuO9coqJHt

— Nick Emmons WBZ (@NickEmmonsTV) June 8, 2020
a few hundred people gathered around city hall in Cambridge now, chanting, "no justice, no peace, defund the racist police" @wgbhnews pic.twitter.com/95SFaYA20s

— Tori Bedford (@Tori_Bedford) June 8, 2020
protesters have assembled themselves into a chart representing the FY21 budget — with the least-funded community programs at the bottom. @wgbhnews pic.twitter.com/3xghXgslBs

— Tori Bedford (@Tori_Bedford) June 8, 2020
Lynnfield:
Such a hopeful time! People are listening, learning and trying to do better. Proud of the LHS students and Lynnfield 4 Love by organizing this powerful event tonight!🖤 #BlackLivesMatter @LynnfieldHS @lynnfield4love pic.twitter.com/J4UaTa9wJ1

— Kathleen D (@kdero2477) June 8, 2020
Amazing BLM protest organized by Lynnfield students. @LPS_Tremblay @LynnfieldHS pic.twitter.com/l1EIYfCaVa

— Ms. Alpert (@JaniceAlpert) June 8, 2020
Important message. Wonderful event in Lynnfield today. #BLM @LPS_Tremblay pic.twitter.com/xJUNzxZTNL

— A Healthy Lynnfield (@AHLynnfield) June 8, 2020
Hudson:
+400 Hudson residents show up for one of the most energized, fired up, unifying #BlackLivesMatter protests I've been to! Proud to be here w/ @RepLoriTrahan & @repkatehogan! The rallying cries, honks on Main Street & quiet outrage in kneeling for #GeorgeFloyd.Change is in the air! pic.twitter.com/k9POx7TW2v

— Jamie Eldridge (@JamieEldridgeMA) June 9, 2020
North Andover:
Powerful Words during the Black Lives Matter Vigil @ the Youth Center #BlackLivesMatter #raceamityclubforblacklives pic.twitter.com/cBixLsMpRs

— North Andover Race Amity (@RaceAmityNA) June 8, 2020
#NorthAndover #Massachusetts #PeacefulProtes #BlackLivesMatter pic.twitter.com/sWQD7Dw5kl

— Nancy (@IpPOOHlito) June 9, 2020