Local News
Milton teacher's union demands apology for teacher placed on leave over alleged remarks on police racism
In a letter, 127 parents of the school's students voiced support for the teacher.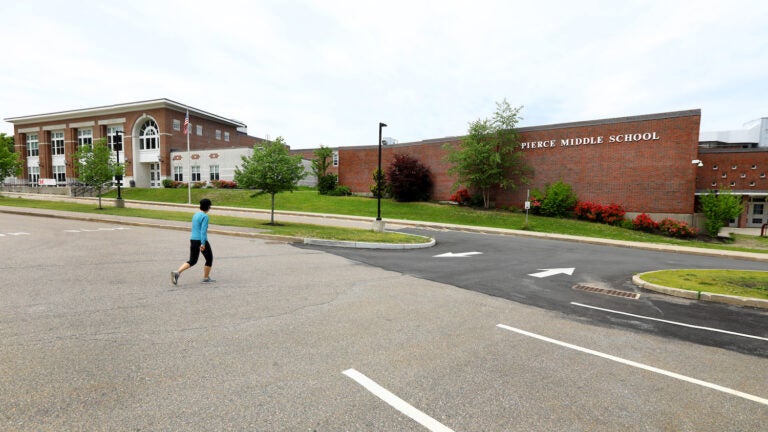 The Milton Educators Association is demanding the school district apologize to a Black teacher who was temporarily placed on administrative leave last week after allegedly telling students "many cops are racist."
Zakia Jarrett, a sixth grade English teacher at Pierce Middle School, was placed on paid leave on June 5 pending an investigation after district officials received a short video containing her alleged remarks recorded during a remote learning session on racism. But the decision was rescinded by the district later that night after it was challenged by the MEA, the union said in a statement Tuesday.
In its call for a public apology from Superintendent Mary Gormley, the MEA said Jarrett was "wrongly accused of presenting inaccurate or inappropriate material about racial prejudice," adding that the district's "improper failure to defend and support Jarrett has left her vulnerable to harassment."
MEA President Dyanne Crowley said recording the video violated the district's distance learning policy. Administrators have an obligation to protect teachers when they are victims of a policy violation, she said.
"Public education is a cornerstone of democracy. It is where we model and teach civics and discourse," Crowley said in the statement. "The district's decision to punish Ms. Jarrett at the close of a difficult week in American life – perhaps the most tumultuous week that many middle-school-aged students have witnessed – is contrary to all that the institution of public education represents."
Crowley said it is ironic that Jarrett led a lesson on systemic racism "only to become the focal point as a victim of that ingrained societal structure." The irony is not lost on her co-workers and those in the community who support her, she said.
"The manner in which the district responded to the inappropriate filming of a lesson, in violation of Milton Public Schools practice, undermines all educators who are responsive to students' concerns about what is happening in the country around violence and brutality against our Black and brown communities – and our doing so in this challenging remote-learning environment," Crowley said.
Jarrett, in a statement, said the incident highlighted how the school system must do more work surrounding racial justice issues.
"Creating the space to speak in constructive, open and honest ways about race must be instilled in the mission of Milton Public Schools," Jarrett said. "This is not easy work, but our students, educators, and community need it to happen. Hastily arranged workshops that do not involve the input of educators, and especially Black educators and other educators of color, are not enough."
Gormley did not immediately return a request for comment Wednesday.
In a lengthy letter to Gormley and school Principal William Fish Saturday, 127 parents of the school's students voiced support for Jarrett, writing that they are outraged over the action taken against her as she spoke to students about police brutality and current events.
"While we understand that Ms. Jarrett shared her opinion that 'many cops are racist' is a problem in the eyes of the administration, we are of the mind that because we live in a society plagued by systemic and institutionalized racism, her comments do not represent anything false," the letter says. "We feel strongly that educators in our town must be able to address racism with clarity and transparency.
"We are also deeply troubled that after what was such a difficult week of race relations in this country, the leadership of Pierce and MPS would consider something as egregious as Zakia's suspension," the letter continues. "It is salt in a very old wound and indicates institutional racism is playing itself out in our classrooms."
The letter adds that the incident brings to the surface the lack of district guidelines, strategies, and expectations around teaching about race. Institutions must recognize their responsibility to "do the work" in healing the pain caused by racism and creating a more just society, the letter says.
"Our educational systems — tasked with the sacred responsibility for educating our citizenry — need to lead the work," the parents wrote. "Milton Public Schools, as a rare school district with a beautifully racially diverse student body equipped with enormous resources, has to lead this work."
On June 1, district administrators released a letter to the school community condemning the death of George Floyd, the Black man killed in police custody in Minneapolis last month, and affirming their commitment as educators to social justice and to foster compassion and acceptance.
A "Day of Reflection" is scheduled for Thursday.
"We are reaching out today to reaffirm that the Milton Public Schools is committed to every child," the letter says. "That commitment means that we have and will continue to work diligently to identify and address biases in our own work, look at our practices through multiple lenses such as race and class, and engage in difficult conversations with each other and with the community. We support you and your children."