Local News
City councilors order hearing on Boston police tactics amid conversations on budget reallocation
"It can seem exhausting, but we are on the verge of monumental change, and we can all feel it."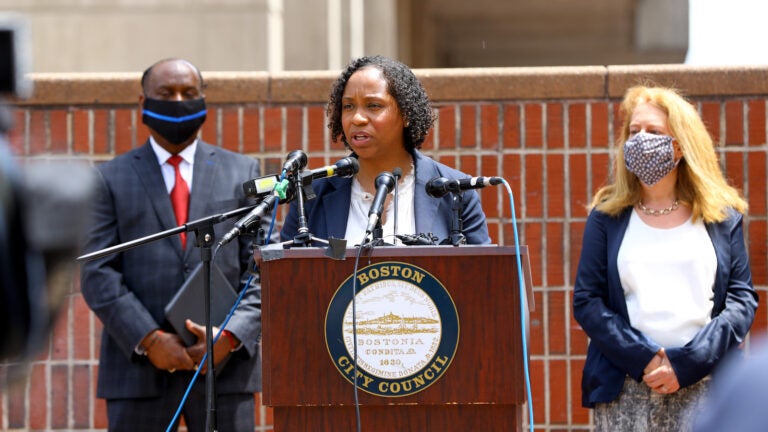 As cities across the nation take a sharp look at policing protocols and police brutality, city councilors in Boston are calling for an open discussion on how local authorities deploy non-lethal force tactics when restraining individuals.
Councilors Julia Mejia and Andrea Campbell filed a hearing order Wednesday seeking to talk "current and future" use-of-force practices with a wide array of experts and organizations, inviting the Boston Police Department, Suffolk County District Attorney's Office, American Civil Liberties Union, and other civil advocacy groups.
"It's going to take a whole host of issues to transform the system, and this is one way that we can begin, given we are talking about brutality, we're talking about tragic and traumatic and painful murders of folks," Campbell said. "So what does it mean to evaluate our own systems? I often tell (Police) Commissioner (William) Gross even if we say we're excellent, we can always do better."
<hr>
<h2>Protesters call for city to reallocate police funding</h2>
In its rules and procedures, the Boston Police Department outlines regulations for three different kinds of force: non-lethal, less-lethal, and deadly force.
Under the non-lethal force entry, officers are urged to forgo "techniques that include squeezing the trachea, windpipe, or throat" — more commonly referred to as a "chokehold" — but the entry only specifically mentions this in reference to cases to stop a subject from ingesting a controlled substance.
However, Boston police have said they do not use or train officers to use chokeholds, and has terminated officers for use-of-force misconduct before.
"While procedures such as physical restraints to the neck and throat are not taught by the BPD, its rules and procedures do not explicitly prohibit such measures, with a BPD spokesperson going as far as to say that officers may deploy 'the least amount of force necessary to overcome the resistance. There's no policy on ways to do it,'" the hearing order reads.
During many of my speeches, I normally say how I look forward to this conversation. If I'm being real, I'm tired of the conversation for the conversation about the conversation. We don't need another hearing to tell us that Black & Brown people are being discriminated against. pic.twitter.com/ixQvLcnlgR

— Julia Mejia (@juliaforboston) June 10, 2020
Mejia framed the conversation as a needed weigh point of recognizing the limitations of the council's authority. She said her office looked into the legality of explicitly banning chokehold tactics in Boston police regulations, but learned the body does not have the ability to amend departmental rules and procedures.
While it is far from the only time lawmakers have poured over police procedures, Mejia urged that this moment in time — as the country grapples with the persistence of systemic racism after George Floyd's death — is ripe for change.
"Here's where we do have the power: We have the voices of the people. We need an inside and outside strategy, mass demonstrations and public forums, if we want to impact change," Mejia said. "I know it can seem exhausting, but we are on the verge of monumental change, and we can all feel it, we just need to keep on pushing."
We need an inside-outside strategy, mass demonstrations and public forums if we want to impact change. I know it can seem exhausting, but we are on the verge of monumental change, we can all feel it. We just need to keep pushing. #AllMeansAll pic.twitter.com/yYxwa1Sljl

— Julia Mejia (@juliaforboston) June 10, 2020
Mayor Marty Walsh, earlier on Wednesday, said the department has made progress in recent years around diversity initiatives and de-escalation programs, and in addressing racism, but there's always more that can be done.
He said he's reached out to City Council President Kim Janey to discuss reforms councilors want to address.
"I think the police department constantly has to evolve and address these issues, and I think that in light of Mr. Floyd's murder, I think it really puts a real urgency to have even a deeper look at our practices and how we handle ourselves, what our reviews look like," Walsh told reporters. "I mean, I can stand here and tell you our complaints against police officers since 2016 are down 41 percent. Complaints against excessive use of force are down 50 percent. Our arrests are down 10 percent over the last seven years, and that's all good numbers, but that doesn't mean we're perfect by any stretch of the imagination and there's a lot of conversations going on. And I look forward to having those conversations."
In the past two weeks, councilors have voiced the need for widespread, systemic change to uproot racial inequity across the spectrum of city functions, from housing law reform to law enforcement.
On Tuesday, as the council's Committee on Ways and Means began another look at the 2021 fiscal year budget, some joined the nationwide call to reallocate funding usually reserved for police into violence prevention and public health efforts.
The re-examination comes after the council rejected the citywide budget as proposed on June 3, primarily brought on by a need to reconsider how the COVID-19 pandemic will impact department operating budgets in the coming year.
As councilors said Tuesday, the proposed $1.4 billion Boston Public Schools budget was unchanged since its initial draft in January, in the pre-pandemic era, even as educators face challenges in remote learning and what will likely be a difficult return to classrooms later this year.
But that decision to hold off on approving a budget also came just as public calls increased for officials across the country to re-examine funding for law enforcement in the aftermath of Floyd's death.
As initially proposed, the budget is poised to grant local police $414 million — the second largest line item allocation in the city's proposal, just underneath the funding for Boston Public Schools, according to an overview by the ACLU of Massachusetts. Approximately 90 percent of the department's budget stems from personnel costs.
The total dollar amount is essentially the same year-over-year, although the ACLU notes the proposal includes reallocating money in certain areas, such as a $12.2 million bump in personnel funding for the Bureau of Field Services to support raises, bonuses, and 25 new hires, and a cumulative $9.7 million cut for the Bureau of Professional Standards and the Bureau of Professional Development.
The ACLU calls the changes "concerning."
"Simply put, the BPD programs focused on ensuring professionalism and accountability are being slashed," Lauren Chambers, a technology fellow with the ACLU, wrote in the budget analysis.
At $414 mil, @bostonpolice is the 2nd largest line item in the whole city budget. That means:
– 7x larger than the Cabinet of Health & Human Services (inc 9 depts)
– 4x larger than the Public Health Commission @HealthyBoston
– 182x larger than the Office of Arts & Culture (2/10) pic.twitter.com/dpd6s7IQzj

— Lauren Chambers (@lauren_marietta) June 5, 2020
Councilors on Tuesday said they received thousands of emails and calls regarding the budget in just the last few days alone — and there's an obligation for creating a proposal that incorporates those voices, some said.
"The data shows at this point when we talk about crime, when we talk about violence, when we talk about the parts of our society where we would really like to see reform, policing doesn't get to the root of it, it deals with symptoms of it. But public health and opportunity deals with the root causes," Councilor Ricardo Arroyo said Tuesday.
"I think it's important that this budget reflect those values, that we start to look at ways to really deal with issues those people have," he added.
Mejia called for more funding for mental health and wellness as part of the re-working, including setting aside more money for Narcan training as well as substance-use disorder programs as the city grapples with the opioid epidemic.
"Every dollar should really be intentionally allocated," Councilor Michelle Wu said. "Every dollar should go to funding community building process that is equitable and effective, and that involves looking at the big picture — that we know that the ways we have been funding safety and public safety have not led to the safest outcomes for communities. We know that the ways that we've been thinking about approaching criminal justice have not resulted in just outcomes for our communities, and particularly communities of color."
Meanwhile, asked Wednesday if reallocating police budget funding would result in layoffs, Walsh said the city has no plans to lay off any employees, even as Boston faces a potential $80 million budget reduction because of the coronavirus pandemic.
He also emphasized that budget changes alone will not address systemic problems.
"Cutting the budget, just cutting the budget, doesn't solve anything," Walsh said. "Cutting the budget doesn't deal with racism. Cutting the budget doesn't deal with systemic issues."