Local
Boston is cutting $10 million from the police department and making 'significant' reforms. Here's everything you need to know.
"We wear too many hats anyway."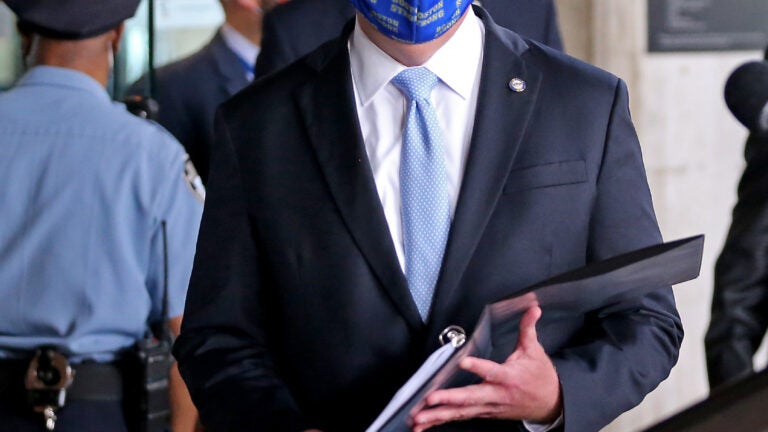 As recently as last weekend, Boston Mayor Marty Walsh was circumspect about the calls to defund police. But the continued protests in the wake of the killing of George Floyd have made the demands impossible to ignore.
"I've been listening to that movement," Walsh said Friday.
In a press conference, Walsh announced a plan to reallocate 20 percent — or $12 million — of the Boston Police Department's overtime budget to community programs aimed at reducing inequality in the city, in addition to new police reforms and a task force to recommend additional action. Two million of those dollars will be reallocated within the police department.
Amid the ongoing COVID-19 pandemic, the Dorchester Democrat also signed an executive order declaring racism a public health crisis, directing the Boston Public Health Commission and other city departments to adopt a slate of strategies to more directly address how racial inequities when it comes to accessing jobs, food, housing, and transit result in disparate health outcomes.
While officials took pride in the city's record of progress and community policing, racial inequality — as well as a reputation for racist incidents —  has remained pernicious in Boston.
"It's important that we have an intentional focus on what causes these inequities and these disparities," said Marty Martinez, the city's chief of health and human services. "And at the root, it is racism."
How the police funds are being reallocated
Walsh's office said that the mayor will resubmit his budget proposal for the upcoming fiscal year on Monday, which would officially redirect the aforementioned $12 million from the police department to social services.
A quarter of the reallocated money, or $3 million, will go to the city's health commission to fulfill the intent of Walsh's executive order and address social determinants of health. According to the mayor's declaration, the strategies include:
Create policy solutions to dismantle systemic racism and barriers to public health by evaluating current policies and using data to drive change.

Develop a "Boston Health Equity Now" plan that includes clear objectives and measurable goals to address the root causes of the inequities that cause disparities in health outcomes.

Engage historically marginalized communities to identify problems, solutions and support a community driven response.

Require public reporting of race and ethnicity data that documents health inequities in Boston by working with hospitals and the Commonwealth of Massachusetts to access this critical information.

Analyze data to better understand the interconnectedness of societal, environmental and behavioral factors that contribute to the impact of racism and access to jobs, food, housing, transit and education.

Improve access to prevention and treatment that is culturally and linguistically competent.

Develop services and programs to address the negative impact these inequities have had on specific populations.

Advocate at the state and federal level for policies and funding opportunities that directly combat systemic racism.
Another $1 million will support trauma and counseling services at the city's health commission.
The rest of the $12 million will be divided equally (i.e. $2 million each) among new community investments, including violence prevention, language access, food security, immigrant advancement, elder support, and the city's human rights commission; economic development to support minority and women owned businesses; housing security and youth homelessness programs; and funding for emergency clinicians and mental health support, which will be provided through the Boston Police Department.
"Taken together, this is a significant program of reforms and investments," Walsh said, though he noted that uncertainty due to the effects of the coronavirus could force the city to make broader budget cuts at a later point.
The mayor added that "the money that we're going to be investing is actually going to be benefiting" the police department, through trying to deal with the root causes of issues that officers are ultimately called to address.
In total, the reallocation amounts to a funding reduction of about 2.4 percent of the proposed $414 million Boston police budget for the 2021 fiscal year, which begins next month.
The department's $61 million overtime budget — which dwarfs the entire budget of many other city departments — has also come under scrutiny amid recent reports of fraud and abuse. Walsh said he was initially hopeful that there might an opportunity to take advantage of potential police overtime savings due to the large events canceled this year due to the coronavirus, but said "unfortunately that's not the case because of the protests."
Asked about the changes, Boston Police Chief William Gross pledged that the department would not be "defensive or adversarial."
"We wear too many hats anyway," Gross said, suggesting that there were many instances involving children or people dealing with mental health issues in which the police were unnecessarily called.
"I think that responsibility should be spread out," he said.
Eight other reforms that 'can't wait'
Even as the city turns its focus to root causes, the national moment in the wake of Floyd's death also demanded that Boston police review their use of force policy. Gross said the department was implementing several reforms to better align itself with the "8 Can't Wait" policies advocated by the national group Campaign Zero to reduce police violence.
In a press release Thursday night, Boston police said they had already implemented three of the "8 Can't Wait" policies, but announced moves to incorporate — if not fully adopt — four of the other five measures.
During the press conference Friday, Walsh noted that overall crime, arrests, and complaints against police had all dropped since 2014. Gross also noted that former President Barack Obama highlighted Boston in 2015 as a model for community policing.
"That shows you we've come a long way from the old Boston to the new," the police chief said. "But as the mayor stated, there's always room for improvement."
Tightening rules against chokeholds
In their release, Boston police said they already had a policy against chokeholds and other neck restraints, which resulted in the deaths of Floyd, Eric Garner, and dozens of others across the country. Campaign Zero has called for all neck restraints to be banned.
"The Boston Police Academy does not teach or authorize any neck restraints and [rejects] any use of neck restraints due to their potential lethality," police said Thursday.
However, the department found existing policy was "not strong enough" and announced they were clarifying their rules to ban all neck restraints "except in the very limited situations when deadly force is necessary to address an imminent threat of serious bodily injury or death."
Requiring deescalation 
Campaign Zero also called for police departments to require deescalation tactics, when possible, to avoid using force.
While Boston police said they had made deescalation a priority in training and practice, it had not been specifically mentioned in their use of force policies. On Thursday, the department said it would amend those use of force rules to "include an introductory statement regarding the importance of de-escalation in all interactions."
Requiring a verbal warning before shooting
The list of Campaign Zero demands includes requiring officers to "give a verbal warning in all situations before using deadly force."
Again, the Boston Police Department said verbal warnings were included in their training and standards — but not fully incorporated in the use of force policy. The change issued Thursday includes verbal warmings in the newly added deescalation sections.
A duty to intervene
Unlike what happened during Floyd's killing, Campaign Zero says police should be required to intervene, stop, and report excessive force used by other officers. And while that duty had been included in Boston police's training and ethics code, the department also added the following statement to their use of force policy.
"Excessive or unauthorized force is never justified and every officer not only has an affirmative duty to intervene to prevent such violence, but also to report any such instances that may come to their attention," the new policy says.
***
The police department had mostly incorporated three other policies recommended by Campaign Zero. According to the release, officers are already required to adhere to a "use of force spectrum" that limits the types of force and/or weapon that can be used based on the situation. They also already require officers to "exhaust all reasonable alternatives" before using deadly force and prohibit them from shooting at moving vehicles "unless the person poses a deadly threat by means other than the vehicle," such as shooting from the car (Campaign Zero calls for a categorical ban).
The one "8 Can't Wait" policy that the department has yet to adopt is comprehensive reporting on every time an officer uses — or threatens to use — force against civilians. That means a police department would have to collect data on every time an officer points, much less shoots, a firearm at someone.
According to Boston police, the department already has extensive reporting requirements for when an officer discharges their gun, as well as for when they use less-lethal forms of force, such as a taser. But unlike some police departments, that policy doesn't cover situations in which an officer simply points a gun at someone.
"We will continue to review and amend policies and procedures going forward as they pertain to uses of force and threats of force," police said in their release Thursday.
The department also said it will adopt a peer-intervention program developed by police in New Orleans, which "teaches officers how to intervene to stop a wrongful action before it occurs."
"It authorizes and empowers officers to intervene in another officer's actions, regardless of his or her rank," Boston police said. "It teaches officers how to intervene successfully. And it protects officers when they do intervene."
Lastly, officials said Boston police will abandon its long-standing use of a hair drug test, amid evidence that it is unreliable and disproportionately results in false positives for Black officers and recruits. According to a statement by the Boston police officer's union, the department will switch to a more "accurate and non-discriminatory" urine testing regime.
More changes could be forthcoming
The changes may not only come from within the mayor's office and police department; Walsh also announced the formation of an outside task force to recommend additional reforms. The nine-member task force is made up of local legal and civil rights advocates, and chaired by Wayne Budd, the former U.S. attorney for Massachusetts under President George H.W. Bush.
Walsh directed the group Friday to start looking at several potential changes, including further review of the Boston police use of force policies, "rigorous" implicit bias training, improving the police body camera program, and strengthening Boston's existing police oversight board.
The task force will provide recommendations within 60 days. Based on a "Mayor's Pledge" that was recently issued by the Obama Foundation and signed by Walsh, the public will have two weeks to provide feedback on the recommendations, and the city will announce reforms within 90 days of the group beginning their work.
"This task force that we're putting together is going to be an outside, independent task force that's going to be looking at the policies in the police department and hopefully, maybe, coming back with some great recommendations" Walsh said Friday. "Maybe not a lot of recommendations, but I can't make that judgment."
Walsh also declared his support for a recent 10-point plan released by local lawmakers of color to reduce police violence.
However, the mayor noted that police reforms alone wouldn't address systemic racism. According to the mayor, additional steps would be necessary to improve equity in housing, education, and economic development.
"Maybe in some parts of this country — and maybe in some neighborhoods — we're going to go back to the way it was," Walsh said, adding that "too often we've seen a shooting of a Black man and we have a protest and we turn the page."
"It's incumbent on me as mayor not to let that happen," he added.