Local News
Here are the protests, marches planned Sunday in Mass. seeking justice for George Floyd
In addition to several Boston events, demonstrations are planned in Concord, Manchester-by-the-sea, and Framingham, among other locations.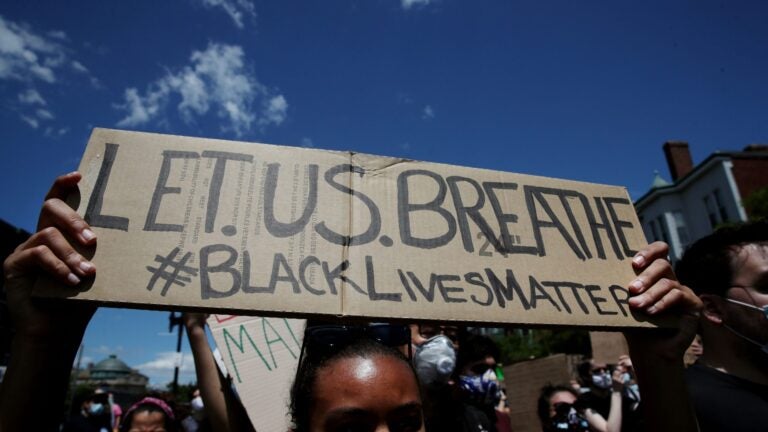 Following two weeks of protesting systemic racism in the wake of the killing of George Floyd while in Minneapolis police custody, Massachusetts residents are continuing to band together Sunday, marching forward in their call for justice. 
In Boston, Christians from around the city will gather for united prayer, scripture, and song at the Parkman Bandstand in the Boston Common from 2:30 to 3:30 p.m., according to the event's Facebook page. 
"We recognize that the underlying sin of racism is plaguing our city and nation," organizers wrote. "This is a crucial time for Christians to come together across boundaries to be a catalytic voice for kindness, justice, and righteousness."
Organizers added that the event will be livestreamed on UniteBoston's Facebook page, and Restoration City Church will be leading a prayer march to the Common "in solidarity against injustice and the murders of Black and brown lives."
Those marching will meet at the Back Bay Station by 1 p.m. with "posters that support positive messages for peace and justice," organizers said. 
A "White Coats for Black Lives" rally will also be held in the city in front of the Boston Public Library from 4 to 6 p.m., according to a Facebook page for the event. 
Organizers are asking physicians and healthcare workers to wear their white coats or scrubs during the demonstration, which will include 8 minutes and 46 seconds of silence, the same amount of time the now former Minneapolis police officer Derek Chauvin pinned Floyd to the street with a knee on his neck, in a scene that was captured on video and widely shared.
Other demonstrations across the state include: