Local
'I don't need them to save me': Cambridge lawmakers have heated discussion over reallocating police funding
"I did not hear authentic voices on Monday night. I heard a bunch of people looking for their 'I'm a Black ally' receipts hoping that they could somehow use it to pay off white guilt."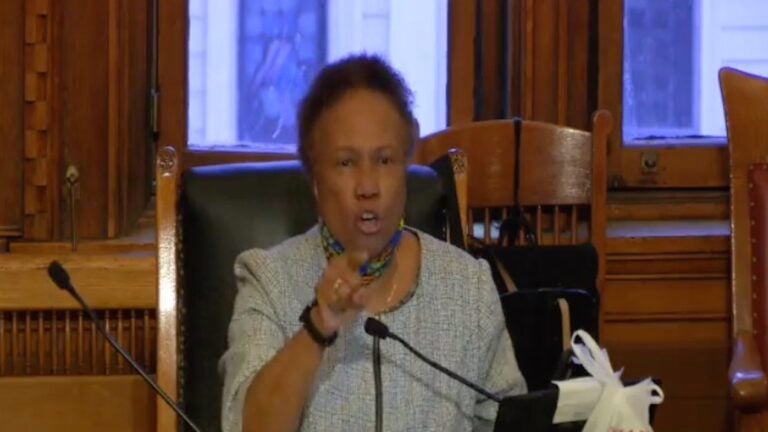 Like in a growing number of other cities around the country, including Boston, certain Cambridge lawmakers believe that at least some money currently planned to go to the city's police department should potentially be sent elsewhere.
But a discussion last Wednesday night over a proposed policy to have the city reconsider the $4.1 million budget increase slated for the police resulted in criticism from city Police Commissioner Branville Bard, and then a shouting match among some of the councilors that ended with Mayor Sumbul Siddiqui calling a recess.
Ultimately, Councilor Jivan Sobrinho-Wheeler, one of the sponsors of the order, decided to postpone discussion and any action on the issue until the next meeting.
Discussion of the potential reallocation of funding included the council sitting through five hours of one-minute public comments during a meeting last Monday night – Sobrinho-Wheeler said there were 400 – most of which were directed at the reallocation concept, with the majority showing support. Lawmakers also received a variety of emails from community members in favor as well – these numbered almost 3,000, Sobrinho-Wheeler said.
The proposed policy
While the proposed policy does mention the #DefundThePolice petition created by Black Lives Matter, the proposed policy doesn't specifically call for defunding. It asks City Manager Louis DePasquale  "to report back" to lawmakers about how a portion, or all, of the proposed budget increase for the upcoming fiscal year "may be redirected towards measures that promote public health and safety in other departments," and to have this done before the June 15 City Council meeting when the group intends to vote on the budget.
The policy also asks councilors to resolve to support the budget only if "it includes a significant reallocation of funds towards measures that promote public health and safety other than policing."
"This isn't something new we're rushing into," Sobrinho-Wheeler said, noting that police departments weren't meant to handle social issues, like mental health and the homeless population.
Councilor Quinton Zondervan, the other sponsor of the proposed policy, said he spoke with the NAACP, My Brother's Keeper, which mentors boys and young men of color, and members of the Black community. While he said he heard a variety of opinions, "we are overwhelmingly hearing from members of the Black community that we are overpoliced and that we do want to see changes in how we are policed in this community, and that's really what this policy order is asking for."
Police Commissioner Bard weighs in
Some of the criticism around the policy had to do with Bard saying that he was not contacted by city councilors to weigh in on the policy – Zondervan, another sponsor of the policy, claimed Bard hadn't responded to "several" emails – and that removing the increase in funding means the department would have to scale back some of the programs that help people of color in Cambridge.
"I've been fighting the fight against racial injustice for a long time now," Bard said, adding that he's worked toward police reform "for some time now."
"But the fact that [the proposed policy] seeks to defund all of the progress made to combat racial injustice in policing and to establish protective relationships with communities of color without so much as even consulting me is alarming, and I believe it reflects poorly on the sponsors," he said, adding that he finds it "befuddling" that he wasn't brought into the discussion.
Cambridge police had been working on police reforms before the death of George Floyd, Bard said. Floyd, a 46-year-old Black man, was killed while being taken into Minneapolis police custody on May 25; his death has sparked nationwide protests calling for justice, as well as reforms around police and use of force.
One of the reasons why Bard, who has been Cambridge's police commissioner since August 2017, said he wanted to head the Cambridge department was because it has worked on progressive police-related policies.
"To attempt to take this kind of action with our budget in my opinion is a lack of awareness  as to the level of collaboration that this department does with other city agencies to actually enhance public health and public safety," he said. "A fair percentage of our budget that this policy order seeks to cut is spent protecting vulnerable populations. That's your children, your elderly, our homeless and those suffering from mental illness and substance abuse disorders. In fact, 25 percent of our budget can be tied to community policing activities."
Last Monday, Cambridge police announced the adoption of an order that requires officers to intervene, whether it's verbally or physically, if they see another officer using excessive force.
#CambMA PD announces a new internal General Order that requires Officers to intervene (verbally and/or physically) if another Officer uses unreasonable force. https://t.co/nX86jqNdbO pic.twitter.com/TNANT5hAGH

— Cambridge Police👮🏽 (@CambridgePolice) June 8, 2020
While Bard, who is Black, praised the "authentic voices" he witnessed at a rally last Sunday calling out the injustices committed by police throughout the country "but also speaking out against failures in every institution with racist underpinnings," he said he doesn't believe all of the comments and emails submitted for the Monday night meeting were genuine.
"I did not hear authentic voices on Monday night," he said. "I heard a bunch of people looking for their 'I'm a Black ally' receipts hoping that they could somehow use it to pay off white guilt."
'I don't need them to save me'
Like Bard, Councilor Denise Simmons also criticized the proposed policy, and how it came before lawmakers.
"I certainly agree with the overall intent of the order, but that being said, police departments are not identical across the country," she said, noting that some reforms that other police departments, like Minneapolis, may need, have already happened in Cambridge.
In speaking with Cambridge residents of color, Simmons, who is Black, said many "are a little alarmed about the seeming disproportionate number of white people speaking to the issue."
"Some of the folks I heard from at that meeting were offended," she said. "They were offended by the number of white people speaking up on their behalf when really this isn't only a time for Black Lives Matter, but it's also a time for Black voices to be heard."
Simmons said, she, too, was offended, noting that she is the only African American member of the council, and that she should have been asked for input on the policy.
"I don't need them to speak for me," she said of her fellow councilors. "I don't need them to save me, and I don't need them to exclude me. I respectfully ask for them to work with me, to collaborate with me, and above all to respect me because when you disrespect me, you disrespect my community."
In response, Sobrinho-Wheeler said he can't control the public comments, and that he "appreciates" the comments from Bard and Simmons. He noted the proposed policy is about limiting increases, not defunding the department.
"It was supposed to be the start of a conversation, not the end of it," he said.