Local
'A harsh wake-up': Here's how white people can broach difficult conversations about race
"Racism is a problem that affects all of us, but not all in the same ways."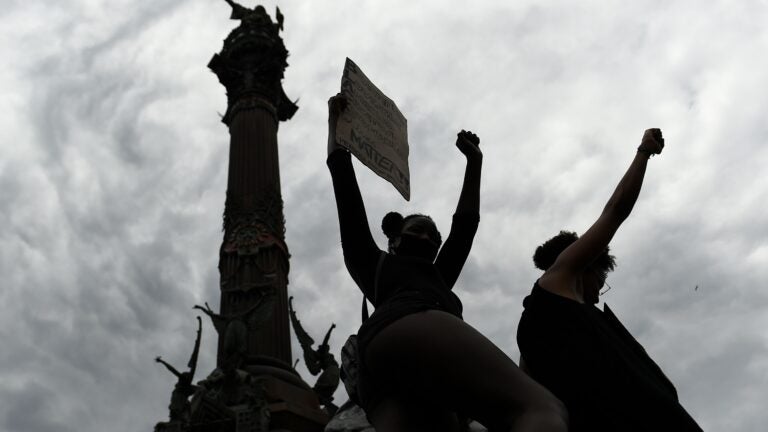 During the first month of the graduate school course "Racial and Cultural Identities" at Wheelock College, Debby Irving said she carried a bottle of ginger ale with her at all times because she was constantly nauseous. 
She was familiar with what she was feeling. She'd been nauseated during grief before.
"'What I went through was a deep grieving process," the Winchester native said. "Grieving the ideals that I had invested in for so many years only to find out that they just aren't being lived at all in this country." 
In that class, Irving said she was confronted with her own ignorance about race, realizing that the world she and most white Americans were taught to believe in — "America as a beautiful, level playing field" — didn't exist. 
"And that is a pretty harsh wake-up: to understand that this land of the free that you thought was already in place is actually a work in progress, and not doing very well," she added. 
As people across the nation continue to take to the streets en masse, demanding justice for George Floyd, Breonna Taylor, Tony McDade, and countless other Black Americans killed by the police, there has also been an urgent call for Americans, especially white people, to talk about anti-Black racism and speak out against it. 
A racial justice educator, writer, and author of the book "Waking Up White: And Finding Myself in the Story of Race," Irving said when she brings up conversations about race, racism, or white privilege, she knows she's also delivering a blow.
"It's so much easier for us to reject information that's uncomfortable than to actually create the kind of discomfort and dissonance in ourselves that we have to in order to take it in," she said. Confronting these topics, Irving added, is making room for "an overhaul of our belief systems."
We can't think about injustices if we don't talk about them, Irving said. 
Through racial justice work, "the invisible becomes visible," she said. "We start to share how one another thinks, we learn about history that's been whitewashed, we learn about racism living in systems that we white people can't see, yet people of color experience every day. So conversation is a way of helping us make visible what's deep in our subconscious, and also to convey what we're experiencing." 
Irving said the conversations white people need to have about racism are deep, and oftentimes push them back to their childhood, questioning the ideals they've learned that have kept them silent about race in the past. 
"There's a lot of work white people need to do just with white people to break silos in white communities," she added.
Racism, Irving said, is a system designed to dehumanize Black people.
"You can't dehumanize another person unless you deny a little bit of your own humanity," she said. "And part of waking up is reclaiming your own humanity." 
The key to challenging racist structures and engaging racial justice work, Irving said, is just starting to educate yourself and staying committed. 
"Welcome to the rest of your life," she said. "This isn't a short-term project, this is a lifelong commitment."
For Irving, taking on that commitment has been some of the most rewarding work she's ever experienced. 
"It's reacquainted me with parts of me that I didn't even know were there," she said, "that I had lost." 
Extending an invitation
While it's always contextual, Irving said one strategy to broach a conversation with someone after they've made a racist comment is to get really good at asking questions like, "Where did you get that idea?"
She said sharing how the comment they made impacted you, and detailing how it left you feeling, helps move the dialogue along. 
It's also important to extend an invitation, Irving said, asking people if they're open to hearing your thoughts before leaping into a conversation about race.  
"If you extend that invitation, it's very rare someone's gonna say 'nope,' and if they say that, well, then your words would never have landed anyway," she said. "Once someone agrees to the conversation, you've kind of set the tone."
If a conversation goes awry, Irving reminded that it's okay to apologize and let the person know that it's important you feel heard by them, then ask if they would be willing to revisit the topic later.
Race shouldn't be taboo 
Dr. Beverly Daniel Tatum, a child psychologist and author of "Why Are All The Black Kids Sitting Together in the Cafeteria? And Other Conversations About Race," said it's important to bring these conversations up with the people in your sphere of influence. If you're a parent, that might look like talking to your kids, and if you're a supervisor, it might mean having discussions with your staff.  
Tatum said many white people are taught from an early age that race is a taboo topic, so when it comes up, it invokes a lot of anxiety and sometimes even physical responses, like clammy palms. 
"There's research that shows that white people become less articulate when they're asked to speak about race than when they're talking about other subjects," she said. "It interferes with their ability to communicate as effectively as they do in other contexts."
To get over it, she said it's just like preparing to run a marathon: You have to practice a little bit every day. 
Building Bridges
When white people are talking to other white people about race, Tatum said one effective strategy can be to find common ground then explain how you came to your current understanding.
For example, she said a young college student might strike up a conversation with their parents about prejudiced beliefs by saying, "I used to think that way," or, "I know many people feel that way," but then explaining what they've found out, or witnessed, that changed how they think about the idea now. 
"If you talk about it like that, if you can say, 'I felt, and I found out, and now I feel,' you are conveying what you think without making accusatory statements to the person you're responding to," Tatum said. 
Irving added that talking to people in your life who are misinformed about racism, those who are against the anti-racist movement, and others who are on the fence is especially important to healing divides.
One way to broach these conversations, Irving offered, is asking what people's reasoning and feelings are behind their stance, then sitting with them and listening to what their experiences or fears surrounding these issues are. 
Even if you're miles apart from someone else's political beliefs, she added, listening to them builds a bridge. 
"What you're going to hear might be really, really hard to hear," she said. And that's when it's important to "sit with our discomfort and have the emotional capacity to hear a completely contradictory point of view. And once you hear that, then you can start to build some bridges."
Being willing to listen
Tatum said when a white person engages in conversations about race with a Black person who may be explaining their personal experiences with racism, it's important for the white person to approach the discussion with curiosity and gratitude. 
"That can be a positive conversation though it might be tiresome for the person of color," she said. 
But it's also possible for white people to dismiss a Black person's experience by questioning whether or not something really was a racist act, Tatum said, adding that some white people find it hard to listen to Black people's stories and experiences with racism because it makes them feel guilty, sad, or defensive.
"They might respond by trying to minimize or explain away the experience that the Black person had," Tatum said. "The key, from the white person's point of view, is are they willing to listen or not?"
A common goal
"The notion of white supremacy does not always manifest itself in the sense of a clear, established belief that you are superior to someone else. But it manifests itself sometimes in small ways, like I have the right answer, and you don't," Tatum said, offering an example. "If a Black person is describing an experience, and a white person wants to insist that they have a better understanding of what that experience was, what's implied in that is: I, a white person, know more about your experience than you do."
The most important thing is not to assume, and just to listen, she said. 
"Racism is a problem that affects all of us, but not all in the same ways," Tatum said, adding how people of color are disadvantaged by power structures while white people see advantages from the same systems. 
"It is important for us to see that if someone is being systematically disadvantaged, there are other people that are systematically being advantaged," she said. "You can't have one without the other."
And Tatum said it's important to recognize those differences, because injustice eventually leads to conflict, and conflict eventually impacts everyone. 
"If we want to live in a peaceful society, where everyone is able to thrive," Tatum said, "we all have to be working toward that goal."
Resources to help drive the conversation
Below are some websites and resources with more information on starting conversations about race in your sphere of influence.