Local
A local shoe company says this former WCVB host received $15 million stolen from them. Now, they want it back.
Alden Shoe is suing Bianca de la Garza for accepting money that her close friend, the Middleborough-based company's former top accountant, allegedly stole.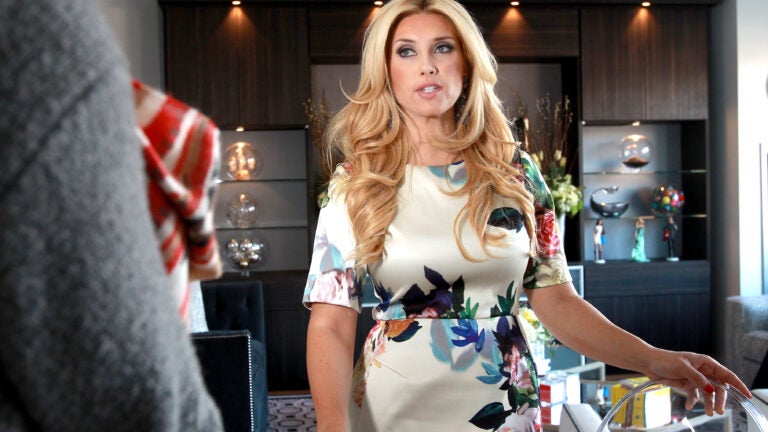 What does Bianca de la Garza, the former WCVB host-turned-beauty product dealer, have in common with Alden Shoe Company, the 136-year-old men's footwear business founded and headquartered in southeastern Massachusetts?
The answer is a new lawsuit in Suffolk County Superior Court.
Lawyers for Alden say the company's former longtime executive and chief financial officer, Richard Hajjar, secretly stole more than $20 million from the family-owned shoemaker and funneled $15 million of the funds to de la Garza, lavishing the TV personality with gifts — ranging from a Mercedes-Benz to expensive jewelry to a million-dollar New York City apartment — and bankrolling her short-lived late-night TV show.
And now, Alden is suing de la Garza, arguing that she knew — or should have known — the money was stolen and demanding they get it back.
Alden declined to comment Tuesday, citing the pending litigation; de la Garza did not respond to a request for comment.
How the alleged theft took place
According to documents filed on June 1, the alleged theft by Hajjar was discovered last year when Alden President Arthur Tarlow Jr. was in the process of estate planning.
Hajjar, a Duxbury resident, first joined Alden in 1987. His father had worked for Tarlow's father as an accountant. And according to the lawsuit, he became a key employee and trusted adviser to the Tarlow family over his three decades with the Middleborough-based company, which touts itself as the "only original New England shoe and bootmaker remaining of the hundreds" that were located in the region before most manufacturers moved overseas.
Until last year, Hajjar was Alden's vice president and corporate secretary, a member of the company's board of directors, and CFO; according to the lawsuit, he was responsible for "handling most day-to-day financial matters."
The lawsuit says Hajjar met de la Garza sometime around 2012, when she was an anchor on WCVB's early morning show, EyeOpener. They became "close friends," and Hajjar developed a romantic interest in de la Garza, according to the lawsuit.
"Over the ensuing months and years, Mr. Hajjar and Ms. de la Garza communicated on a frequent basis," the filing says. "They vacationed together. And Mr. Hajjar purchased gifts for Ms. de la Garza worth hundreds of thousands of dollars."
And that, allegedly, was only the start.
Last October, after a forensic accounting investigation, Alden discovered that Hajjar had embezzled more than $20 million from the company, according to the lawsuit. Tarlow discovered the alleged theft after he asked Hajjar to transfer some of company's "substantial" retained earnings into family trusts.
After repeated delays and follow-up requests, Hajjar said he would send the funds, which were in a Santander bank account, to the company's operating account so they could be distributed.
Then he stopped showing up to work.
Hajjar initially texted Tarlow he was sick, according to the lawsuit. When the funds never arrived, Tarlow texted back to ask "what was going on." Hajjar did not respond. When Tarlow visited his local Santander branch, he found out that "nearly all of Alden's retained earnings," which were estimated to be "well in excess of $10 million," were missing.
According to the lawsuit, Hajjar took the majority of the stolen money from the Santander account. But he also allegedly opened — and "completely" drew down — an $8 million unauthorized line of credit in Alden's name and, over a number of years, transferred at least $24 million into a defunct real estate trust account that had been used by the company.
Alden says that Hajjar used the real estate account to cut himself checks and pay off "exorbitant" personal credit card bills.
According to the lawsuit, the rest of the money went to de la Garza and her business pursuits.
"I launched a show. I raised all the money."
After five years at WCVB and more than a decade longer in the broadcast news industry, de la Garza left her morning show role in 2014 to start an entertainment company called Lucky Gal Productions. According to the lawsuit, Hajjar transferred at least $11.5 million to Lucky Gal between 2015 and 2019.
Millions more allegedly went directly to de la Garza in direct payments and gifts; according to the lawsuit, Hajjar purchased a $1.1 million cooperative apartment in New York City for de la Garza (for which she did not pay him back, the lawsuit says). He also allegedly bought her a Mercedes-Benz, a $60,000 diamond bracelet, and a $158,000 diamond ring, along with designer handbags, clothing, and other luxury goods.
According to the lawsuit, Hajjar also gave his American Express card to a "personal shopper that Ms. de la Garza utilized at Neiman Marcus," racking up hundreds of thousands of dollars each month in bills paid with money stolen from Alden.
However, most of the money allegedly went to de la Garza's Lucky Gal company, including $8.3 million for the production of a TV show featuring de la Garza.
While a financing agreement ostensibly gave Hajjar a 50 percent stake in Lucky Gal's revenue and said he could recoup his investment plus 10 percent interest, it gave no timeline for when he would be paid back. Additionally, the agreement gave Lucky Gal "sole and exclusive control" over those decisions. According to the lawsuit, Hajjar never recouped the money.
In 2015, the late-night show "Bianca Unanchored" debuted on WCVB, as well as several other regional ABC affiliates, as The Wrap reported at the time. The show reportedly featured de la Garza "weighing in on a variety of topics, including fashion trends, Northeast hot spots, celebrities, dating and drinking" and ranked "a solid second" to "Saturday Night Live" during the 11:30 p.m. time slot on Saturdays.
The premiere led with an "exclusive" interview with Guns N' Roses guitarist Slash, during which he had to answer a rapid-fire question — or give de la Garza a dollar.
One week from tonight New England will get Unanchored 💖😉 lets do this #biancaunanchored pic.twitter.com/tnB61ww8O5

— Bianca de la Garza (@BiancaDLGarza) January 18, 2015
The show was produced by the company Embassy Row — which was paid nearly $830,000 from Hajjar, according to the lawsuit — and expanded to seven national CBS-owned stations later in 2015. However, before its one-year anniversary, "Bianca Unanchored" went on "hiatus" and never resumed.
According to the lawsuit, the show did not produce a profit, and Lucky Gal "has never been profitable." Despite discussing financing deals with other potential sources, de la Garza was never able to get the same terms that Hajjar provided, the lawsuit says. In total, he allegedly funneled $12.3 million into the show.
In a 2018 interview with Forbes, de la Garza did not mention Hajjar's alleged role in the process.
"I launched a show," she said. "I raised all the money, got all the distribution."
According to the lawsuit, de la Garza "commingled" the assets of Lucky Gal and her beauty product company, BDG Beauty.
The lawsuit also says that she was aware that Hajjar, who "regularly" emailed her from his company address, was an employee of Alden. The plantiffs says she "knew or should have known" that Hajjar did not have the amount of wealth he wielded to fund her personal and business pursuits.
In addition to "hundreds of thousands of dollars" in gifts, de la Garza received more than $15 million in stolen money, according to the lawsuit. In 2019 alone, she allegedly received $2.3 million, including a $230,000 wire transfer on Oct. 22, 2019.
Alden's lawyers sent a letter on Nov. 15  to de la Garza demanding the immediate return of the misappropriated funds. Three days later, her legal team responded, saying that they would put the funds into a trust account, pending their own investigation. But so far, the money has not been returned.
Alden says de la Garza did not accept the money "in good faith" and has no rights to the funds. Their lawsuit seeks damages and restitution from de la Garza, as well as all money and property she received through the stolen funds to be held in constructive trust. In other words, they want their money back — plus some.
Alden also filed a civil lawsuit against Hajjar last month in Plymouth County Superior Court, public records show. According to The Boston Globe, the lawsuit says he has paid back $3 million of the $27 million Alden has asked to be returned.