Local
Here's why declaring racism a public health crisis is 'encouraging,' but just a start, according to Harvard public health dean
"The truth is that our health is largely determined by what happens outside the doctor's office."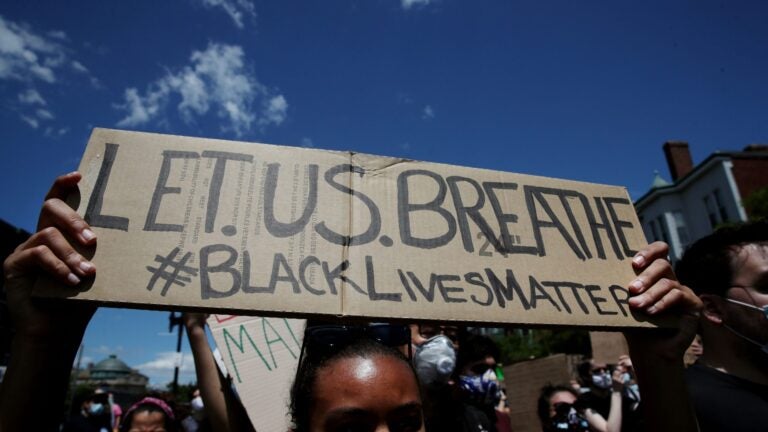 Racism was declared to be a public health crisis in both Boston and Cambridge last week, with mayors Marty Walsh and Sumbul Siddiqui announcing within a few days of one another their commitment to addressing the impacts of racism on the health of their constituents.
"We know this is only the first step," the Cambridge mayor wrote on Twitter. "We're committed to eradicating racism in our institutions and making sure everyone in [Cambridge] has equal access and opportunity in education, healthcare, housing, public safety and business." 
We're committed to eradicating racism in our insititutions & making sure everyone in #CambMA has equal access & opportunity in education, healthcare, housing, public safety & business 💫 pic.twitter.com/36Qy4IhQwc

— Mayor Sumbul Siddiqui (@MayorSiddiqui) June 11, 2020
In making his announcement for Boston, Walsh ordered his office of Health and Human Services to work with the Boston Public Health Commission and other city departments to undertake eight strategies for addressing racism. He also announced an "initial investment" of $3 million, taken from the Boston Police Department's overtime budget, for the health commission's implementation of the outlined strategies in his declaration.
"The health impacts of historic and systemic racism are clear in our [COVID-19] case numbers, and the impacts go far beyond the current crisis," Walsh said.
We will back this declaration with an initial investment of $3 million from the @BostonPolice overtime budget to @HealthyBoston to work on strategies that address the impact racism has on the health of Boston residents.

— Mayor Marty Walsh (@marty_walsh) June 12, 2020
These are the City steps called for in the 10-point action plan put forward by the Black and Latino Legislative Caucus and other elected officials of color in #Boston and the Commonwealth. https://t.co/wcCnUGv3OG

— Mayor Marty Walsh (@marty_walsh) June 12, 2020
The measures come as communities across the country reckon with structural inequities and systemic racism in America following the killing of George Floyd. Floyd, a 46-year-old Black man, was killed while being taken into Minneapolis police custody on May 25. His death has sparked weeks of protests across the country calling for justice and law enforcement reforms, with medical professionals and public health experts emphasizing that it has been long recognized in their fields that racism is an issue of public health.
Michelle Williams, dean of the Harvard T.H. Chan School of Public Health, was among those who issued statements directly linking Floyd's death as "a gut-wrenching consequence of what we in the public health community know all too well … racism is a public health crisis."
Reacting to the declarations by city officials, the Harvard dean told Boston.com it was "encouraging" to see Walsh and Siddiqui join other public officials in "finally declaring a truth that we in the public health community have long known."
"We can't change what we haven't first acknowledged," she wrote in an email.
The declarations of racism as a public health crisis are a "laudable start," but Williams stressed that budgets convey the "true priorities" of an institution or municipality. She said she was pleased to see Walsh reallocating funds to social services.
"It is imperative that we invest in actions across all sectors of government — from criminal justice to health care to education and economic development — to dismantle the devastating health effects of racism," the dean said. 
Williams isn't the only one to emphasize that the declarations are just one step. Boston City Councilor Ricardo Arroyo, who proposed "systemic cures" to addressing racism in the city in March, pointed out in an interview with WBUR that for people of color in America, there is a "heartbreaking reality" and understanding that race "matters every day."
"Declaring racism a public health crisis, for me at least, was the equivalent of calling the sky blue," he told the station. "It was the easy part. The hard part was coming up with a cure for what we knew and still know to be systemic racism."
The "public conversation" may have changed but the facts & data never have. That was & is the issue.

Systemic racism requires systemic cures, I proposed one.

$12,000,000 in a budget of nearly $3,000,000,000 to address symptoms of systemic racism doesn't cure the systemic cause. https://t.co/X1PXhDeNyI

— Ricardo Arroyo (@RicardoNArroyo) June 12, 2020
Williams said there have been a number of cities that have seen success in addressing the public health crisis by targeting specific inequities, such as in Philadelphia where by prioritizing physical activity in schools and improving access to fresh food the city saw childhood obesity rates fall by 6.3 percent, with some of the largest drops among Black children. 
"The truth is that our health is largely determined by what happens outside the doctor's office," Williams said. "It's a product of the circumstances in which we grow up, live, work, and play — otherwise known as the social determinants of health. And the disparities that harm the health and cut short the lives of Black Americans cut across all them — from the opportunities that are available to us to the air we breathe, the water we drink, and the availability of healthy food in our neighborhoods."
The health outcomes for Black Americans are "indisputably rooted" in the more than four centuries of systemic racism in the country, she said. 
"The vestiges of slavery and Jim Crow still persist in every aspect of our daily lives — from police brutality and economic deprivation to housing and employment discrimination and mass incarceration," the Harvard dean said. "Then, there is the chronic stress associated with experiencing racism, which itself has been shown to undermine physical and mental health."
Addressing the public health crisis will require everyone to address the "full spectrum of inequities" produced by systemic racism. 
"Doing so will save countless lives," Williams said.