Local
Photos: Separate protests converge in West Roxbury
The two protests — a Black Lives Matter rally and a larger group supporting first responders — met Wednesday evening at the Holy Name Rotary.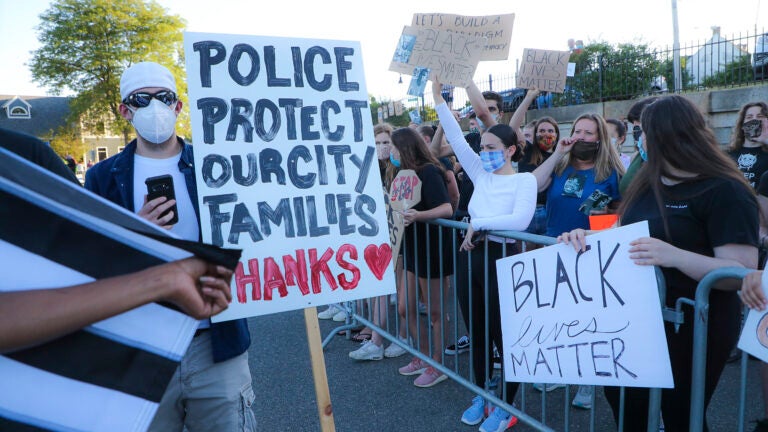 A West Roxbury traffic rotary was the setting for two separate demonstrations Wednesday evening, one supporting police officers and emergency workers and a second denouncing police violence and the killings of George Floyd, Breonna Taylor, and other Black Americans. The two protests converged at West Roxbury's Holy Name Rotary.
A Facebook group for neighborhood residents organized the Law Enforcement and First Responder Appreciation Rally, according to The Boston Globe. A Black Lives Matter rally was held simultaneously at the traffic circle. Some participants in that protest told the Globe they took exception to the law enforcement rally, describing it as being "created to amplify the voices of police officers, and in turn silence that of Black victims."
WCVB reported "lively exchanges" between the two groups, but no incidents.
Here are photos and social media posts from West Roxbury.
A few dozen Black Lives Matter supporters standing amidst the several hundred Back the Blue supporters in Boston. Lively back and forth between the groups. #WCVB pic.twitter.com/LR5NUGuGcx

— Josh Brogadir (@JoshBrogadirTV) June 17, 2020
Hundreds surrounding Holy Name rotary in West Roxbury for law enforcement & first responder appreciation event. Another demonstration, representing Black Lives Matter, also being held here at same time/same place #Boston25 #protests2020 pic.twitter.com/38zVZOFwNT

— Drew Karedes (@DrewKaredes) June 17, 2020
A #BlueLivesMatter demonstration tonight in West Roxbury had supporters of police and Trump locals in a verbal battle with #BlackLivesMatter activists and supporters who showed up in even numbers in this heavily pro-police neighborhood. #protest2020 @wgbhnews pic.twitter.com/AsqFD1wMt3

— Phillip W.d. Martin (@phillipWGBH) June 17, 2020