Local
Boston city councilors want to see Juneteenth as an official holiday
"It shouldn't just be a resolution."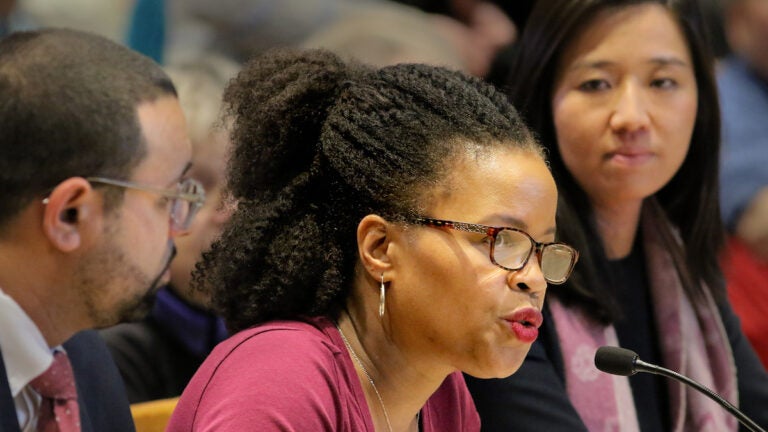 As the nation approaches Juneteenth, several city councilors say they want to see the celebration become an official holiday in Boston.
On Wednesday, the council passed a resolution recognizing the occasion, celebrated by Black Americans for over 150 years to mark the end of slavery, this Friday, but some say the day should receive a standing designation similar to other observances, such as Patriots Day.
"It shouldn't just be a resolution," said Councilor Andrea Campbell, one of three councilors behind the filing. "It should be an official holiday in the City of Boston."
June 19 marks the anniversary of Maj. Gen. Gordon Granger's 1865 arrival in Galveston, Texas with Union soldiers, to tell enslaved people that the Civil War was over and they were free people, according to Juneteenth.com. The moment was notably two years after the Emancipation Proclamation took hold in January 1863, however, the Union's presence in Texas until that point had been minimal, making enforcement of the executive order difficult.
But by June 1865, that was no longer the case. Confederate General Robert E. Lee had surrendered in April, and Granger's regiment brought in enough troops to ensure the law could finally be carried out.
Juneteenth became an annual celebration and observance of the proclamation and end of slavery, and has been celebrated by Black Americans and communities of color across the United States ever since.
City Council President Kim Janey said the day is a celebration of Black lives and Black liberation.
"For any of us who have grown up in the experience of what it means to go to a Black family reunion or a Black cookout, it is this wonderful, big celebration," said Janey, speaking about the annual "Roxbury Homecoming" typically held in Franklin Park this time of year. "It's like having a million family reunions happening all at once with this recognition that we truly are one family."
But Janey and others highlighted how this year's Juneteenth comes amid social upheaval across the country, as the nation grapples with the longstanding impacts of systemic racism in the aftermath of the death of George Floyd, the Black man killed in police custody in Minneapolis last month.
"We are at this critical time in our nation's history," Janey said to her fellow councilors, who make up the most diverse council in the city's own history. "This, you know, I think is probably the biggest thing before all of us, this biggest moment before all of us, and what we do with it as people who are in a position of influence and power in this city. And I think having this holiday, this celebration, as we are considering all of this is critically important."
Shout out to my sisters in service @CampbellforD4 and @juliaforboston and to every community activist in this fight for black liberation. Proud to partner on this legislation. Let's get free! ✊🏽 https://t.co/LN2qLlVKHF

— Kim Janey (@Kim_Janey) June 18, 2020
Julia Mejia, a co-lead sponsor of the resolution, said Juneteenth is also a call to action.
"This is a time to be reminded of how far we have come, but also how much work we have to do to become truly free," she said.
Several councilors said they would work towards making Juneteenth an official city holiday. Some, including Janey, Mejia, and Campbell, tweeted out a link to a Change.org petition urging city leaders to declare Juneteenth a paid city holiday.
"If we can do it for Patriots Day and other historical moments that other people deem important, this one, I think is very reasonable to consider for residents of color in particular," Campbell said.
We should dedicate June 19th to this purpose every year — not only for Black Bostonians to celebrate, but also as a way to allow non-Black residents in Boston to educate themselves on this history and support efforts to dismantle racism and systemic inequities here in Boston.

— Andrea J. Campbell (@CampbellforD4) June 17, 2020
Councilor Ricardo Arroyo said he has given his staff the option of taking Friday off.
"As we move forward, I just think that the advocacy for this day as a day of reflection for where we've been, how we got here, and the work we still have to do is incredibly important," he said.
Mayor Marty Walsh, speaking to reporters Thursday, said the Juneteenth flag will rise at City Hall Friday, but noted the holiday this year will not be celebrated publicly the same as years past amid the coronavirus pandemic.
"I want to urge everyone from every race and every background to reflect on what this holiday means; reflect on the suffering and injustice … Black people experience and continue to experience; and reflect on the history behind the issues we face today," said Walsh, who earlier this month vowed to make Boston a national leader in combating racism in the wake of Floyd's death.
"In 2020, we acknowledge that the role we all have to play in breaking down systemic racism once and for all is here," he added. "This is a time to make history and move forward."
https://www.youtube.com/watch?v=Ep6caeU9ubw