Local News
A proposed Boston ordinance would limit when police use tear gas and rubber bullets
"We should not start with using these tools that are prohibited not only by international law, but also in the context of warfare."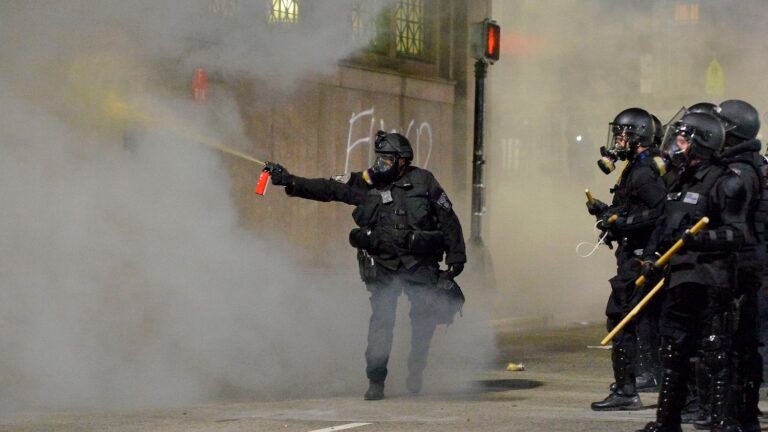 The conditions and protocol for when police use crowd control chemical agents and projectiles such as tear gas and rubber bullets in Boston would be specifically limited to certain situations through a proposed ordinance filed by city councilors this week.
Lead sponsors Ricardo Arroyo and Andrea Campbell are seeking to narrow the use of the devices to situations where large gatherings and demonstrations turn violent or destructive, according to the proposal introduced to the council Wednesday.
The filing comes after authorities across the country have deployed tear gas and rubber projectiles in response to demonstrations against police brutality in the wake of the death of George Floyd, the Black man killed in police custody in Minneapolis last month.
"Obviously this is the time to push for many police reforms that would make our system more transparent, accountable, racially just, and diverse, and one critical piece of course is demilitarizing our police department," Campbell said.
In Boston, police used such tactics against crowds that gathered downtown in response to Floyd's death on May 31, according to councilors.
Sgt. Det. John Boyle, a Boston police spokesman, recently told The Boston Globe authorities used a spray similar to pepper spray, tear gas, and sponge rounds — made of foam rubber — but not during peaceful demonstrations. According to the newspaper, Boyle said tear gas and pepper spray were also used against officers by people in the crowd.
A Massachusetts State Police spokesperson that night said troopers discharged "pepper ball projectiles" to disperse an "aggressive and combative mob who began to strike (a Transit Police) cruiser."
The lawmakers say that although these kinds of weapons are considered less dangerous than traditional firearms, each carries significant risk of bodily harm.
Arroyo noted chemical irritants such as tear gas and pepper spray can cause blurred vision, coughing, rashes, difficulty swallowing, vomiting, and disorientation, among other impacts. The use of these types of chemicals are banned in warfare under the Geneva Protocol of 1925, but law enforcement in the United States is still able to use them against citizens, he said.
Projectiles such as rubber bullets, plastic bullets, and beanbag rounds are "specifically designed to cause trauma and incapacitate individuals," and can be lethal if they hit an individual's head, Arroyo said. He pointed to Victoria Snelgrove, an Emerson College student from East Bridgewater who was killed when she was struck in the eye by a pepper pellet fired by Boston police into a crowd on Lansdowne Street after the Red Sox clinched the pennant in 2004.
This restriction will protect the residents of Boston from the indiscriminate, dangerous, and even fatal impacts of such devices, especially during lawful protests and/or demonstrations.

— Ricardo Arroyo (@RicardoNArroyo) June 17, 2020
"These so-called 'less-lethal' weapons have the real risk of causing permanent injury or death, both to intended targets and bystanders, as a result of misplaced or ricocheting shots, indiscriminate use, pre-existing medical conditions, inadequate user training, repetitive applications, intentional misuse, and panic and chaos caused by panicked crowds, raising significant doubts that these weapons can be used in a manner that is simultaneously safe and effective," the filing reads.
Under the proposed ordinance, law enforcement would only deploy chemical agents and kinetic impact projectiles if an on-scene police supervisor at the rank of deputy superintendent or higher personally witnesses acts of violence or property damage.
That person would have the ability to authorize the use of tear gas or rubber bullets, but only after he or she gives at least two separate warnings over a loudspeaker system and directs the gathering of people to disperse, according to the filing. The warnings must be given two minutes apart, with the weapons used only after two minutes following the final warning.
"We've all heard from numerous residents with respect to tear gas use, rubber bullets being used during peaceful demonstrations and them being injured by these tools," Campbell said.
Campbell stressed however the ordinance is not aimed at taking away protections from police. Instead, the ordinance creates a "narrow, narrow space" for police to be able to use them, she said.
"We should not start with using these tools that are prohibited not only by international law, but also in the context of warfare," she said.
Councilors on Wednesday also passed a resolution voicing support for legislation crafted by state Rep. Liz Miranda, a Boston Democrat, and Newton Democrat Sen. Cynthia Creem that seeks to ban the use of chokeholds, tear gas and chemical weapons, rubber bullets, and attack dogs in Massachusetts.