Local News
Faneuil Hall hunger fast continues after group receives no response from mayor on name change
"We are very displeased."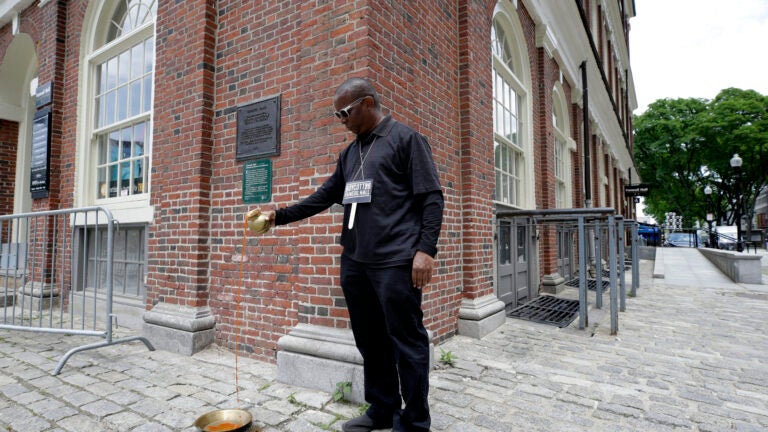 A local activist who began a hunger fast on Monday to call for the renaming of Faneuil Hall said Wednesday he's "displeased" with the lack of response from Mayor Marty Walsh.
"We are very displeased with your leadership on this issue," Kevin Peterson, founder of the New Democracy Coalition — a grassroots civics organization pushing to change the name of the historic site — said in a message to the mayor on the third day of his demonstration. "We are very displeased. We would like to have your attention immediately so that we may discuss a meeting that leads to a city-wide hearing on changing the name of Faneuil Hall."
Peterson has been at the forefront of the years-long effort to rename the historic site that bears the moniker of an 18th century slave owner and trader. On Monday, he started his hunger fast outside Faneuil Hall, saying he would continue the demonstration until Walsh identified "an immediate date" for city-wide hearings on renaming the tourist attraction.
On Wednesday during a press conference, Peterson stressed his protest is a "hunger fast" not a "hunger strike," saying he and the coalition are calling on Walsh and residents of Boston  to recognize that racism is a "spiritual disease" and that Faneuil Hall, with its namesake, is a "house of horrors."
"No one — no race or creed in this city would allow a 'Hitler Hall' to exist in this city," Peterson said. "No racial group or leader would allow a 'Mussolini Hall' to exist in this city. Why are Blacks in the city being demeaned to such an extent that we have the name of a white supremacist on the building that's publicly owned?" 
Peterson previously organized a boycott of the marketplace named for Peter Faneuil, an 18th century merchant who built the hall with money he made trading slaves and raw goods. Historical records show Faneuil, who later donated the building to the city, also owned slaves himself.
The mayor's office declined to comment on the demonstration on Wednesday in response to a request from Boston.com. 
Reverend Joseph Rocha, a member of the coalition, issued a statement calling on Walsh to keep his "promise" to make the city a leader in fighting racism following the killing of George Floyd and the ensuing local demonstrations against police brutality and racism.
"Your words that you spoke two weeks ago about making Boston a national leader, concerning ending structural racism, ring hollow," Rocha said.
"Mr. Mayor, you should be ashamed of yourself," Peterson said Wednesday of the lack of response he's received in response to the concerns raised about the building. 
In addition to the public hearings on renaming the hall, the activist and seminarian issued a new set of demands on Wednesday for Walsh and the city to address. The requests range from demanding the City of Boston formally apologize for slavery and the harm it caused to ensuring in the next five years that service contracts awarded by the city reflect the demographics of Boston's population.
Peterson stressed his calls for action by the city as a "serious request," and said he was disappointed in the lack of response he's received so far, calling it "despicable."
"There comes a point where you're sick and tired of being sick and tired," he said. 
He adding that he and his coalition will keep up efforts to draw attention to the effort to rename Faneuil Hall.
"We will continue to press our case," he said.