Local News
The Boston City Council passed the $3.6 billion operating budget amid controversy. Here's a breakdown of the debate.
The proposal was approved by an 8-5 vote.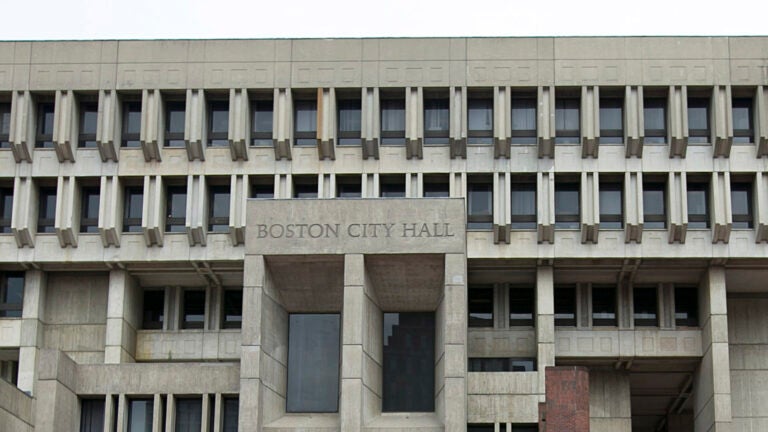 The Boston City Council Wednesday passed, by a close vote, a $3.61 billion operating budget for the coming fiscal year — a proposal opponents said fell far short of sweeping changes needed to address systemic racism and racial inequities, but that supporters said keeps hold of significant investments to address key issues during the economic upheaval spurred by COVID-19.
The 8-5 vote followed over two hours of debate fueled by local echoes of nationwide calls to reallocate police funding into anti-violence and public health initiatives, as well as investments into communities of color that some councilors said have been left repeatedly underfunded for generations.
"I know we are still in the midst of a public health crisis that is hurting our economy and making a lot of decisions about the future uncertain," said Councilor Andrea Campbell, among those who rejected the proposal. "But how many times in our history have we told people of color to wait for another time or another moment?"
Mayor Marty Walsh submitted the revised fiscal year 2021 budget last week after the council shot down the initial proposal earlier this month, citing the need for a plan that better reflected the growing needs and shifted financial reality brought on by the coronavirus pandemic.
Walsh's refile, still a $119 million or 3.4 percent increase over the 2020 budget, incorporated a $65 million hit the city is expecting to take on as tax revenues across the state drop during the health crisis.
The operating budget, as supporters highlighted Wednesday, puts $18 million in additional funding into affordable housing initiatives — a 40 percent increase — as well as $14 million more into public health programs, and other notable investments into food access, language access, and trauma response programs, among others.
In responding to calls to reallocate money set aside for the police budget, Walsh's plan also cut $12 million, or approximately 20 percent, of the department's overtime budget. The money will now be funneled into trauma and counseling services, mental health services, programs for minority and women-owned businesses, housing support, and $3 million for strategies being undertaken by the Public Health Commission in addressing racism as a public health crisis, among other efforts.
Those who voted to pass the proposal included councilors Kenzie Bok, Annissa Essaibi-George, Ed Flynn, Lydia Edwards, Michael Flaherty, Matt O'Malley, Frank Baker, and Liz Breadon.
Councilors Campbell, Ricardo Arroyo, Michelle Wu, Julia Mejia, and council President Kim Janey rejected the budget.
Councilors did, however, vote, by 11-2, to pass the $1.2 billion budget for Boston Public Schools — a $80 million increase over the previous year — and a $3 billion capital budget that was unanimously accepted.
While even those who backed the operating budget said the plan is imperfect, many councilors argued failing to approve it would surrender the gains made on those key issues.
Voting down the budget Wednesday would have triggered a 1/12 budget for July, in which the city would operate on level funding based off of last year's appropriations until another new budget was passed.
The council can vote to approve or reject the budget, and can reduce the scope of it, but cannot add money to it, under regulations. Only the mayor may request a transfer of funds.
Walsh and several councilors said the move would put city workers at jeopardy of immediate layoffs.
"If my colleagues had a viable plan, one that I could believe is not gambling with livelihoods and critical services, I would be with them on this," said Bok, chairwoman of the council's Committee on Ways and Means. "This is a question of political judgement. There's no question we all share politics. We all feel the urgency of this moment. But the council cannot speedily negotiate a new, better budget from the mayor without a viable counter proposal. That is like saying you can lean out over a cliff without attaching a rope that is supposed to bring you back."
What supporters of the budget said
Bok, and others, said by passing the budget, with investments in areas such as housing and public health, officials would set a new water mark or foundation for the future, where all budgets must at least meet that funding, if not exceed it.
Shooting down the budget would erase hard-fought appropriations, while spurring swift layoffs among the city's 18,000 employees while the country faces a gloomy economic forecast in the age of coronavirus, she said.
"This budget is responsible, sensible, and it's workable … We need financial predictability and stability now more than ever," said Flaherty.
Baker said he didn't see how the council could arrive at a new budget within a month's time.
"We need to go into this next year I think with financial surety, a passed budget with quite a few good investments," he said.
Please find my full statement regarding my vote today in favor of the City of Boston FY21 budget. #bospoli #mapoli pic.twitter.com/P9iDVu9k5y

— Ed Flynn 愛德華費連 (@EdforBoston) June 24, 2020
However, Bok said she supports calls to reduce the overall $414 million police department budget by 10 percent, but achieving that change requires a plan. Overtime costs, she noted, are baked into the city's contract with the police union, and can't be changed without re-negotiating.
O'Malley agreed, and pointed to upcoming negotiations where the council can weigh in.
"Until we win change in those contracts, further cuts to police budget lines like overtime would be worse than meaningless," he said. "Voting down this budget would dramatically increase the police overtime budget and erase the reallocation that we've won so far."
Bok laid out steps to set up four public hearings in the next three months to get towards the goal of further reallocating police funds, adding that officials could probably achieve cuts to overtime spending that are closer to $20 million instead, with a focused approach.
Yesterday the @BOSCityCouncil voted to pass the FY21 operating budget 8-5, BPS budget 11-2, and the capital budget, OPEB, and transfer dockets unanimously. I voted yes on all dockets; you can watch my speech here for why: https://t.co/NjgcwjLQda #bospoli #mapoli (1/6)

— Kenzie Bok (@KenzieBok) June 25, 2020
Edwards thanked Bok for the plan, but also stopped short of heaping praise on the budget she ultimately backed, although she acknowledged it contained positive aspects.
"I am really disappointed that this conversation seems to have pitted those social services and those people of color against the police," she said. "That is disappointing."
She said neither a vote in favor or against the proposal "makes Black or brown people more free," solves persistent problems such as poverty and homelessness or defunds the police.
Yet, she said, a "no" vote is more about the statement of what the "no" vote means, and too many of those who opposed the budget were all right with layoffs of city employees. Real change in the budget process requires broader reform in local government, such as through the city charter, she added.
"I'm not willing to treat those workers as cannon fodder in any cultural war," Edwards said.
My statement on today's budget vote #bospoli #mapoli: pic.twitter.com/jBmwwadJcw

— Lydia Edwards (@LydiaMEdwards) June 24, 2020
Essaibi-George, vice chairwoman of the Committee on Ways and Means, said her vote does not mean the budget is a perfect one.
Councilors have work to do in uprooting the causes of systemic racism "that no budget alone will solve," she said.
"However, I'm also aware there are many who can't wait for another revision," she added. "Our families experiencing homelessness cannot wait. Our families in need of food access throughout this pandemic and beyond cannot wait. Our seniors in need of services cannot wait, and our small businesses cannot wait. The fight for change does not end with today's budget vote. For me, this is where the rest of the work needs to start."
What opponents of the budget said
Arroyo kicked off Wednesday's hearing in leading an eight minute and 46 second moment of silence honoring George Floyd, the Black man killed in police custody in Minneapolis last month.
In remarks later on, he pointed to the lower levels of funding other city programs like fair housing, the Disabilities Commission, and senior supports receive compared to police coffers.
Those disparities have existed for too long, he said.
"Not nearly enough has been said about those harmed and devastated by generations of underfunding for whom this budget does not go nearly far enough in meeting this moment for their needs. We took a moment of silence — eight minutes and 46 seconds. It felt incredibly long," Arroyo said, his voice wavering. "It was very painful. Now imagine waiting decades for funding in our communities and being told to wait with an impending recession, in which every conversation that we have had about budget is that we won't have more money to allocate in next year's budget, or the budget after that."
Today I voted no on the operational budget. Throughout my campaign to represent D5, I promised to center justice and equity in every decision that I make as a Boston City Councilor and that is exactly how I evaluated this budget. pic.twitter.com/StnPMdwpjR

— Ricardo Arroyo (@RicardoNArroyo) June 24, 2020
Janey referenced how police overtime pay increased by 84 percent, or $35.5 million, since 2011 — a statistic that should alarm councilors because the growth simply isn't sustainable, she said.
"Even if we've had other investments for other areas, that is not sustainable," she said. "And are we any safer because we spend 84 percent more in overtime? I ask us this: Are we any safer in our community? And if you say yes, let me ask you this question: Do Black and brown residents feel any safer?"
I stood with my people.
I stood on my principles.
And I stood in my power. 👑

The budget vote is over, but our struggle for liberation continues. Support our agenda for Black and Brown people in Boston! Let's get free! ✊🏽#DeliveringForDistrict7#BlackLivesMatter#bospoli

— Kim Janey (@Kim_Janey) June 25, 2020
Those that spoke out against the budget also rejected the notion that downvoting the proposal would mean immediate layoffs as soon as next week.
"When the administration chooses to run out the clock with impending fear of layoffs and cuts, our role first is to tell the truth," Wu said. "Just because some might think it unlikely or hard to come to a better agreement than moving to a provisional budget temporarily, doesn't mean it's acceptable for us to hide that option under a veil of fear mongering, with administration officials falsely suggesting to city workers that they will be laid off immediately starting July 1."
Wu said she's not expecting a short cut, but rather a road map to change that has been offered for years.
"Twelve million dollars from the police overtime budget is a bare minimum response," Campbell said. "With no plan to change the regulations through collective bargaining, we won't necessarily see any reduction in spending.
"To those who say there is no counter offer: There is and has been (one) for decades," she said.
Delaying and submitting a new budget proposal in a timely fashion should not have been considered unreasonable, Campbell said.
"We can do this in such a way that city employees do not lose their jobs, even if that means creating specific plans and commitments that have to be monetarily realized with external resources," Campbell said. "We can and should create a revised budget that maintains critical investments while meeting the needs of our residents that this moment demands."
I heard from too many constituents, including some City employees who didn't think this budget went far enough but essentially said "we'll take what we can get."

Communities of color have been "taking what we can get" out of this process year after year. That's not good enough. pic.twitter.com/lwMU6yTCei

— Andrea J. Campbell (@CampbellforD4) June 24, 2020
Campbell added that gradual change will no longer cut it — a sentiment Mejia echoed.
"I am no longer interested in having drip-drop incremental changes that expect us to continue to hope and pray and wait some more about finally having the type of budget that really reflects the needs our people find themselves in today," she said.
"Boston City Councilor At-Large Julia Mejia Votes Against the FY21 Budget" #AllMeansAll #bospoli

Read our full press release here ⬇️ pic.twitter.com/01maFANGlm

— Julia Mejia (@juliaforboston) June 24, 2020
The council may have to revisit the budget upon learning how much the city will receive in local aid from the state, several officials said.
Lawmakers on Beacon Hill are currently trying to thread together a 2021 fiscal year budget that incorporates the financial blow and needs brought on by the COVID-19 pandemic, which has triggered substantial losses in tax revenues.
Bok said the updated aid numbers can arrive "any day."