Local News
Activism or vandalism? Here's why FTP Boston says it left report cards at the homes of Boston city councilors
"We installed the report cards at their homes so they understand the ramifications of this budget."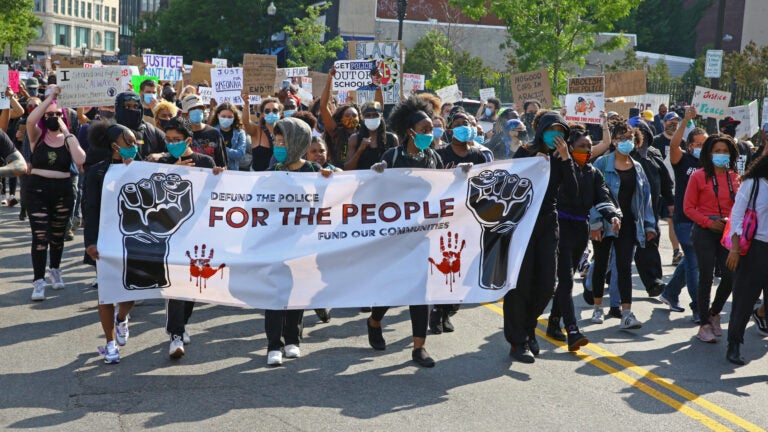 A group of young activists calling for defunding the police in Boston say they left report cards at the homes of city councilors over the weekend because they have a "duty" to hold the elected officials accountable. 
For the People Boston, or F.T.P. Boston, released the 13 report cards on social media on June 24 after holding a virtual town hall where the group presented its demands to Boston City Councilors following the passage of the city's operating budget for the next fiscal year.  The collective said each councilor was graded based on their actions related to climate justice, campaign finance, education, equity, health, housing, immigration, public safety, transportation, and youth. 
On Friday, members of the collective posted 225 copies of the report card in all nine districts of the city. 
"The installations are in response to the City Council vote for the FY21 budget 8 in favor, 5 opposed where the council had the opportunity to make bold decisions regarding the Boston Police Budget of 414 million dollars and address F.T.P.'s three demands for justice," the group said in a Saturday statement. 
.@BOSCityCouncil Your parents AKA constituents should be very disappointed with some of your report cards. Others did do well but not one councilor got an A. #ForThePeople #NewCouncilNextYear #November2021 #bospoli #GenZ

— FTPBoston (@FTPboston) June 27, 2020
— FTPBoston (@FTPboston) June 27, 2020
To the ones on the @BOSCityCouncil that did do well, we appreciate your work and ask that you continue to work in honor of your constituents. We also ask that you help your colleagues work in honor of the people. If they choose not too, their seats will be taken.#RESIGN #bospoli

— FTPBoston (@FTPboston) June 27, 2020
— FTPBoston (@FTPboston) June 27, 2020
On Monday, members of the council and Boston Mayor Marty Walsh condemned the actions of the group, labeling the posting of the report cards at city councilors' homes as acts of "vandalism" and "unacceptable."
"Trying to get a message across by targeting people's homes and their personal space is wrong," Walsh said Monday during a press conference.
Explaining the report cards in the Saturday statement, FTP Boston said the report cards, and the decision to post them around the city, are meant to hold elected officials accountable.
"We installed the report cards at their homes so they understand the ramifications of this budget," Garnet Andrews, 20, a coalition member said in a statement. "If policing our communities is such an easy thing to accept living in lavish homes then, they won't mind FTP keeping them accountable."
Another member, 17-year-old Niki Pierre, said in a statement that the group's three demands "still stand" even though the budget was passed.
"We have a duty to keep our elected officials working for the people," Pierre said. "Not just the ones who are privileged enough to make it to campaign dinners and the voting booth but, everyone. Good democracy is mass consciousness of candidates, their platforms and their actions while participating in community building. Many of these elected officials have talked their walk but, FTP is asking them to walk their talk. Overall, we demand commitment from city councilors to make policy that centers generational healing and building/innovating systems that center the happiness and joy of Black and Brown people."
Councilors Ricardo Arroyo, Andrea Campbell, Julia Mejia, and Michelle Wu each received the highest grade from the group — a B. Council president Kim Janey received a C, as did Lydia Edwards. Kenzie Bok, Liz Breadon, Anissa Essaibi-George and Matt O'Malley received Ds, and the group gave Frank Baker, Michael Flaherty, and Ed Flynn Fs. 
In sharing the reasons for posting the report cards, FTP Boston also shared the specific demands they are making in correspondence to Walsh: 
1. Increase funding for Success Link, the youth employment program operated by the City of Boston Department of Youth Engagement & Employment.

2. Increase funding for Boston Public Schools, including for mental health counselors and other social-emotional wellness supports, but not for more police in schools.

3. Increase funding for violence prevention programs.

4. Trim the police department budget by 10% (approximately $41 million) with a cap on overtime accrual and overtime pay for military exercises to fund the requests.

To pay for those priorities: 

1. Cap overtime budget for Boston Police Department.

2. No funding for military-style training, exercises, and weapons. 

3. Phase-out police in Boston Public Schools and replace with mental health counselors and other socio-emotional wellness support.

4. No funding for facial recognition technology.