Local
A local nonprofit is raising concerns about fast food restaurants near Boston schools. Here's why.
"The things that are available in your environment really shape your diet, and, in the long term they can shape your health."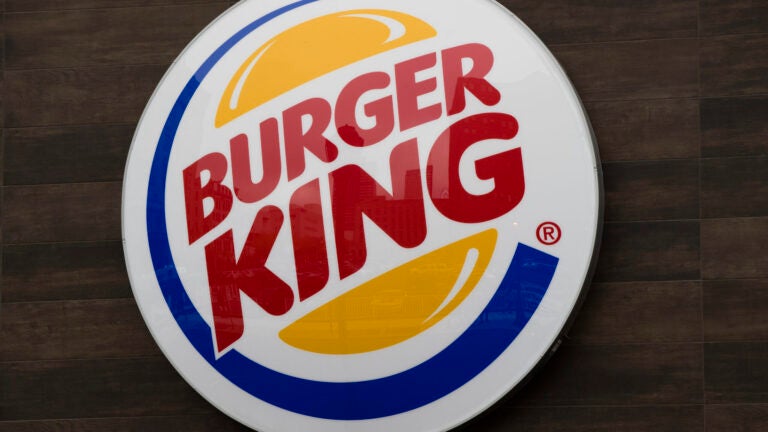 Marlon Solomon was happy when the school his two children attend, Boston Preparatory Charter School, moved away from Cleary Square in Hyde Park two years ago. 
"It was really close to a McDonald's," he told Boston.com. 
But, it turns out, the school's new location on River Street is slated to get a fast food neighbor across the street — Burger King. The restaurant chain will be closer to the school than the playing fields where students practice sports, Solomon pointed out. 
"As a parent, I found it quite offensive that somebody would actually be so brazen as to put a Burger King right across the street," he said. 
The neighborhood has been embroiled in a debate over the fast food restaurant since early this year, according to Boston Bulletin, and Solomon said he started a petition to oppose the restaurant moving in. The city's licensing board granted approval for the franchise in May, following a contentious hearing where neighborhood groups expressed split opinions on bringing the location to River Street, Universal Hub reports. 
Following the approval, Solomon, a civil engineer and founder of the nonprofit Afrimerican Culture Initiative, said he felt compelled to take a closer look at the proximity of fast food burger chains to schools after hearing arguments from board members that there wasn't a saturation of similar operations in the area, while acknowledging that fast food isn't healthy.
Using Google Maps, he plotted the distances between fast food burger chains and public schools in Boston, Brookline, and Newton. He looked for the three closest McDonald's, three closest Burger Kings, and three closest Wendy's restaurants to the four schools he selected — Boston Preparatory Charter School, Jeremiah E. Burke High School, Brookline High School, and Newton South High School. He then averaged the distances of the chains to each school to get an average saturation of the burger chains, in miles, to the school. 
He found the average distance to the three closest franchises was far less for the Boston schools, which he noted are attended predominantly by students of color. 
"I am showing what systematic racism looks like in real life," Solomon said. "It's there for everybody to see. It's not a question of how, when, what, why. It's right there for you to see. You have the density here in the Black neighborhoods, you don't have the density" in the other neighborhoods.
Since he only focused on the three specific chains, Solomon pointed out his evaluation just captures a fraction of the picture. In the report, he noted that large areas of Chestnut Hill, Brookline, Newton and surrounding residential areas have minimal fast food and a larger variety of healthier food options. 
"Profits mean more than the health of children of color," he wrote. 
The makeup of your environment — such as whether you live in a food desert where you have limited access to affordable, nutritious food — has significant implications for your health, Sara Bleich, a professor of public health policy at the Harvard T.H. Chan School of Public Health, stressed. 
"We know that food deserts are areas with limited access to affordable nutritious food. In urban areas, they're much more concentrated where Black people tend to live," she told Boston.com. "And what we know is if you continually have access to inadequate food, you have fewer resources, you're at higher risk for all sorts of health-related conditions. Like diabetes and obesity and cardiovascular disease."
How environments are shaped are based in systemic racism, she said. 
"If we hone in on the issue at hand, which is fast food intake or fast food restaurants, we know generally that fast food restaurants tend to be more dense and more highly concentrated in low income and minority neighborhoods," Bleich said. "So not surprisingly then, consumption of fast food also tends to be higher among those groups and those are the same groups that have much higher rates of obesity and then diseases associated with obesity."
The Harvard professor stressed that three elements drive why people eat what they do — price, convenience, and taste. 
"So if you're a young person and you're hungry and there's Burger King 300 feet away, not surprisingly you're probably going to go there all the time," she said. "But if it were something else, then likely you would eat at some other type of venue. So the things that are available in your environment really shape your diet, and, in the long term they can shape your health."
That's why thinking critically about the food closest to children is so important, Bleich said. 
"It will set their preferences," Bleich said. "It will set their diet and it can harm their health."
The Harvard professor said the challenge with tackling healthy eating and obesity more broadly is there's not one single policy that will make the environment change and solve the problems of food deserts and the inequities associated with them.
"The 'who is responsible' is varied," she said. "It does include the fast food restaurants. It does include all of the marketing that they do, which is often targeted to Black and brown, low-income populations. But then there also needs to be policy efforts to think about, 'How do we create an environment which raises up the barriers to unhealthy food and brings down the barriers to healthy food?'
"That could be policies like sugary beverage taxes, like limiting marketing, like requiring that meals served in fast food restaurants don't include soda when they're being sold to children," she said. "Some of these things are already in place in many many parts of the country … There's all sorts of changes that restaurants could take if they really cared about making meaningful differences."
Solomon said he hopes his examination of the density of the fast food restaurants to just four of Boston's schools will help raise awareness and prompt the development of solutions to create healthier options for the children in the neighborhood.
"It's not about money," he said. "It's about get these Burger Kings out of here, so we can breathe — so our communities and our businesses can breathe."
See his full report here.