Local
Rachael Rollins accused 4 other D.A.'s of misogyny for inserting themselves into Suffolk County business. They say that isn't the case.
Rollins's office will be considering the constitutionality of life without parole sentencing for young adults.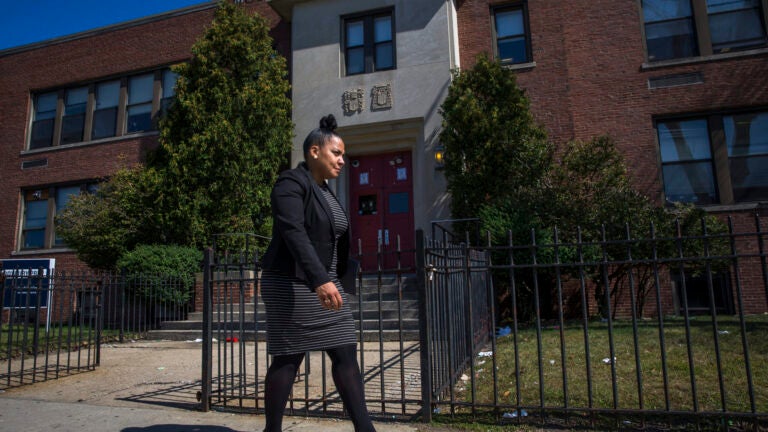 In a case linked to the sentencing of two teens, 17 and 18, for murder in Boston in 2011, the state Supreme Judicial Court is allowing Suffolk County Superior Court to hold an evidentiary hearing to consider new research about brain development between a juvenile and a young adult.
It's a case that could lead to first-degree murder suspects being tried as juveniles or "young adults facing similar sentencing standards as juveniles" all the way up to age 21, as opposed to the current cut-off of 17. And those far-reaching implications led four district attorneys outside that jurisdiction to attempt to insert themselves into the process, a move that did not sit well with Suffolk District Attorney Rachael Rollins.
"In a pleading that strains credulity, these four men claim that their 'interests' would not be 'adequately represented' by the Suffolk County District Attorney in a Suffolk County case," Rollins wrote in a press release.
The SJC agreed, rejecting on Wednesday the other district attorneys' request for a role in the hearing.
Here's what you need to know:
The case
It's been about nine years since Jaivon Blake, 16, was shot to death in Dorchester, and since then those convicted of his murder have been handed life sentences.
But one defendant, Nyasani Watt, who was 17 at the time at the time of the murder, was handed a sentence of life with the possibility of parole after 15 years. The other, Sheldon Mattis, who was 18, was sentenced to life without parole.
Watt and Mattis were convicted of first-degree murder along with four other charges in a 2013 trial.
When Blake was killed in 2011, Watt was 17, but his 18th birthday was just 10 days away. He was found to be the one who pulled the trigger, according to a news release from the Suffolk County District Attorney's Office.
Mattis was 18 years and 8 months old at the time of the killing, the release said, and, as an adult, he was handed the more severe sentence. He was found to have given Watt the gun and identified the victims. A "joint venture theory" was used in the case.
The same year of the trial, the state Supreme Judicial Court found life sentences without parole for juveniles unconstitutional.
"The high court said the remand 'to the Superior Court for development of the record with regard to research on brain development after the age of seventeen … will allow us to come to an informed decision as to the constitutionality of sentencing young adults to life without the possibility of parole,'" the recent release from Rollins said.
Motion to intervene from four other district attorneys fails
In the same news release, Rollins notes that four other district attorneys — Essex D.A. Jonathan Blodgett, Plymouth D.A. Timothy Cruz, Norfolk D.A. Michael Morrissey, and Cape and Islands D.A. Michael O'Keefe — filed a motion with the Supreme Judicial Court asking to intervene in the case, or have it sent on to the state legislature. That motion was cast aside by the court.
In the release, Rollins said she believes the motion from the other four district attorneys had to do with them questioning her ability to do the job.
In a filing opposing the four's motion, Rollins said it "is without precedent or legal basis."
She called the move by her peers "nothing more than a misogynistic wolf in sheep's clothing."
"Never has this Court allowed one (let alone four) elected district attorneys to intervene in another district attorney's matter," she said in her court filing. "That long-standing record should be left intact. The motion should be denied on the papers."
In the release, Rollins also spoke of how both defendants were found guilty.
"Remember, it was the Suffolk County District Attorney's Office that actually prosecuted Mr. Mattis and Mr. Watt," she said. "We secured guilty verdicts and stood by the victims, survivors, and their family members during the grueling court process. We have also notified them of every decision and of the recent filings and will continue to do so throughout this entire process. We filed a brief with the SJC in support of the jury verdict and guilty findings.
"For the four men to imply that my experienced and able team of Assistant District Attorneys can't handle an evidentiary hearing is outrageous. The professionals here are some of the Commonwealth's most skilled in handling cases involving homicides, gun violence, and other litigation (including emergency petitions to the SJC)."
The four district attorneys respond
In response to Rollins's statement, district attorneys Blodgett, Cruz, and O'Keefe issued a joint statement, noting that they're interested in the case because what takes place in Suffolk County could change sentencing practices for young adults in the entire state.
The motion, they said, was a way for them to make their positions on the matter known:
We hold a differing view on a complex and difficult issue of criminal justice policy: the appropriate of sentences for "young adults" — i.e. those 18-22 — convicted of first degree murder.

In 2014, the legislature, in full view of what science demonstrates about brain development, drew the line at which juveniles convicted of first degree murder should receive adult sentences at age 18. Yet in her brief in the Watt and Mattis cases, DA Rollins staked out a position that such sentences for so called "emerging adults" 18-22 are unjust and that she supports redrawing that line a mere six years later.

We hold differing views on this question and do not believe science of juvenile brain development has so advanced since 2014, and is also sufficiently settled, to justify such a momentous alteration in the law of murder sentencing. Yet the record created in Suffolk, no doubt influenced by the policy position taken, will dictate how the SJC decides the issue for the entire Commonwealth.

Our motion, of which the Suffolk DA was informed in advance, merely sought a meaningful voice in creation of a record that will affect countless cases, and families, far beyond Suffolk County. The declaratory judgement action advocated by them would have permitted multiple stakeholders, including the victim community, to be heard on these critical questions.

We know from past events, the outlawing of sentences previously thought settled would be a devastating blow to the families of murdered victims. We know this well from dealing with the fallout of the 2013 decision in Diatchenko, which outlawed life without parole sentences for juveniles convicted of first degree murder and mandated parole hearings. Their offices continue to guide victims' families through the exceedingly difficult process of coming to terms with the possible release of the person who murdered their loved one. 

We respect both the Court's decision on its motion to intervene but will not apologize for their continuing advocacy for crime victims and their devastated families.
Separately, O'Keefe issued his own statement:
These are policy differences but it's become increasingly clear that if you don't agree with District Attorney Rollins you are called a racist or a misogynist or both. Citizens can read the various filings for themselves and make up their minds as many Globe readers already have based on the published comments. This is an issue which will have statewide implications for families of murder victims. We sought to have a voice at the trial level where the record upon which the SJC will ultimately rule will be created. Yes, we will be filing an amicus curiae brief  at that time but that's a little like closing the barn door after the horse has escaped.
In his own statement, Morrissey said the motion was "not personal," and he's also concerned about what could happen throughout the state due to the Suffolk County case:
This is not personal, and it is not specific to Suffolk County or the facts of the underlying case. The SJC has set this as a test case that may change precedent state-wide. The SJC stated that they want it decided based on a scientific record entered by interested parties. Somewhat unusually, they did so by sending it back to the Superior Court in a way that only one office has the ability to offer such evidence. It could have landed in any office, but it landed in one of the three offices which has articulated an opinion that these sentences are unjust or unconstitutional.

Our motion to intervene was so that we would be able to submit scientific evidence for the court to consider – which cannot be accomplished by filing an amicus brief. It had nothing to do with "investigations, cases, and appeals" in Suffolk County. We did not and do not have any intention to "interfere" in the underlying case or the Suffolk DA's right to seek what she believes is a just and fair sentence. But we do have more than a dozen victims' families who have processed the trauma of their loved-one's murder in the context of knowing that the murderer has been sentenced to life without parole. When the SJC undid life without parole sentences for juveniles on Christmas Eve 2013, the impact on victim families was crushing.

Additionally, the Globe's reporting on the matter includes an untruth: The SDAO was notified in advance that the several DA's were going to do this. We had hoped that all of the stakeholders would have a chance to submit evidence.