Local
Rockport residents file lawsuit over scuba divers undressing in front of their homes, 'clanging' air tanks
The lawsuit claims the divers "destroy" the residents' "enjoyment of their property."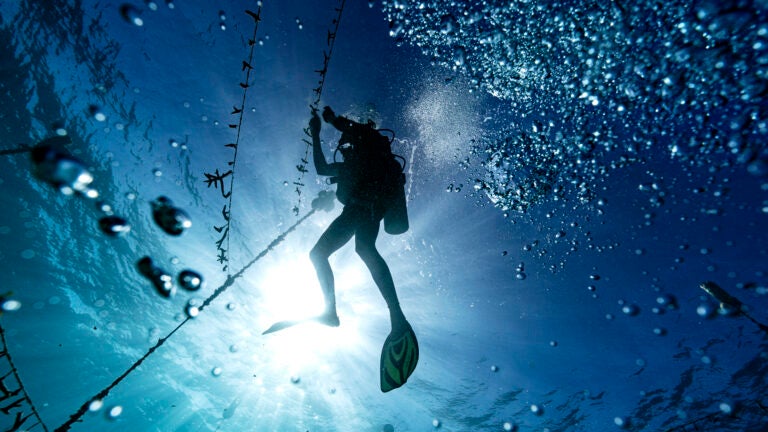 A group of Rockport residents says scuba divers are undressing in front of their beachside homes, and are "clanging tanks."
Now, the group, known as the Back Beach Neighbors Committee, is suing the town in federal court.
Meanwhile, a scuba instructor says classes "always strive" to respect the neighborhood their groups are near, and that the lawsuit is concerning since Back Beach and nearby Front Beach offer opportunities for new divers to learn.
The eight-page lawsuit, filed on Monday through the group's attorney, Michael Walsh of Walsh & Walsh LLP in Lynnfield, details the neighborhood group's complaints regarding how divers use the beach in front of their nearby homes, and "destroy" the group's "enjoyment of their property, annihilate their privacy, and threaten the public safety and order."
Members of the committee have attempted to "curtail this nuisance of unregulated scuba diving," but their efforts "have been thwarted" by the town, the lawsuit says. The group has made various attempts to "persuade" town government "to mitigate the harmful effects of the diving."
Members have also called the police over divers reportedly "undressing in the street, blocking driveways and streets, clanging air tanks, making noise outside of civilized hours, [and] intruding upon the [neighbors'] property and privacy," according to the lawsuit.
The noise and "clanging tanks" cause the residents to lose sleep, the lawsuit says. They say the unwanted behavior goes on until 1 in the morning with more divers headed to the beach around 6 a.m.
Members are also concerned about the reported "public nudity" that isn't "an issue with bathing suits," calling it "distressing" and further noting that some have children or grandchildren who are "young and impressionable."
The lawsuit asks the U.S. District Court in Massachusetts to resolve the issues they've cited. Walsh did not respond to requests for comment as of publication time.
Town administrator Mitchell Vieira said the town had not been served the lawsuit yet and declined further comment when reached by phone.
Carol Murphy, a local scuba instructor and the manager of MASS Diving Inc., said that while the equipment used for diving can be "more distracting" than other activities, the divers are told to respect the nearby neighborhoods.
Relations between divers and residents seemed to become frayed last year, she told Boston.com, and "it has just been escalating since then."
Murphy said she prefers the layout of nearby Front Beach, and people will stop and ask about diving in the area.
"It really is an ideal location for us," she said of the area. "I'd hate to lose it as a training opportunity location. It certainly is of concern as this continues to escalate."
The beaches provide a "very tapered slope," she said, that's easier for newer divers to work with, and parking is nearby. Other locations are further from parking, and some have rocks that make diving more difficult.
Mike Merriman, an instructor with MASS Diving, said he's not seen public nudity in the over 35 years he's been scuba diving.
"Divers take off clothing down to a bathing suit to get into their wetsuits or drysuits no differently than a beach goer, surfer, kayaker, etc.," he said in an email to Boston.com.
Like Murphy, he also said he asks his students to "be quiet and respectful" when in neighborhoods. Classes begin at 6 a.m., and night diving classes end about an hour after the sun goes down.
"I've never witnessed divers at 1am but it wouldn't be out of the question," he wrote. "As for noise, divers set up their gear, get dressed, and enter the water to do their dive.  The most noise I've witnessed is excited groups talking to one another."
Front and Back beaches, along with Rockport's Pebble Beach, have public parking, and it's easy to get to the water. Front and Back beaches also have public restrooms and are close to dining options after a dive, Merriman said.
"Cape Ann is a wonderful location for boaters, fishermen, and divers alike," he wrote. "There are numerous dive sites all over the Cape that range from easy to extremely difficult."
Merriman said he's concerned that one group is being "targeted over all other users."