Local
Boston police looking for 2 people in connection to Black Lives Matter sign vandalism
The incident happened around 9:21 p.m. Thursday.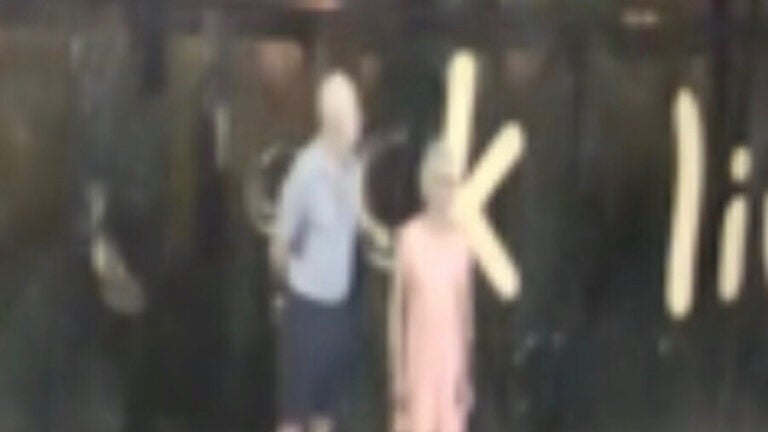 Update: Boston police say they've identified a suspect in connection with this alleged vandalism. Authorities haven't identified the person publicly, and police say the investigation is continuing.
Full story below:
Boston police are looking for two people allegedly involved in vandalizing a Black Lives Matter sign in Allston.
The incident happened around 9:21 p.m. on Thursday and video shows a man allegedly spray painting the sign, which is attached to a state Department of Transportation fence at 321 Lincoln St. A woman is seen standing next to the sign and watches as the man damages it.
The piece is part of a language-based public art project titled "May This Never End," that was installed on the Rose Kennedy Greenway in 2016. A year later, the work was relocated to Allston, where it was erected on a chain link fence on Lincoln Street, according to the Boston Globe.
Anyone who may know anything about what happened is asked to call Boston police detectives at 617-343-4256. Information can also be sent to the CrimeStoppers Tip Line at 1-800-494-TIPS or by texting "TIP" to CRIME (27463), Boston police said.
VIDEO: Allston Police want to know if you can identify the man who vandalized a #BlackLivesMattter sign.
(Hiding the spray paint can behind his back – not suspicious in the least …) #wcvb pic.twitter.com/RjLtFrFoaK

— Nichole Berlie (@NicholeBerlie) July 12, 2020