Local
Multiple shark sightings reported off of Cape Cod, South Shore over the weekend and Monday
More people at beaches and on the water means more sightings, according to the Atlantic White Shark Conservancy.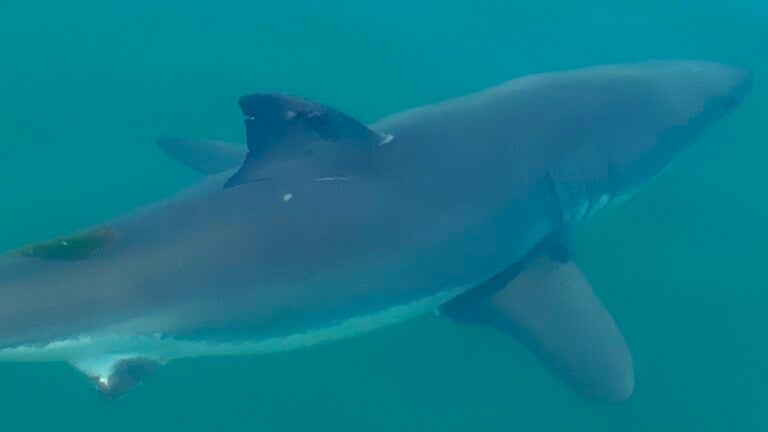 People flocking to the beach or spending time on the water during hot summer days usually means an uptick in shark sightings, and that meant six confirmed shark sightings, and one unconfirmed, around Cape Cod and off the South Shore over the last few days, according to the Atlantic White Shark Conservancy.
On Saturday, there were three confirmed shark sightings off of Sandy Neck Beach in Barnstable and Cape Cod Bay. One circled a boat for about 15 minutes, according to a report on the Conservancy's Sharktivity map.
"Lifelong memory made for all the kids on board (adults too)!!" the report said.
Sunday there was a confirmed sighting off of Brown's Bank. The shark was estimated at about 10 to 16 feet long, the report said. There was also a confirmed sighting of a dead seal "with what appears to be a shark bite" off of Chatham.
On Monday, there was a confirmed sighting off of Head of the Meadow Beach in Truro. The shark was described as between 12 and 14 feet long, according to the report. There was also an unconfirmed sighting near Plymouth. A harbormaster was notified of a fin swimming around for about half an hour and was investigating. A yellow flag was put up at nearby public beaches, the report said.
Cynthia Wigren, CEO and co-founder of the Conservancy, said the group is working with John Chisholm, who goes by the handle @MA_Sharks on Twitter, to work on identifications. The conservancy posts confirmed or unconfirmed sightings based on photos and having a conversation with whoever submitted the report.
The weekend sightings come as an Ipswich family reported seeing a shark off of Plum Island last weekend, and two unconfirmed sightings temporarily closed Duxbury Beach on Sunday.
More sharks than ever in the past were tagged in 2019. Massachusetts saw its first fatal attack since 1936 in 2018 when Arthur Medici of Revere was attacked while boogie boarding at Newcomb Hollow Beach in Wellfleet.