Local News
Boston's second recreational marijuana store is now open. Here's what you need to know.
The East Boston dispensary opened for the first time Monday.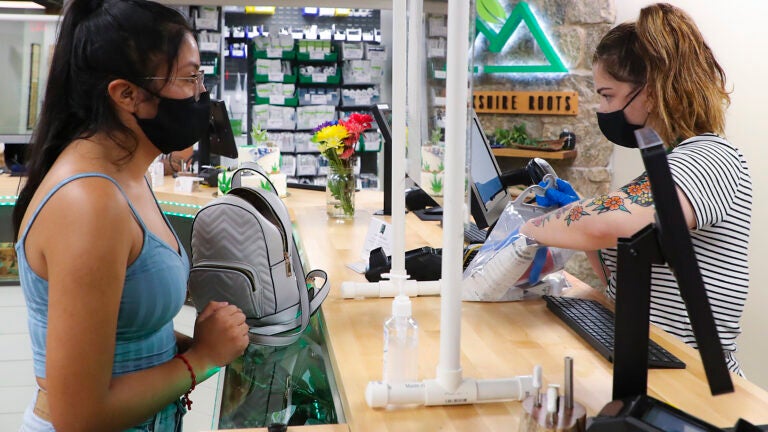 The City of Boston now has two recreational marijuana dispensaries.
With little fanfare, Berkshire Roots opened its East Boston pot shop for the first time Monday. The company, which also runs a marijuana dispensary in Pittsfield, received a commence operations notice from the state's Cannabis Control Commission late last month.
Located at 253 Meridian St. — about a half-mile walk from the Maverick MBTA Blue Line station — the new East Boston dispensary is open from 9 a.m. to 7 p.m. Monday through Saturday, and from 11 a.m. to 6 p.m. on Sunday, according to its website.
However, due to the COVID-19 pandemic, customers are currently required to reserve their order and designated pickup time online before visiting. Face coverings are also required inside the store, per state guidelines.
Customers will not be allowed to enter until they receive a text confirmation that their order is ready.
Due to limited parking, Berkshire Roots is encouraging customers to take ride-sharing services to the nearby Dunkin' location at 31 Central St. or use the MBTA; in addition to the Blue Line, the store is accessible via the 114, 116, 117, 120, and 121 bus routes. For those who do drive, the dispensary suggests several local municipal lots (#026, #005, and #004).
"The store is ready," James Winokur, the CEO of Berkshire Roots, told The Boston Globe, which first reported the opening Monday. "We have great neighbors, and it's really a special place in Boston, given the mix of cultures, language, and history."
According to the store's website, the menu includes a deep array of cannabis flower, infused gummy chews and chocolates, concentrates, vape cartridges, and pre-rolled joints, among other products.
Currently, the East Boston shop is only open for adult-use sales, which are subject to a 20 percent sales tax and a 1-ounce limit on individual purchases. (Berkshire Roots' location in Pittsfield is open for both registered medical patients and recreational customers.)
The opening Monday comes after Pure Oasis opened Boston's first recreational marijuana dispensary in Dorchester this past March.
It also comes after a drawn-out zoning dispute last year, as the Globe documented at the time. City officials signed host community agreements with both Berkshire Roots and another planned East Boston shop located less than the legal half-mile minimum away. (The so-called buffer zone is intended to prevent stores from clustering in one area.) Ultimately, both stores were allowed to move forward.
Boston has signed host community agreements with 12 other prospective recreational marijuana retailers — among dozens of applicants — scattered throughout the city. Ascend, a downtown recreational dispensary that plans to open around the corner from the TD Garden, received a provisional license in January.
As of Tuesday morning, state officials have given more than 60 recreational marijuana dispensaries in Massachusetts approval to open.