Local
Garbage can thrown over Virgin Mary statue near Dorchester church twice
A Virgin Mary statue at a different Dorchester church was set on fire around the same time.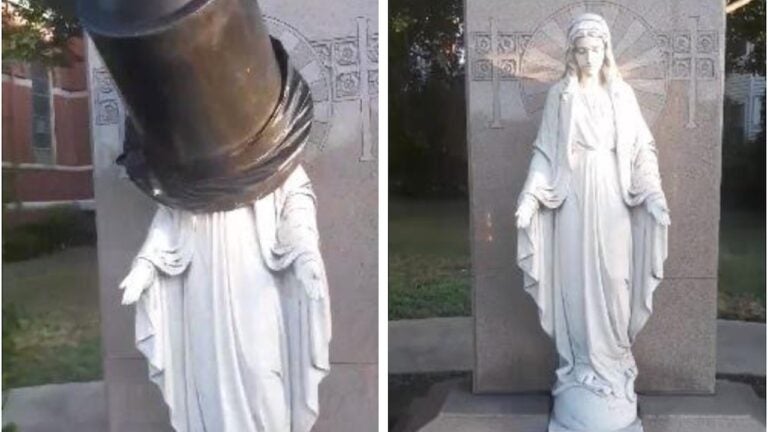 A statue of the Virgin Mary at a Dorchester church had a trash can thrown over top of it twice earlier this month.
The Catholic Action League of Massachusetts reports that the statue at Saint Teresa of Calcutta Parish was found to have the trash bin over it the day after another Virgin Mary statue was set on fire at Saint Peter's Parish, also in Dorchester, on the night of Saturday, July 11. The two incidents would've happened during the same overnight period, the league notes in a press release.
Someone found the statue covered around 8 a.m. that Sunday morning with trash emptied on the ground, according to the release. A few days later, the statue was again found covered by a trash bin around 6:20 a.m. on Thursday, July 16.
Neither of the incidents at Saint Teresa of Calcutta were reported to police, the department said.
The league wants the trash bin incidents investigated as a hate crime. The fire at the Saint Peter's statue was being investigated as an arson, and Boston police's civil rights unit was also looking into if there were any bias indicators. That investigation remains ongoing, a spokesperson for the department told Boston.com Tuesday afternoon.
C.J. Doyle, executive director for the league, said in the release that he believes the incidents shouldn't be thought of as random, and he called on Gov. Charlie Baker, Mayor Marty Walsh, and Attorney General Maura Healey to take action.
"They must condemn these attacks, and must use all of the resources of their offices to identify, arrest, prosecute and incarcerate the offenders," Doyle said. "If they do not, these crimes will just continue."