Local
Brookline moved to ban oil and gas pipes in new buildings. Maura Healey says they can't.
At least under the current state laws.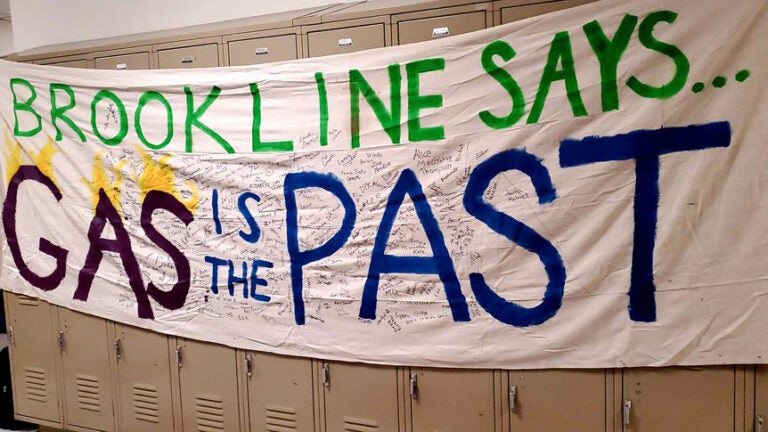 Rep. Tommy Vitolo says Brookline's ban on most oil and gas pipes in future construction projects was "ahead of its time."
It also apparently got ahead of Massachusetts state law.
In a long-anticipated decision Tuesday afternoon, Attorney General Maura Healey blocked Brookline's bylaw aimed at reducing greenhouse gas emissions from taking effect, ruling that the ban conflicted with superseding statewide building and gas codes, as well as the Department of Public Utilities's authority to "comprehensively" regulate the sale and distribution of natural gas.
While the Democratic attorney general said she supported the policy itself and has consistently been on the side of proponents for addressing climate change, her office is obligated to review town bylaws solely from a legal perspective. And on that basis, Healey couldn't let the ban stand.
"It's not a decision about whether or not the policy is a good policy or a bad policy; it is purely a determination that the way it was written is inconsistent with state law," Vitolo, a Brookline Democrat and prominent supporter of the proposed bylaw, told Boston.com in an interview. "And it's a bummer."
Passed overwhelmingly by the Brookline Town Meeting last November, the legislation would have prohibited the installation of oil and gas infrastructure in most construction and major renovations, forcing new buildings to rely the state's lower-emission — and increasingly cleaner — electric grid for virtually all energy needs.
The ban did have some exemptions, including for gas cooking and water heating in large buildings, such as hotels. Still, supporters said the bylaw alone would reduce carbon emission from buildings — which account for two-thirds of Brookline's overall emissions — by 15 percent by 2050, at relatively little cost compared to other climate change solutions.
"We have a legal obligation to cut carbon thanks to the Global Warming Solution Act [which requires Massachusetts to reduce emissions by 80 percent by 2050 compared to 1990 levels] and we have a moral obligation to do so," Vitolo said.
"We don't want to pick the most expensive way to fight climate change," he added. "We want to pick ways that are less expensive. And the elegance of Brookline's warrant article 21 is that it is an incredibly inexpensive way to cut carbon. It is very cost effective."
Vitolo compared the proposal to safety laws requiring that buildings be resistant to earthquakes and fires — ensuring that they are also "safe for a climate future."
However, the attorney general's Municipal Law Unit is required to assess whether bylaws passed by towns are constitutional and consistent with state law, regardless of their merits.
"If we were permitted to base our determination on policy considerations, we would approve the by-law," read the decision released Tuesday. "Much of the work of this Office reflects the Attorney General's commitment to reducing greenhouse gas emissions and other dangerous pollution from fossil fuels, in the Commonwealth and beyond."
But the ruling emphasized that Healey's office is "precluded from taking policy issues into account" in its legal review.
"If it does conflict, the Attorney General must disapprove the by-law, regardless of the policy views that she may hold on the matter," the decision said.
According to Healey's office, the bylaw specifically conflicts with a statewide building code passed by lawmakers in 1975 (before climate change was an prominent issue, Vitolo notes) that said municipalities cannot create their own requirements and permitting processes. It also undermined the state's oversight and regulation of gas infrastructure.
A spokesperson for Healey noted that the attorney general has been involved in a number of actions aimed at transitioning the state towards clean energy and taking action to address global warming, including high-profile lawsuits against President Donald Trump's administration and ExxonMobil.
"While we are legally obligated to disapprove bylaws that are inconsistent with state law, we will continue to lead efforts in Massachusetts and nationally to protect ratepayers and the environment, make our buildings more efficient, and work alongside our communities to reduce the threat of climate change," Healey said in a statement.
Proponents of Brookline's ban had hoped the bylaw would be the first of many in Massachusetts. More than a dozen cities in California have passed similar measures and several other communities in the Bay State were looking to follow suit, including Cambridge, Lexington, and Newton. However, according to Vitolo, most communities have put those talks on hold, both due to the COVID-19 pandemic as well as anticipation of Healey's ruling.
Vitiolo believes a legal challenge to Healey's ruling is unlikely, which means bylaw supporters' next course of action is likely to try to change the state laws.
"It's pretty clear that one avenue to allow communities like Brookline to move forward is to change state law, and that's what state legislators do for a living, among other things," he said.
"It's deeply unfortunate that we are not allowed to take the steps we need to take to meet our climate goals," Jesse Gray, a fellow Brookline Town Meeting member and co-petitioner of the by-law, said in a statement Tuesday. "The Attorney General signaled a willingness to work on this vital issue, and we stand ready to work in partnership with any and all state leaders who want to move forward aggressively with building electrification."
Vitiolo said he is "absolutely" interested in such legislation, but noted that it would require thorough vetting and talks with State House leaders. In the midst of both a pandemic and a renewed push for police reform, legislators have a lot on their plate before the formal two-year session expires at the end of the month.
Still, there's a constituency in the State House for prioritizing climate action.
Republican Gov. Charlie Baker — along with Democratic leaders in the State House – has also pledged net-zero carbon emissions in Massachusetts by 2050.
And earlier this month, more than 35 state lawmakers signed a letter calling for "bold" legislation before the end of the session, after both the House and Senate passed their own respective bills to reduce emissions. That push has now garnered more than 60 signatories, Sen. Marc Pacheco's office said earlier this week.
Vitolo says banning most oil and gas piping in new buildings was just one piece of that overall effort to reduce emissions, and expressed hope that his colleague on Beacon Hill would agree it was worth changing state laws to let communities like Brookline move forward with their own bans.
"I've already started making calls on it," he said Tuesday afternoon. "But I'm not going to be done with the calls today. We as individuals — we as citizens — are right to be impatient."