Local
PHOTOS: It sure is hot. Let's see if anyone is social distancing at M Street Beach.
Marty Walsh and Charlie Baker have urged that beachgoers practice common sense during the coronavirus pandemic.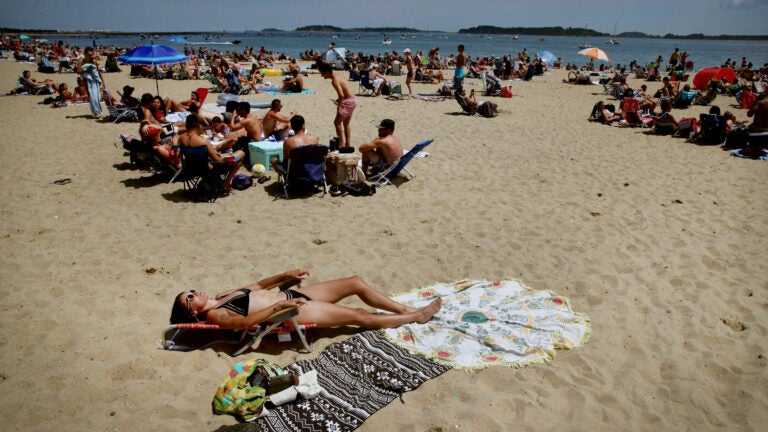 Poor M Street Beach. The young Bostonians who frequent it just want to beat the heat while packed in very tightly together on the South Boston sand, presumably breathing on each other. Trouble is there's a pandemic going on, and such activities — particularly sans masks — tend to be frowned upon in some quarters.
"We can't afford to see more crowded beaches like we did," said Mayor Marty Walsh after photos of M Street Beach crowded with people led to much wringing of hands last weekend. "If this keeps happening, we'll get outbreaks and see more restrictions being imposed."
Also, Walsh noted at a press briefing last Tuesday, "If you just go to the other side of the bathhouse, there is about a mile of beach that no one's using. You can go there and spread out and physically social distance and really be safe, and keep yourself safe, quite honestly."
The Department of Conservation and Recreation got into the act as well, reminding people to social distance and, while they're at it, to avoid drinking alcohol, which can lead to dehydration, and is also for all intents and purposes illegal.
MassDCR would like to remind visitors at M Street Beach in South Boston that alcohol is prohibited and the beach is patrolled by the Massachusetts State Police. Also, please wear a face-covering for the safety & comfort of all, avoid crowds & practice social distancing. pic.twitter.com/Fy19r8rtlR

— MassDCR (@MassDCR) July 24, 2020
Gov. Charlie Baker — who made headlines this week for threatening visitors from COVID-19 hotspots with $500 per day fines if they don't quarantine when they get to Massachusetts — was even more pointed in his advice about beach-going. "If people can't space out, can't do the things that everyone else is doing with respect to face-covering, social distancing and good hygiene, then we'll have to limit the number of people who can be there," Baker said Friday.
A look at M Street Beach this weekend seemed to indicate a crackdown of at least one illicit beach activity, in the form of a state trooper handing out tickets for public drinking. But with no official order to enforce masks and social distancing, a fair number of folks continued to pack themselves in, face-covering-free, the Boston Globe reported.
M Street Beach in South Boston. One guy I talked to said this looks like a pretty standard weekend. #southie #boston #crowding #beaches pic.twitter.com/R26g79Uxcw

— Maysoon Khan (@maysoonkhan) July 25, 2020
Took a 4 mile walk by Carson and M Street beaches this morning and counted the first 100 people to come within 6 ft of me. Of them, only 17 wore masks. 18 had masks on their chin, neck, or wrist. The other 65 had nothing.

— holly (@holleighz) July 24, 2020
Still, state police is working with the DCR "on messaging regarding the need for masks and distancing," spokesman David Procopio told the Globe. Here's a look at what M Street Beach was like yesterday, as we head into the area's latest heat wave.
So just to recap, public drinking, lack of social distancing … What's next?
Topless at M Street Beach? Sure, why not? https://t.co/93S5tBzHWK

— Caught in Southie (@maureencaught) July 26, 2020