Local News
Karilyn Crockett was appointed the first-ever chief of equity in Boston. Here's what she wants you to know about her mission.
"This is a moment for Boston to definitely step into that space and step into the political and ethical urgency of this moment."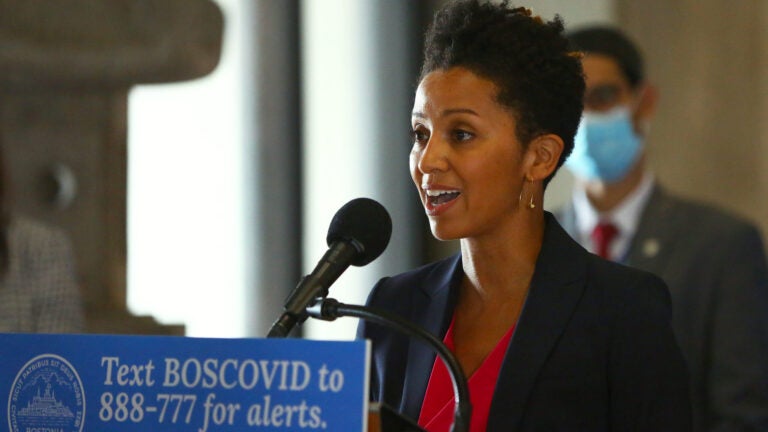 Karilyn Crockett, the first chief of equity for the City of Boston, says she's ready to tackle the hard and demanding work that is needed to address systemic racism in the city.
Crockett, who previously served as the Director of Economic Policy and Research and Director of Small Business Development for the City of Boston before taking up a position as a lecturer at MIT, was appointed to the newly created position in late June by Mayor Marty Walsh. The cabinet-level position at the head of the Office of Equity is charged with leading the Walsh Administration's efforts to "embed equity into all city work" and actively work to dismantle racism within Boston. 
"Karilyn is one of the most intelligent people I know, and I am so honored to welcome her back to city government to take the helm of this new role," Walsh said in a statement in June. "Her record and accomplishments speak volumes about her passion and drive to move the needle on big issues, and I am confident that with her leadership, together we will combat systemic racism and inequities in every single way that city government touches people's lives."
Boston.com spoke with the Dorchester native and lifelong Bostonian to learn about her vision for the new position. Crockett said she's looking forward to engaging with others in the city as part of the demanding work ahead. 
"This is going to be challenging, but it's so important," she said. "I'm here for the challenge and I'm excited to try to work with so many people and folks who have been overlooked in our city for too long, to work together to try and get this right."
Below, Crockett outlines some of her priorities and the approach to addressing racism in Boston.
The interview has been lightly edited for clarity and length.
Boston.com: How did your experiences growing up in Boston inform your academic pursuits initially and the work you have done since that, focused on inequity?
Karilyn Crockett: I grew up knowing my neighborhood, knowing my block, loving my neighbors. Then this question of what is the larger city — what is Boston to you and how do you access it — as a neighborhood kid, is a real question I think for most young people in the city. [There are] incredible riches — educational riches, cultural riches — downtown. But unfortunately, there's more work to be done to make sure that people in the neighborhoods and neighborhood kids access those things and can really benefit from all the things that make us a global, world class city …
My family is from West Virginia, a coal mining family, who came to Boston in the 1950s. They really were looking for opportunity and looking for home. The mines had become largely mechanized, so there was a tremendous loss of labor and employment for miners — Black and white. So my family moves north to try to figure out what's possible for all of us. 
And unfortunately, what they encountered in Boston was not really a welcoming environment or a city full of economic opportunity for them. So my family's struggle and their own fortitude really informed my worldview, informed how I understood the city, and increased my curiosity around what is it, why is it, that my family is struggling? Why is it that so many of our neighbors are not really able to take full advantage of the city's promise? 
As a young kid, that just stayed with me through school field trips. The field trips to the John F. Kennedy Library or Plimoth Plantation or the very typical Boston Public School field trips [where] the classroom is trying to open you up to these larger questions. National questions about what America is, but very much inflected through Boston's history … So I think as a child growing up here and through schooling, it can really raise up very large, philosophical, ethical, and moral questions that also have a racial and class dimension. So that's the kind of caldron I was raised-up in. And my family really encouraged those kinds of questions.
How would you outline your priorities for this position?
The mayor has been really clear about the need to take an intersectional approach to understanding equity and to say this job is about figuring out what is going on in the city — across city government — to address systemic racism and then to articulate how we should address that. To think about inequities in health, to think about inequities in economic opportunity. So my job is really to coordinate and think about how this kind of a strategy is being understood and operationalized in my own cabinet, in the Equity Inclusion Cabinet, to start …
Then once we've done some work to look at what we're doing and what we're not doing, I can stand up some accountability around that work to step outside [City] Hall and be in partnership with the private sector — think about education institutions, all these folks who are in our city and that we need to be in partnership with — to really make a difference in terms of rooting out [not only] systemic racism, but also economic inequality and thinking about the racial wealth gap in particular. 
So the first thing is to just see what's going on and what we're missing, and to let that be informed by research … I've spent the last two years at MIT teaching the graduate level equity and inclusion course. So for two years I've been working with students to look and see what's going on in other cities, best practices, things that haven't been working. And we've worked in partnership with mayors in half a dozen cities … Working with these administrations, the students have produced memos for mayors and department heads to think about how they're operationalizing equity or not. I bring with me that research and that sense of the landscape and will use that to inform what we do in Boston.
In recent years, there's been a lot of discussion after comments or features — from The Daily Show, Michael Che, and then also professional baseball players addressing their experiences with racism in Boston — raising the question of whether Boston is more racist than other major metro areas. How do you feel about that assertion that Boston is one of the most racist cities in the country?
We have a traumatic and long history of failed race relations and racial reconciliations in the city. And I think part of what makes that so difficult and challenging is we also have this other history, in terms of [being] the seat of the American Revolution and freedom and these ideals.
Even in the context of antislavery — Boston was a cradle for antislavery activity and opposition … So to know that we had been this frontline of critical racial resistance, and anti-Black sentiment — to know that is the same location and the same history that also holds the painful and mournful story of our failed effort to desegregate public schools. There's enough racial trauma and wounding to go around this country for sure. And it's a painful legacy that has to be understood through policy reform, that has to be understood through different kinds of economic investment. 
Boston is not alone in having this history. But we have this particularly vexing paradoxical story, in terms of where we have been and where we are. Me, because I am a researcher of history, a student of history, that is something that I also bring to bear in terms of how the city addresses this and understanding this long road we've been on. [With] 249 years of bondage, we have more experience of having enslaved people and Black people as slaves — and all the economic and legal institutions that are needed based on white supremacy to uphold that legacy. We have more experience and more time in the bank on that side of the story than we do on the stop-and-start, sputtering off, trying to dismantle white supremacy in that system. We have about 152 years on [this] side of it, so we're still kind of new at this work. And [there's] a lot of work to do, but definitely an incredible history of people swinging at this and chipping away and a really important part of that work has happened at the local level and at the city level. 
This is a moment for Boston to definitely step into that space and step into the political and ethical urgency of this moment. 
What do you see as the most urgent problem related to racial inequity in Boston?
We have to think about the racial wealth gap and what it means for Black and brown people, people of color not to have assets, not to be able to create wealth for themselves in a city that has been so prosperous. Here, it is unacceptable that we have so many people who struggle to meet their basic needs. And the challenge is really going to be around bringing research to bear on that conversation. Because this is not about people's behavior, what they are or are not doing — this is a systemic approach to thinking about the racial wealth gap and the way that policy needs to inform that. 
It's a challenge, because this is a global and a national issue. So the question is, what can you do at the local level? And what can the mayor do? I do think there are some things that we can do in terms of policy and investments. I am now in this moment of thinking through the research, thinking through what's happening and not happening at City Hall, thinking through what our partners can say and do, and then also thinking about the Racial Equity Fund as an important way to create a new tool to make investments and to bring support that's above and beyond the city's own budget.
What steps or work do you see wanting to happen before the end of the year? Can you speak to any immediate steps?
My first 30 days are really what I'm focused on. My first 30 days is all about scanning. Scanning departments, looking inside of people's budgets, in terms of initiatives and meetings. 
And also we are still in a moment of public health crisis around coronavirus that has also been clearly exacerbated by the public health crisis of racism. So there's a particular moment in my first 30 days to think about, how can what we're seeing in terms of the disproportionate impact on people of color and immigrants — that we see through the coronavirus pandemic — how can that inform the … institutional transformation inside government. So even as we are continuing to respond to this acute crisis right now, we can bring a longterm lens to what our response means beyond this pandemic and to think about how that needs to deliver institutional transformation for these populations. 
What do you see as the biggest challenges in doing this work? And also, connected to that, do you feel like this is really a time to be creative with the solutions or the steps that are taken to address problems?
This is absolutely a time to be creative and to be bold … We've got to think beyond what we've done before. The reality is that people are in the streets, the uprisings and the conversation around George Floyd's murder have people really demanding much more. And the question is, what kind of role can government play in responding to those demands and how can government prioritize and think about, not only its actions, but its complicity in some of the problems that we're trying to address?
So it is absolutely a time to be creative … Talking to people who are doing this work and have been doing it has been crucial, and looking at a national context, and even an international context, to understand how we can be bold and how we can be creative. And honestly, some of the creativity part is very low tech, in the sense that there are a lot of conversations and listening. Unfortunately I don't have five years to listen, I don't even have a year. But this time of listening for me is crucial … But time is not always on your side when you have to do that, so I feel like time is not on my side because we have multiple crises happening.
What's your biggest message to members of the community who may feel doubtful about whether the city will make substantive changes to address systemic racism and racial injustice in Boston? How is this effort — and your role at its helm — different from past efforts?
I understand their skepticism and their hesitancy. And I would say I shared some of that. I feel I'm like-minded in saying well, what difference can a person make — a new appointment — or saying what difference can a new office make. And I think because we start with that kind of a question, it already amplifies and elevates the conversation to say, well, this is not about silo work, it's not about a program or an initiative — it has to be something that's much more collective. It has to be something that's much more focused on systemic change.
So the fact that people start with that critique is, again, something that resonates with me because I share that critique. It has got to be work that is moving across all of City Hall and multiple institutions. This is what organizers know in terms of what systemic change is, and I share that viewpoint. So I would say, I'm here to work together with folks, to build with folks because I know that's how you get lasting change. Some of the best policy, the policies we celebrate that are on the books here at the city, they were the result of people really pushing for change — seeking it at the structural and systemic level  — and delivering on that. There's no shortcut to that.
Can you speak a little bit more to the idea of being "bold" in this work and what it looks like to you in Boston?
Being bold means bringing other powerful institutions into the work with us. It's recognizing that government can't do it alone. But we have a responsibility to provide leadership, to express the electorate's desires and what the electorate deserves … Then how do we call into service with us powerful corporate leaders, powerful educational leaders, powerful leaders in the healthcare sector — all these folks that really benefit from the people in Boston. How can we turn the power of City Hall around to really marshal folks to be bold with us. So I will have a series of very specific asks that will come to a number of institutions across the city, including supporting the Racial Equity Fund and other things.
So that's a part of being bold. But being bold is not just about being loud or being demanding, it's about having an informed understanding of what the need is, which is why this moment of research and listening and conversation is important. Because my asks are coming, and they will be bold.
Get Boston.com's browser alerts:
Enable breaking news notifications straight to your internet browser.