Local
Here's how Boston police are looking to save money on overtime spending — and the challenges that remain
"This whole thing has been like a snowball coming down the mountain."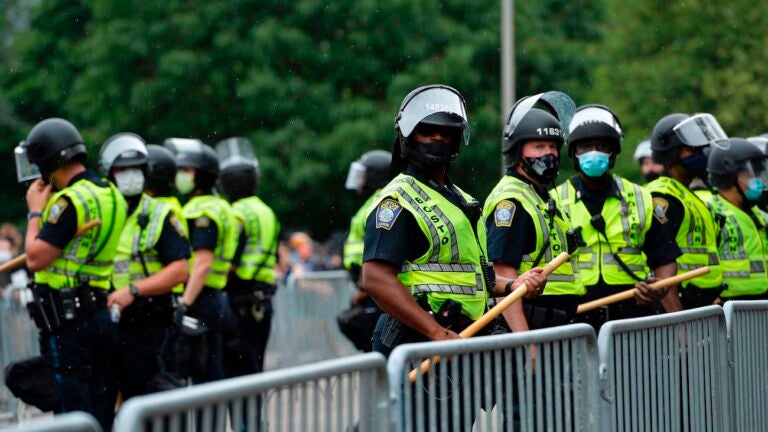 Boston police administrators every day have to fill an average of 94 open positions left vacant by officers off-duty due to injuries, illness, or vacation, officials say.
Those "replacement personnel" that take on the extra work are a major force behind the department's annual overtime costs — now the subject of scrutiny by city leaders looking to trim at least $12 million as promised by Mayor Marty Walsh in the city's $3.6 billion 2021 fiscal year operating budget.
Councilors say it's their duty to hold the administration to that plan, which the Ways and Means Committee set out to do Tuesday in the first of several hearings aimed at how the city can rein in overtime costs, which, by law, are allowed to exceed budgets and frequently do.
Also a driving force is money spent compensating officers for "extended tours," or instances where officers end up working hours beyond their scheduled shifts, department officials told the committee during the four-hour meeting.
In total, replacement personnel and extended tours made up 67.6 percent of the total overtime costs — $72.5 million and change — for fiscal year 2020, according to Boston Police finance director Lisa O'Brien, who said reducing spending will require "significant reductions in these two categories."
"Unfortunately we do have officers who are out injured right now, and it is higher than what we've seen in normal years," she said.
Those expenses are non-discretionary, since district captains must meet minimum staffing requirements for each shift — bars set by a formula that takes into account land mass, population, and calls for service, police officials said.
The department outlined several approaches Tuesday in how law enforcement can chip away at its overtime bills, though councilors indicated there's still work ahead for how to determine whether the sum of those parts will be enough to offset the budgeted reallocations.
"I do see a lot of strategies here on the table; I just think that the council and this committee specifically is going to continue to be really focused on the issue of how do those things come together to actually result in these savings," said Councilor Kenzie Bok, the committee's chairwoman.
Here's what to know about where things stand:
These are the options for cost savings presented by police
Under the budget approved last month, city leaders are seeking to cut back overtime spending by about 20 percent, and reallocate that money into trauma and counseling services, mental health services, programs for minority- and women-owned businesses, housing support, and $3 million for strategies being taken on by the Public Health Commission in addressing racism as a public health crisis, among other efforts.
Police administrators offered several avenues they're considering for how the department can lower expenses while meeting minimum staffing requirements, though police Superintendent James Hasson explained how costs far exceeded the budgeted amount this past fiscal year.
Authorities anticipated costs to drop during the COVID-19 pandemic, but the illness battered the police department, which still has 32 members out sick with the virus, he said.
Hasson also pointed to costs stemming from increased patrols in the area around Massachusetts Avenue and Melnea Cass Boulevard and the police presence at the series of public demonstrations against systemic racism in recent months as other driving factors.
"With the multiple demonstrations and the replacement costs of those officers who were affected by the COVID, it drove those numbers skyrocketing," he said.
Overtime was budgeted at $60 million in the 2020 fiscal year. The department actually spent about $72.5 million, according to Tuesday's presentation.
Still, police officials see areas for improvement in order to try to meet the goals and restraints set under the budget passed by the council after a contentious debate last month.
The department is considering evaluating unit staffing to see if personnel can be re-directed, along with implementing "tighter controls" on the "work in/work out" policy and other measures to reduce extended tour hours, officials said.
Additionally, the department is working on bringing on another doctor or nurse practitioner to evaluate non-acute injuries, as well as an orthopedic specialist to carry out in-house evaluations — changes administrators hope will help get officers out on injury recovered and back on patrol at a faster rate.
Hasson said the return-to-work is a "very difficult issue" that requires a multi-faceted approach.
Officials also want to more aggressively file involuntary retirements for officers out on injuries for years at a time.
Additionally, the department sees potential for cost savings in hiring civilians to work administrative positions currently performed by approximately 80 to 100 sworn officers, though that effort will require negotiations with police unions.
"These are long term," Hasson said. "This whole thing has been like a snowball coming down the mountain, collecting. So we have to unravel it slowly and figure out what's necessary and what we can reassign or redeploy. It's just going to take a little time."
Councilors have some ideas of their own
Bok noted that to meet the city's goal of limiting overtime spending to $48 million over the next year, officials have to consider far more than a $12 million cut.
With last fiscal year's actual spending clocking in at over $72 million, the council is effectively looking at having to save about $24.5 million, she said.
O'Brien confirmed that's correct.
"It's significantly higher than $12 million," she said.
Bok and other councilors said they wanted more specifics on how the department can shift uniformed personnel from administrative positions to be filled by civilians instead — namely which roles the commissioner has jurisdiction to move around and which are tied to union contracts.
Hasson said the department is currently negotiating with union representatives.
Bok also raised concern over the fact that the possible routes to savings did not include the dollar amounts officials expect to be returned, nor how they would play out in practice on the ground for supervisors.
"We haven't yet necessarily assigned what portion of that $25 million that needs to be saved is going to be achieved by these strategies and then, with something like that, where it has to be effective at the street level, what's the active management procedure that's going to change what people do to get these savings," she said.
Some councilors pondered whether police could free-up officers by eliminating specialized units that are not having an impact on reducing violence in the city, or whether shift schedules can be reworked to a format that saves money.
However, not all councilors were on board with the reallocation.
Councilor Ed Flynn thinks the cuts to the police budget were "too excessive," and emphasized the need for authorities to be well-staffed for the safety of people at public gatherings and demonstrations.
He also pointed to the anticipated 100-plus officers expected to retire in the coming year.
"We might add a class of 110 (officers), but I think at some time we need, over a year, we need to hire several hundred police officers, just to stay in the game and deal with some of these issues — and I'm talking 300 to 400 police officers that are critically needed to deal with this problem," Flynn said.
He added that raising taxes could be one way to cover the cost of funding new hires at such a scale.
"This is a crisis," Flynn said. "We need to have more police officers on the street, but we also need to make sure our police officers are safe as well for the community."
Councilor Andrea Campbell said she wanted to hear from the Walsh administration about its commitments and what work it will do to help reduce costs over time.
"Otherwise, time is going to run out and we'll be back here talking about how we did not realize these savings and how … in no way we produced a strategy to ensure overtime reductions are sustainable long term so that we're not continuing to see an overtime budget within the police budget go up," she said.
Get Boston.com's browser alerts:
Enable breaking news notifications straight to your internet browser.