Local News
Massachusetts residents are among those receiving mysterious seeds in the mail. Officials say don't plant them.
Here's what to do instead.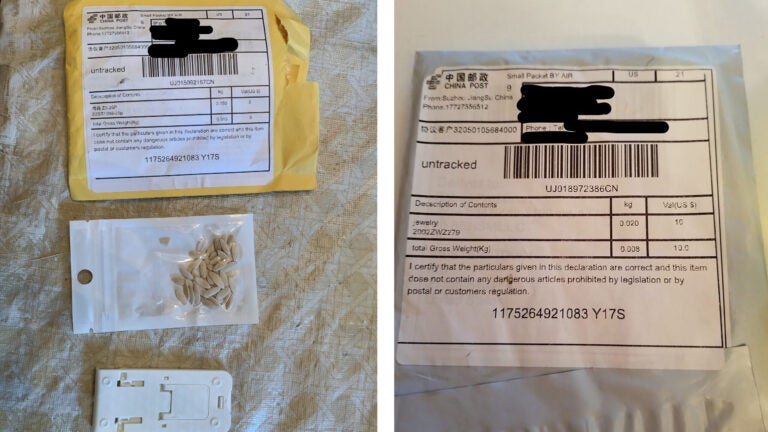 Officials across the United States are urging residents to come forward if they find any unsolicited packages of seeds in the mailbox.
And in Massachusetts, same advice holds true.
In a press release Tuesday, the state's Department of Agricultural Resources said that several Massachusetts residents have received seeds which they did not order and that appear to originate from a foreign country.
"While the exact types of seeds in the packages are unknown, the seeds are thought to be invasive plant species, and not believed to be harmful to humans or pets but could pose a significant risk to agriculture or the environment," the release said, adding that the "most effective approach to mitigating the risk of invasive plant infestation is to take steps to ensure they are not planted."
Officials are asking anyone who has gotten the mysterious seeds to hold on to them  —including their packaging — and fill out an online form "to provide important information to state plant regulatory officials."
"A representative from the U.S. Department of Agriculture or MDAR will be in contact with instructions regarding the collection or disposal of the seeds," officials state.
It's not yet entirely clear why people are getting the seeds, though the U.S. Department of Agriculture suggested Tuesday that it is likely a "brushing scam," where companies send people unsolicited items and then post false customer reviews in order to boost sales. Brushing isn't particularly new; as NPR's Planet Money reported in an episode back in 2018, the scheme can involve anything from cheap jewelry to toys.
In the recent case of the seeds, photos from other states suggest the packages are coming from China in white and yellow envelopes. However, a spokesman for China's Ministry of Foreign Affairs said during a press conference Tuesday that the country's postal service determined that the "address labels turned out to be fake ones with erroneous layouts and entries."
We have received reports of people receiving seeds from China that they did not order. If you receive them – don't plant them. Report to @USDA_APHIS at https://t.co/0U53rbAiHs pic.twitter.com/Y4yAKv5bk7

— WA St Dept of Agr (@WSDAgov) July 24, 2020
"USDA is currently collecting seed packages from recipients and will test their contents and determine if they contain anything that could be of concern to U.S. agriculture or the environment," the Department of Agriculture said Tuesday.
Wang Wenbin, the spokesman for China's foreign ministry, said Tuesday that the country's postal service has also had the United States Postal Service send them the packages for investigation.
According to the New York Times, at least 27 other states have issued similar warnings about the seed packets. Michael Wallace, a spokesman for the Virginia Department of Agriculture and Consumer Services, told the Times that they had received "over 900 emails and several hundred telephone calls" from people who said they had received unsolicited packages of seeds in the mail, both from inside and outside the state.
"It's a widespread issue," Wallace said.
Mike Strain, the Louisiana agriculture and forestry commissioner, told the Times that waterlily seeds were among those received by residents of his state.
Craig Gilvarg, a spokesman for the Massachusetts Executive Office of Energy and Environmental Affairs, declined to say Wednesday morning exactly how many Massachusetts residents had received unsolicited seeds, nor could he say what types of seeds had been reported
[Update: As of 4 p.m. Wednesday, state officials said they had received over 400 reports from residents in all regions of Massachusetts about getting unsolicited packages of seeds.]
Gilvarg referred back to the release Tuesday, which said the seeds are "thought to be invasive plant species." According to the release, invasive plant species can pose a threat to local ecosystems and displace native plants, including rare and endangered species.