Local
3 shark sightings reported in Maine since fatal great white attack
Two beaches were also closed in Massachusetts on Wednesday after great whites were spotted off shore.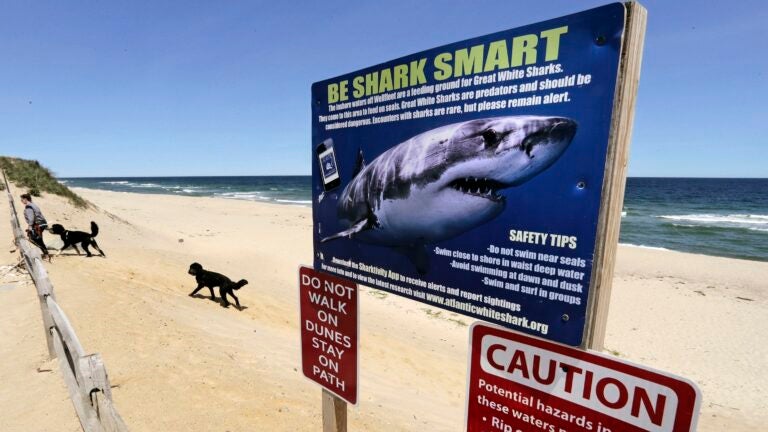 Three shark sightings were reported in Maine waters on Wednesday, just days after a New York woman was killed by a great white while swimming near Bailey Island. 
According to the Atlantic White Shark Conservancy's Sharktivity app, a great white and "half a seal" were spotted Wednesday afternoon near the coast of Cousins Island in Yarmouth.
In response,"out of an abundance of caution," town officials in Cumberland issued an advisory urging beachgoers not to enter the water above ankle depth at Broad Cove Reserve.
This afternoon a shark was spotted near Cousins Island in Yarmouth. Out of an abundance of caution, we are advising that residents do not enter the water at Broad Cove Reserve beyond ankle-deep. Thank you for your understanding and cooperation! pic.twitter.com/4cooxcs0TN

— Town of Cumberland (@CumberlandMaine) July 29, 2020
The state's Department of Marine Resources received two other reports of shark sightings on Wednesday, both near Popham Beach in Phippsburg, the Portland Press Herald reports.
Maine Marine Patrol said it is continuing to conduct targeted patrols in the state's southern waters following the Monday shark attack. 
Authorities say Julie Dimperio Holowach, 63, of New York City was swimming about 20 yards off the shore of Bailey Island in Harpswell with her daughter on Monday afternoon when she was fatally attacked by a great white shark. The 63-year-old and her family were seasonal residents of the coastal community. Her daughter was uninjured in the attack. 
It is the first recorded fatal shark attack in Maine and follows two years after a Revere man was killed by a shark while boogie boarding at a Wellfleet beach in Massachusetts. That was the first fatal shark attack in Massachusetts in more than 80 years, and occurred the same summer a New York man survived but suffered severe injuries in another attack by a great white at a Truro beach.
"This is a highly unusual event," Patrick Keliher, commissioner of the Maine Department of Marine Resources, said at a Tuesday press conference about the fatal attack in Harpswell.
Officials have been urging the public to contact the department to report any shark sightings. 
"This information will be used by Marine Patrol, working with Massachusetts Department of Marine Fisheries Senior Scientist Gregory Skomal, Ph.D, to identify the species of shark sighted," the patrol wrote in a statement Wednesday. 
The marine agency continued to urge swimmers and other recreating in or on the water to exercise caution. 
"Marine Patrol recommends avoiding schooling fish and seals, which are prey for great white sharks, the species responsible for Monday's attack," the department said. 
Maine isn't the only place where sharks have been sighted in recent days. 
According to Sharktivity, the sighting of a great white at Nauset Beach in Orleans, Massachusetts, shut down swimming for at least an hour on Wednesday. The sighting followed another closure at the beach on Tuesday morning after the predation of a seal by a white shark occurred about 20 yards off shore.
A shark was also spotted off of White Horse Beach in Plymouth on Wednesday, which prompted the closure of the beach to swimmers for three hours.
Get Boston.com's browser alerts:
Enable breaking news notifications straight to your internet browser.