Local
Survivors of Boston Marathon bombing respond to court vacating Dzhokhar Tsarnaev death sentence
"Justice will prevail in the end."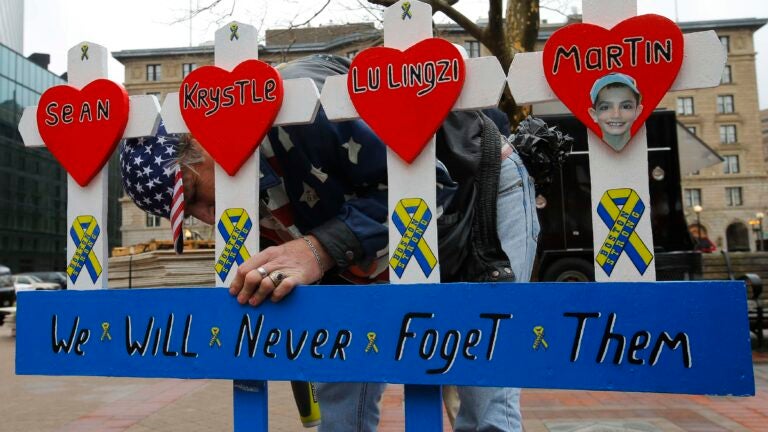 Survivors of the Boston Marathon bombing and their relatives expressed a range of emotions following the Friday ruling from a federal appeals court overturning the death sentence for Dzhokhar Tsarnaev.
The panel of three judges from the 1st U.S. Circuit Court of Appeals ordered a new penalty-phase trial to determine whether 27-year-old Tsarnaev, who was convicted five years ago on 30 charges related to the bombing, should be executed for the 2013 attack that killed three people and wounded more than 260 others. In the decision, the panel wrote that George A. O'Toole Jr., the judge in Tsarnaev's 2015 trial, did not adequately screen jurors for potential biases.
"All this does is give him the attention he wants, and prolongs the nightmare we have been living the last SEVEN years. Disgusting," Rebekah Gregory, who lost a leg in the attack, wrote on Twitter.
In a message addressed to the appeals court on Facebook, Gregory said the decision reopens "old wounds for everyone that was affected."
"Do you know what it's like to have continuous surgeries because we are STILL riddled in shrapnel that he admittedly packed those bombs with??" she wrote. "And you can try and justify it by saying he will remain in prison, and whatever else makes you sleep at night. But the reality is that the verdict itself doesn't even matter. What is so infuriating is that you not only reopened the most painful chapter of our lives, but you gave a small victory to a TERRORIST, while handing another loss to the LAW ABIDING American citizens you're supposed to protect."
"I'm so hurt and mad at this news today," Adrianne Haslet, a professional dancer who lost her leg in the 2013 attack, wrote in a statement on Friday. "But we are strong together and justice will prevail in the end."
Haslet wrote she is prepared to testify again. 
"First and foremost, I cannot emphasize enough, without a shadow of a doubt, that the criminal justice system needs a complete overhaul to stop racial profiling, and the death penalty is used in far too many cases of injustice. AND. The death penalty should be used in this particular case," she wrote in a longer statement on Instagram.
Retired MBTA Transit police sergeant Dic Donohue, who was wounded during the Watertown shootout with Dzhokhar and brother Tamerlan Tsarnaev following the bombing, wrote on Twitter he wasn't surprised by the court's decision.
"I've been expecting this since the trial and the initial appeal," he wrote. 
Ok, about the #Tsarnaev news:
I've been expecting this since the trial and the initial appeal. And in any case, he won't be getting out and hasn't been able to harm anyone since he was captured. https://t.co/kXbDmbEbgX

— Dic Donohue (@DicDonohue) July 31, 2020
Donohue's wife, Kim, wrote the decision doesn't change the couple's happiness or bring back their friend, MIT Police Officer Sean Collier, who was fatally shot by the Tsarnaev brothers three days after the bombings as they attempted to leave the Boston area. 
"I've been inspired by survivors, moved to tears by doctors, and forever indebted to those who saved Dic's life in Watertown," she wrote. "No sentencing will ever change that."
Today's death reversal doesn't change me or my husband's happiness. It doesn't bring back our friend Sean. I've been inspired by survivors, moved to tears by doctors, and forever indebted to those who saved Dic's life in Watertown. No sentencing will ever change that @DicDonohue pic.twitter.com/o35sLWMKGG

— Kim Donohue (@KimDonohue05) July 31, 2020
Patricia Campbell, whose daughter, Krystle, was one of three people killed by the bombs set off near the finish line, told the Boston Globe that Tsarnaev "should be dead by now for what he did."
"I just don't understand it," she said of the ruling. "It's just terrible that he's allowed to live his life. It's unfair. He didn't wake up one morning and decide to do what he did. He planned it out. He did a vicious, ugly thing."
Liz Norden, whose two sons  Paul and J.P. each lost legs in the bombing, told WHDH she was stunned by the news, calling the ruling "mind-boggling."
"I'm angry and I'm disgusted," she told the station. "I'm just so dumbfounded. If this case doesn't deserve the death penalty, then what the Hell does?"
According to the Globe, Bill Richard, whose 8-year-old son Martin died in the attack, declined to comment on the court's decision on Friday. 
The Richard family wrote an essay in the Globe in 2015, asking authorities to drop the death penalty against Tsarnaev.
"We are in favor of and would support the Department of Justice in taking the death penalty off the table in exchange for the defendant spending the rest of his life in prison without any possibility of release and waiving all of his rights to appeal," they wrote. "We understand all too well the heinousness and brutality of the crimes committed. We were there. We lived it. The defendant murdered our 8-year-old son, maimed our 7-year-old daughter, and stole part of our soul. We know that the government has its reasons for seeking the death penalty, but the continued pursuit of that punishment could bring years of appeals and prolong reliving the most painful day of our lives. We hope our two remaining children do not have to grow up with the lingering, painful reminder of what the defendant took from them, which years of appeals would undoubtedly bring."
Information from the Associated Press was used in this report.