Local
What to know about the decision overturning the death penalty for Dzhokhar Tsarnaev
A federal appeals court said the trial judge didn't do enough to guard against potential biases in jurors.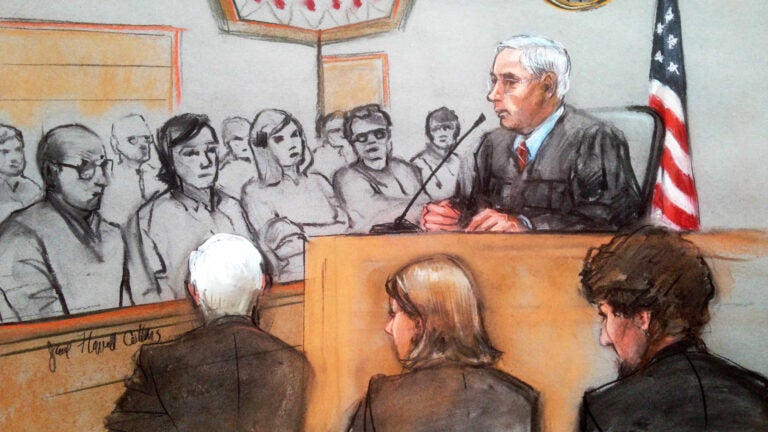 A federal appeals court overturned the death penalty for Boston Marathon bomber Dzhokhar Tsarnaev last week, prompting condemnation and shock from survivors of the 2013 attack and elected officials.
In their decision, the three-judge panel of the 1st U.S. Circuit Court of Appeals found that George A. O'Toole Jr., the judge in Tsarnaev's 2015 trial, did not adequately screen jurors for potential biases and ordered a new penalty-phase trial to determine whether the 27-year-old should be executed for the attack.
"Make no mistake: Dzhokhar will spend his remaining days locked up in prison, with the only matter remaining being whether he will die by execution," Judge O. Rogeriee Thompson wrote in the ruling.
Daniel Medwed, a professor of law and criminal justice at Northeastern University, told Boston.com he's not surprised by the decision.
He said the "key issue" in the case was always related to whether or not Tsarnaev — who was convicted on 30 charges, including conspiracy and use of a weapon of mass destruction, for the bombing — could get a fair trial in Boston.
"That issue was put to the test through some change of venue motions at the time, meaning the defense wanted to move the case outside of Boston," Medwed recounted. "Judge O'Toole, the trial judge, was reluctant to do that. And in denying those motions to change venue, he basically indicated that he'd have a very rigorous jury selection process to make sure that the jurors could be fair and impartial. The problem in a case like Tsarnaev's is there's so much negative pre-trial publicity, especially locally, that there was reason to have concerns about whether jurors might be predisposed against him based on what they've read, and that that could distract them from looking at the facts objectively."
At the start of the trial, Tsarnaev's lawyers said he and his older brother, Tamerlan, set off the two bombs but argued the older brother was the mastermind in the attack.
Three people were killed in the bombing near the finish line of the 2013 Boston Marathon and more than 260 others were injured. Three days after the bombing, the brothers fatally shot MIT Police Officer Sean Collier as they attempted to flee the Boston area. Tamerlan Tsarnaev was killed in a shootout with law enforcement in Watertown.
Ultimately, the federal appeals court found that the location of Tsarnaev's trial wasn't a problem, rather it was that O'Toole didn't rigorously vet jurors enough for potential biases in the high profile case.
The decision was based on a close reading of the trial transcript and the concerns raised by Tsarnaev's attorneys about social media posts by two jurors that suggested they had strong feelings about the trial or discussed it online before they were selected for the jury.
In one situation, a juror wrote on Twitter that she and her family were "locked down" as authorities searched for Tsarnaev during the manhunt following the bombing and later called him a "piece of garbage," but during jury selection she said she hadn't commented on the case or sheltered in place. In another case, a juror posted comments on Facebook during jury selection despite being told not to discuss the case.
"It wasn't necessarily that [O'Toole] didn't change the venue to a different city. It was more, 'Fine, he didn't change the venue, that wasn't an abuse of his discretion, he could do that,'" Medwed said of the decision. "But if he's going to keep a case like this in Boston, given all of its publicity, and the court even said the 'unrivaled' amount of publicity in American legal history, if he was going to do that, he'd have to dot all his i's and cross all his t's and basically make sure that every juror hadn't been exposed to a lot of negative pretrial publicity. And a close reading of the trial transcript indicated that he didn't quite do enough."
The panel of three judges wrote:
The judge qualified jurors who had already formed an opinion that Dzhokhar was guilty — and he did so in large part — because they answered 'yes' to the question whether they could decide this high-profile case based on the evidence. The defense warned the judge that asking only general questions like that would wrongly "make[]" the potential jurors "judge[s] of their own impartiality" — the exact error that the Patriarca line of cases seeks to prevent. But the judge dismissed the defense's objection, saying that "[t]o a large extent" jurors must perform that function. Yet by not having the jurors identify what it was they already thought they knew about the case, the judge made it too difficult for himself and the parties to determine both the nature of any taint (e.g., whether the juror knew something prejudicial not to be conceded at trial) and the possible remedies for the taint. This was an error of law and so an abuse of discretion.
Medwed said the decision, with the way it touches on the social media posts of jurors, suggests that in cases, especially of this magnitude, "you really have to look under every rock" in jury selection.
"You really have to ask about social media posts, not just traditionally, 'What newspaper do you read? What television shows do you watch?'" he said. "But also, 'What is your social media presence? What blogs do you look at? What posts have you made?' That's what this case I think stands for. And that's a relatively new development."
On the other hand, Medwed acknowledged the criticism that a judge may be held to an unrealistic standard if being asked to vet every single social media post.
"It's very hard for jurors to recreate and remember what they've done, and people delete posts and comment boards disappear," he said. "It's a very, very difficult thing to track. It's very much a 21st century issue."
The Northeastern professor said the decision expands on the precedent case, Patriarca, from the 1st Circuit, which involved a mafia boss and set forth rigorous standards for how to vet prospective jurors in a case where there's a lot of publicity.
"It really says that in high profile cases you do have to look at social media and you do have to go above and beyond, so I think it is creating precedent," Medwed said. "But I think it would only apply to the relatively rare case like Tsarnaev or Patriarca where there's so much media attention to the crimes that you're asking more of the judges, because the risk of having a prejudiced jury is higher. So I think it's a little bit of a sliding scale."
"For the run of the mill case, you're not going to expect judges to go into a full bore analysis of social media history I don't think," he added. "But for a high profile case you might."
While Medwed said he agrees with the decision because he thinks with death penalty cases in particular it is imperative to ensure jurors aren't biased, he is sympathetic to the worry it sets unrealistic standards.
"Are defense lawyers always going to be able to say on appeal the judge could have done more, there could have been more questions?" he said. "There's a little bit of an issue of where do we draw the line and how much process is enough. In a death penalty case, we need as much process as possible. In other cases, you need a lot of process — but there's going to be an issue of where to draw the line. So that's a question that I think hasn't been completely answered here."
The question remaining with the marathon bombing case is whether there will be a new trial to weigh the question of whether Tsarnaev should get the death penalty.
Prosecutors could also appeal the decision from the 1st Circuit.
In making the decision, Medwed pointed out that prosecutors can weigh the strain on victims and the administrative costs of another trial. Reopening the wounds of the bombing is a concern that has been raised in the days since the decision was issued, expressed both by survivors and local leaders.
"A lot of it depends on what the local U.S. Attorney wants to do, Andrew Lelling, and what he communicates to the attorney general, Bill Barr, about whether it's worth going through another trial," Medwed said.
Since the ruling was announced Friday, President Donald Trump has weighed in on the case on Twitter several times, slamming the decision and calling for prosecutors to again pursue the death penalty.
….and ruined. The Federal Government must again seek the Death Penalty in a do-over of that chapter of the original trial. Our Country cannot let the appellate decision stand. Also, it is ridiculous that this process is taking so long!

— Donald J. Trump (@realDonaldTrump) August 2, 2020
"If I had to guess, this administration might seek to retry him — that's just a guess," Medwed said of the future of the case. "Then the issue becomes if a new administration comes in in 2021, do they revisit that decision, do they change it? That becomes very complicated."
Information from the Associated Press was used in this report.
Get Boston.com's browser alerts:
Enable breaking news notifications straight to your internet browser.