Local
Marathon bombing survivor on CNN: 'We're having to relive this nightmare over again'
A federal appeals court overturned the death sentence against Dzhokhar Tsarnaev last week and ordered a new trial.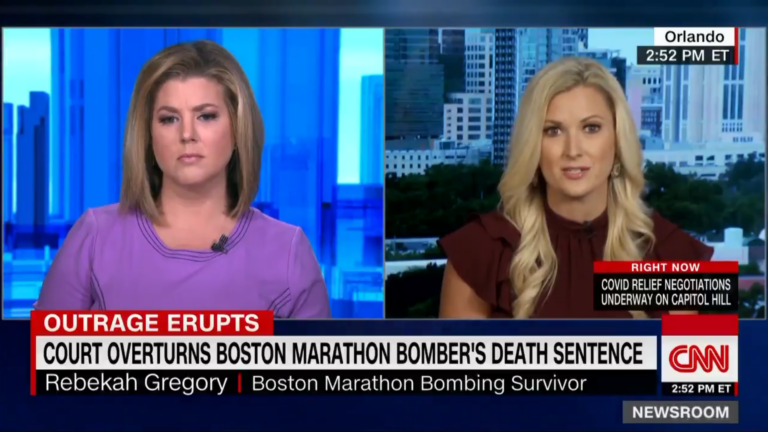 Several survivors of the 2013 Boston Marathon bombing have expressed shock and anger at a federal appeals court decision last week to toss the death sentence issued against Dzhokhar Tsarnaev, one of the two brothers behind the attack.
Among the most outspoken is Rebekah Gregory, who lost a leg in the bombing. She spoke with CNN's Brianna Keilar Monday afternoon after making impassioned statements on social media.
"We're having to relive this nightmare over again," Gregory said. She pointed out that many victims of the bombing, like Bill and Denise Richard, didn't even want to seek the death penalty against Tsarnaev. The Richards' 8-year-old son Martin was killed in the bombing.
"This is exactly what they were afraid of, that it was going to be this ongoing process that we were never going to be able to end," Gregory said.
The federal appeals court said that the judge in charge of the 2015 trial did not thoroughly check if jurors harbored biases against the defendant. The court ordered a new penalty-phase trial.
Gregory said she was not particularly concerned about Tsarnaev's actual punishment, but rather being forced to revisit a long and painful chapter from her life.
"It's rehashing all of these terrible memories that we've all had from the trial and opening all of these wounds that we've tried to heal from for the last seven years," Gregory said. "Here we are five years out from the trial in 2015, and it feels like it's starting again. It's just really exhausting for everyone that's trying to just move on."
"If you were laying on the same pavement [where] we were fighting for our lives… I mean, our body parts were laying next to us. My bones were on the sidewalk. I was in a pool of my own blood with nails and ball bearings and BBs and everything these brothers packed into these pressure cooker bombs. And so to say that we are having to do this over, I don't even know what that means. I don't know if we have to testify, I don't know what the process looks like."
Watch Gregory's full interview on CNN below:
"We're having to relive this nightmare over again."

Boston Marathon bombing survivor @rebekahmgregory tells @brikeilarcnn the court decision to conduct a new penalty trial is bringing back "a lot of psychological trauma" for victims. https://t.co/XIid6oqQL8 pic.twitter.com/gwgNMqoJHo

— CNN (@CNN) August 3, 2020
Get Boston.com's browser alerts:
Enable breaking news notifications straight to your internet browser.