Local
Check out these transportive aerial photos of Maine's beloved coast
Gray Malin's series of photos capturing the Maine coastline from above were released Tuesday.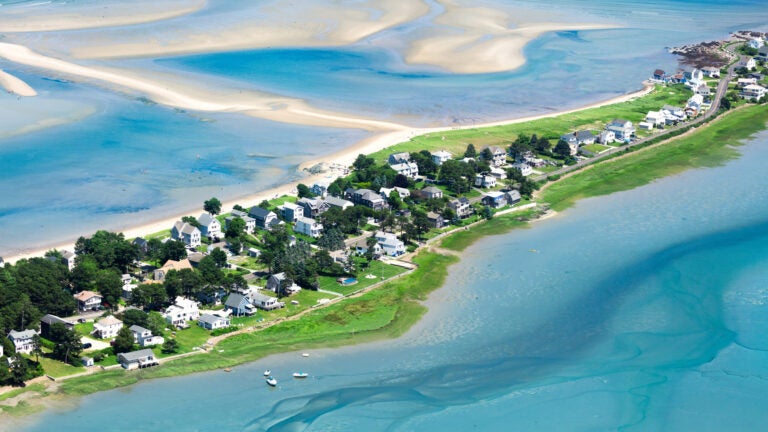 During a summer of quarantine, social distancing, and potentially limited travel opportunities, photographer Gray Malin has used his camera to transport viewers to one of the East Coast's most beloved vacation spots: The rocky coastlines of Maine.
Malin's latest series, released on Tuesday, captures the iconic Maine coastline and some of its most recognizable destinations.
"Knowing how popular Maine's coastline is amongst East Coast residents, I felt it would make for an incredible series of aerial images that would resonate with many people," Malin said in an email interview with Boston.com. "The rustic colors of the shore, the greenery that speckles the coastline and the New England culture which blends classical and modern coastal feel make Maine a very special and unique location."
Last summer, Malin took on Cape Cod with a series of aerial photos capturing the sparkling blue coastlines and beloved scenery that draws thousands every year.
Now, Malin's latest series captures Maine at its most vibrant time of year – the height of summer. 
"I've wanted to photograph Maine for years, so I was thrilled when the stars aligned and I had the opportunity to do so last summer," Malin said.
In one photo, the ferris wheel at Old Orchard Beach peeks out from the lower left corner as beachgoers lounge on the sand, many under the shade of a beach umbrella.
In another, waves crest around the rocky coast the Nubble Lighthouse sits atop. A boat passes by on the sapphire blue water.
Yet another captures the swirls of water and sand bars of the Biddeford Pool in Biddeford, Maine. Coastal homes sit along a swath of land that slices through the middle of the image, contrasting the salty, bright blue water with the green areas on land.
"These images illustrate a carefree nautical and New England vibe … so much so that you can almost feel the ocean breeze and smell the fresh seafood that Maine is famous for!" Malin said. "This area made for a collection of photographs that allowed me to explore the interesting shapes of each type of coastline that Maine has to offer, capture many individual quaint beach towns, and highlight features such as the charming lighthouses and picturesque boats that feel very unique to Maine."
Malin's method for shooting the coastline unobstructed from above is not for the faint of heart, or those who become queasy with heights.
An initial scouting phase includes identifying which local beaches would be best suited for photos that would "capture the whole feel of the destination." Malin then devises a helicopter route. Those aspects of the work seem simple enough.
Then comes the doorless helicopter ride with Malin aboard holding a camera.
"For all of my aerial imagery, I shoot the location from a doorless helicopter to get the best view from above," he said. "The objective differs in the style and colors I want to capture for each shoot, but for Maine I specifically wanted to focus on the fantastic colors of the water and the quaint beach towns."
For those unable to travel this summer, Malin said he hopes his photos can transport them to a different place.
"Throughout the pandemic, I've hoped that my work gives people a sense of escape and both reminds them of fond memories and inspires them for future trips in the years to come," he said. "Since none of us can travel right now, I think a great way to expand your world at the moment is to surround yourself with art that depicts beautiful destinations from around the world."
Get Boston.com's browser alerts:
Enable breaking news notifications straight to your internet browser.