Local News
3 Saugus police officers stabbed
The injured officers are thought to have nonlife-threatening injuries.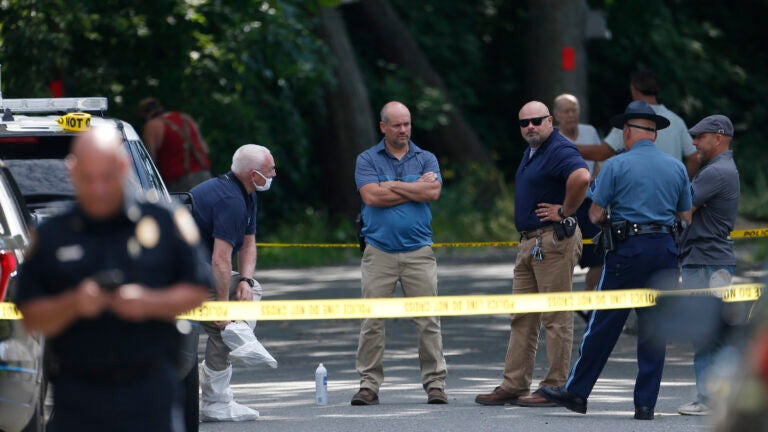 Update: The suspect, Steven Sossong, was arraigned in Lynn District Court on Thursday on three counts each of attempted murder and assault and battery with a dangerous weapon causing serious bodily injury, and one count each of assault and battery with a dangerous weapon, assault with a dangerous weapon, resisting arrest, and larceny of a motor vehicle, a spokesperson for the Essex County District Attorney's Office said.
Sossong was held without bail pending a dangerousness hearing set for Aug. 25. He was also sent to Bridgewater State Hospital for a mental health evaluation, according to the district attorney's office. Sossong behaved in a way that made officers responding to the scene think he required mental health services. He was then evaluated by a court clinician in Lynn who believed the same, according to authorities.
Officers did not suspect Sossong was armed when they entered the home, the spokesperson said. The knife Sossong allegedly used measured about six inches. All of the officers involved were still thought to have suffered nonlife-threatening injuries as of Thursday afternoon.
"He has told other neighbors that the CIA and the FBI are teleporting people to and from his house and teleporting his dog," Melissa Clark, one of Sossong's neighbors, told The Boston Globe. "So he definitely has some, I would say, pretty severe mental health issues. Not that that excuses anything, but he is 100 percent not, like, dealing with full mental faculties."
___
Previous story below:
Three Saugus police officers were stabbed, and another injured, after responding to a Tuttle Street home Thursday morning, initially to investigate a report of a stolen U-Haul rental vehicle that had not been returned, according to authorities.
During a brief press conference at the scene, Assistant Saugus Police Chief Ron Giorgetti said the weapon is believed to be a knife. The three stabbed officers were taken by ambulance to area hospitals; their injuries are believed to be nonlife-threatening, a department news release says. The other injured officer was evaluated on scene and transported to a local hospital as a precaution. His injuries are thought to not be serious. The stab wounds and lacerations were to extremities, according to Giorgetti.
As a result of the incident, Steven Sossong, 43, of Saugus, is being charged with four counts each of assault and battery with a dangerous weapon and assault and battery on a police officer, the release says. More charges could be issued as the investigation continues.
Police were sent to Tuttle Street around 7:20 a.m. for the stolen vehicle, and, when they arrived, Sossong allegedly refused to leave the home. After officers went into the home, there was an altercation between them and Sossong, according to the release.
Despite their injuries, the responding officers were able to disarm and place Sossong into custody. He was taken to a hospital for an evaluation, according to the release. His arraignment was expected later Thursday.
State police, along with Melrose and Wakefield officers, responded to assist, the release says.
"They're just beginning to comprehend what occurred," Giorgetti said of his department's officers.
He said it's "extremely difficult" dealing with an incident like this. Saugus is a "midsize department," he said, and the officers are "very close." Two of the officers involved have 20 years or more of police service, one has five or six years, and the other has two.
"Something like this happens, it kind of strikes home," Giorgetti said.
Watch the full press conference:
Get Boston.com's browser alerts:
Enable breaking news notifications straight to your internet browser.