Local News
The EPA is taking a 'first step' toward addressing Chelsea's air quality problems
"The very least our communities deserve is access to relevant and reliable data on the air we breathe."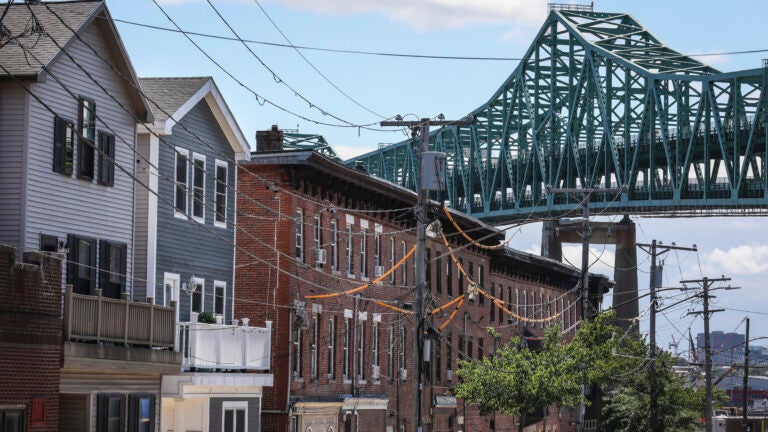 Living alongside the Tobin Bridge, industrial centers, and Logan Airport, Chelsea residents have long been burdened by the health consequences of increased rates of air pollution.
But now, the Environmental Protection Agency says it will work to more closely monitor the situation.
In response to a letter last month from Sen. Ed Markey and Rep. Ayanna Pressley, the federal agency said this week that it would loan up to nine mobile air quality sensors to state officials to place around Chelsea, which currently has no permanent monitoring equipment.
While there are nearby air monitors in Boston and Lynn, the EPA says the temporary equipment "could be very useful" in helping the Massachusetts Department of Environmental Protection more closely monitor emissions and air quality in the densely populated, majority-minority city.
"If air quality concerns are identified, EPA will work with Massachusetts to deploy a permanent air quality monitoring station in Chelsea," Dennis Deziel, the EPA's regional administrator for New England, wrote back Wednesday in a letter to Markey and Pressley, both of whom praised the response as a "first step" toward addressing the city's air quality problems.
"The residents of Chelsea can breathe a little easier today," Markey said in a statement Thursday.
"We're encouraged by this progress, and our work is far from over," Pressley added. "We must continue to fight for environmental justice for Chelsea and other vulnerable communities across the country."
Chelsea has long been identified as an "environmental justice community," due to its large non-white population and relatively low income. Due to discriminatory housing policies and transportation planning projects that — quite literally — overlooked the 1.8-square-mile city, Chelsea residents have for decades been exposed to increased air pollution, leading to higher rates of respiratory disease.
And as The Boston Globe has chronicled in recent months, that can have deadly consequences in the era of COVID-19.
Harvard researchers have found that increased long-term exposure to air pollution is associated with "a large increase in COVID-19 death rate." Massachusetts Attorney General Maura Healey also released a report in May outlining how the "painful legacy of environmental injustice and unequal access to healthcare are lethally compounding the effects" in local communities like Chelsea, Brockton, Everett, Lawrence, and Lynn.
Chelsea, which was a national coronavirus hotspot in the early weeks of the outbreak, has continued to report high rates of cases in recent days, especially for its relatively small size. Officials have attributed the rates to the large percentage of residents who are essential workers, the city's density, and its reliance on public transit.
In addition to the city's longstanding problems with air pollution, Markey and Pressley wrote to the EPA on July 15 after demolition work on the Tobin Bridge coated the city's streets and homes with dust.
"The short-term pollution exposure from demolition dust represents a potential new health issue, but residents have been living with the unjust and cumulative burden of multiple pollution sources for decades," the two Bay State Democrats wrote at the time.
Deziel said this week that federal and state environmental officials will work with the Department of Transportation to ensure air monitoring is conducted at the construction sites so that crews can perform "suppression activities if levels are elevated."
"When done properly, dust particles can be suppressed and not enter the air, minimizing potential exposure to residents of Chelsea," the former chemical industry lobbyist wrote.
Maria Belen Power, the associate executive director of the Chelsea-based environmental justice group GreenRoots, said Thursday that the city has too long been "a sacrifice zone for the region."
"Our residents have suffered the consequences of poor air quality for generations, impacts which have been exacerbated by COVID19," Power said. "The very least our communities deserve is access to relevant and reliable data on the air we breathe."
Get Boston.com's browser alerts:
Enable breaking news notifications straight to your internet browser.