Local
Two bodies were found in a submerged SUV in Boston Harbor. Here's what we know about the case.
"It doesn't make any sense for them to just drive into the water."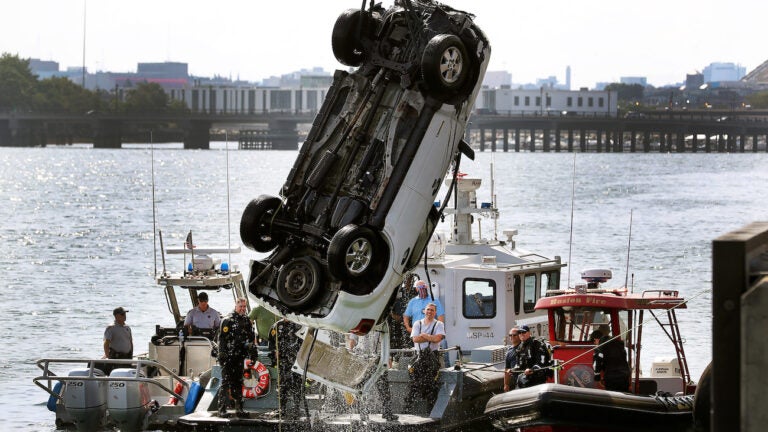 The bodies of a man and a woman were recovered from a white SUV, which was found Friday 40 feet below the water's surface in a Boston Harbor channel — the latest development in a still pending investigation, authorities said.
Massachusetts State Police identified the bodies Saturday afternoon as Tatianna L. Morales, 21, of New Bedford, and Djovany Pierre, 21, of Roxbury.
Morales was a mother of one who had been missing since Tuesday, her family told reporters Friday.
"Her son is going to be two next week," Reina Castro, Morales' cousin, told WCVB. "Sadly, she won't be here to see that."
Family members of 21-year-old Tatianna Morales tell me her body was recovered this afternoon in an SUV submerged in Boston Harbor along with the body of her friend. Family & friends had been searching for her for days. Deaths are under investigation by State Police. #7News pic.twitter.com/nu5DR5Ob3H

— Kaitlin McCulley (@KaitlinMcCulley) August 15, 2020
Found with Morales was a friend — identified by police as Pierre — she met three weeks ago, her family told the news station.
Here's what we know about the case so far:
Investigators were drawn to the channel off Black Falcon Avenue after learning an SUV went into the water there earlier this week.
State Police troopers arrived at Black Falcon Avenue alongside the Reserved Channel that leads to the harbor around 12:30 p.m. Friday, officials said in a statement.
According to police, investigators had learned that an SUV went into the water near that location earlier this week.
"A Boston Fire Department diver was the first to dive the area and located the vehicle in about 40 feet of water, approximately 15 feet out from the pier," State Police said. "The BFD diver marked the location, surfaced, and notified MSP divers who were arriving on scene. Three MSP divers then dove on the vehicle site and determined there were two deceased victims inside."
Police said divers were able to retrieve the Morales' body from the vehicle and bring it to shore, but they could not extract the Pierre's body while the SUV was submerged.
Tow cables were hooked to the vehicle, and a truck pulled it out of the channel, officials said. The man's body was recovered once the SUV was on land, police said.
Authorities are still investigating the cause and manner of the deaths, and said only that the recoveries were a "development in a still ongoing investigation."
Morales was last seen Tuesday night in Roxbury.
Yeison Giron, Morales' high school sweetheart and the father of her one-year-old son, told WJAR on Friday that Morales was last seen Tuesday night in Roxbury.
Morales' family said she went to meet her friend in Boston and didn't come home that night, NBC 10 Boston reports.
She was going to pick up her son but never did, Giron said.
"She texts me and calls me every night," Giron told WJAR. "And it's not like her to just leave our son and disappear for a night. She would never do that."
Lee Campbell, Morales' aunt, told WCVB her family immediately knew something was wrong.
"Tatianna would never leave her mother, number one, and definitely wouldn't leave her son," she said.
Morales' family says she posted a Snapchat video from the area where her body was found.
A Snapchat video Morales posted led her friends and family to search the area where the SUV was eventually found, NBC 10 Boston reports.
"Somebody that she knows pinged a location based off the video," Castro told WCVB.
Family members never thought she would be found in the water though, and now they only have questions about the final moments of her life, they told reporters.
"It doesn't make any sense for them to just drive into the water," Giron told WHDH. "She was not depressed, she was not suicidal, she was very, very happy, she used to tell me, 'Yeison, I'm so happy, I can't wait to go see you in Texas next month.' She was a dancer, she loved to dance."
According to Castro, Morales and Pierre were friends and recently met, WCVB reports.
"They just met about three weeks ago via Facebook," Castro said. "They had no relationship other than a friendship."
Friends of the man, who was not identified, are also perplexed about what happened.
"It's scary," Brendon Hilaire, a friend of Pierre told NBC 10 Boston. "He's such a good person, his soul is so good, he's never the type to do anything bad. He doesn't have the heart to."
Nikki Ramos, a friend of Morales, remembered her as "the light in the darkness," according to the station.
"She would walk into a room, and her smile would make everybody else smile," Ramos said. "Her laugh made everybody laugh."
According to WHDH, Giron said Morales brought their son everywhere she went.
"Our son could have been in that car, and thank God he was not," he said.
Get Boston.com's browser alerts:
Enable breaking news notifications straight to your internet browser.