Local News
The body of missing Brockton soldier Elder Fernandes has been found. But many questions remain unanswered.
"Our worst nightmare has happened."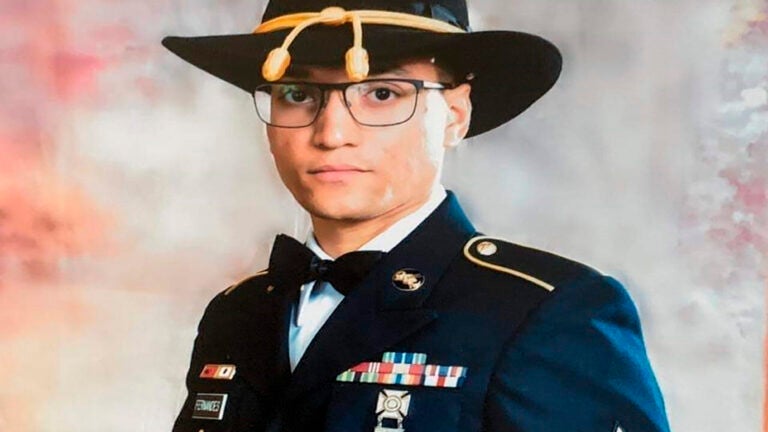 Sgt. Elder Fernandes, a Brockton soldier stationed at Fort Hood, was found dead, hanging from a tree in Temple, Texas, Tuesday, over a week after he disappeared, his family's lawyer says.
Attorney Natalie Khawam told The Boston Globe Fernandes' body was seen by a person walking near a railroad track around 5:40 p.m. Central time. Authorities found a black backpack with his driver's license nearby, she said.
"Our worst nightmare has happened. One of our own, Sergeant Elder Fernandes has been found dead today," Khawam said in a statement to the newspaper. "We are sickened by this tragedy that has happened one too many times. We are heartbroken for Elder Fernandes's family."
The discovery comes after the 23-year-old soldier was last seen on Aug. 17, and reported missing by his mother two days later. Fernandes was a chemical, biological, radiological, and nuclear specialist assigned to the Army's 1st Calvary Division Sustainment Brigade, according to Fort Hood.
Fernandes was also the 10th soldier to disappear from Fort Hood over the past year, the Globe reports.
Remains of two missing soldiers were found off-base on June 21 and July 1. Fort Hood, in a statement Saturday, said there is no connection between Fernandes' disappearance and other ongoing cases.
"We will not stop until we find out what happened to Elder," Khawam's statement said. "We must demand a Congressional Investigation of Ft. Hood. We must protect our soldiers!"
Here's what to know about the case:
Investigators say there is 'no indication of foul play' in Fernandes' death.
A caller told first responders in Temple a man was seen along the railroad tracks west of South 49th St., police said in a statement.
When officers arrived at the scene, they determined the subject of the call had been dead "for some period of time."
"Identification found at the scene indicates the victim may be missing Fort Hood Soldier 23-year-old Elder Fernandes," police said. "However, no forensic confirmation has been made at this time."
As investigators begin their review, there is "no indication of foul play" and an autopsy has been ordered, officials said.
"Our thoughts and prayers are with the Fernandes family during this challenging time," Temple Police Chief Shawn Reynolds said.
Fort Hood officials had not released a statement on the discovery as of Wednesday morning.
In May, Fernandes reported he was sexually assaulted by a superior officer the month before, his mother says.
Ailina Fernandes, the mother of the young soldier, and her family traveled to Texas recently out of concern for Elder Fernandes, the Globe reports.
Ailina Fernandes told the newspaper Tuesday her son was hospitalized on Aug. 11 but did not know the reason behind his stay. He only told her he needed to "clear his mind" and would call when he was discharged, but he never did.
She learned he was ultimately discharged on Aug. 17 and was given a ride by a staff sergeant to his off-base home. Army officials will not disclose to her why he was hospitalized because of patient privacy rights, she said.
According to a statement from Fort Hood officials, Elder Fernandes was last seen at a residence in Killeen, Texas that day.
"Information gathered from fellow soldiers indicate Sgt. Fernandes left on his own accord," officials said.
Khawam told the Globe Sunday Fernandes was sexually assaulted in April inside a supply room on the base, in which a superior grabbed Fernandes' buttocks.
"Knowing Elder, it would be a struggle for him to report it," his mother told the newspaper.
On Saturday, Lieutenant Colonel Chris Brautigam, a First Cavalry Division spokesman, told the Globe there is "an open investigation of abusive sexual contact involving Sgt. Fernandes."
Brautigam said Elder Fernandes, for his safety, was reassigned to a new unit within his brigade to "ensure there were no opportunities for reprisals."
According to Khawam, Fernandes was later harassed and followed by the sergeant who allegedly abused him. He was also bullied by superiors at his job and teased by fellow soldiers, she said.
"He was being set up to fail," Khawam said. "They were impugning his reputation and doing their darndest to ruin his career."
Fernandes was the second soldier to go missing since April amid abuse allegations, according to the Globe.
Fernandes' family wants answers.
Before Elder Fernandes' body was found Tuesday, his family told KCEN-TV, a local NBC affiliate, they have trouble believing the soldier went missing on purpose.
"When you assume he left on his own accord and when you write things like, 'He needs to come back to get the care that he was under,' that leaves the public to believe that we are looking for a mentally ill service member," his cousin, Mariana Shorter, told the news station. "That's the wrong assumption. With the credibility and character that he has, he would not put his mother through this."
Ailina Fernandes said she spoke to her son the day before he was discharged from the hospital and he promised to call her. Relatives said the two had a close relationship, according to KCEN-TV.
"The last time we talked on Sunday evening he told me, 'Mom, as soon as I get out of the hospital and get my cell phone I will call you. I'll make a video call so you can see me,'" Ailina Fernandes said. "These were his last words to me. I promise you I will call you Monday and it never happened. It's not OK!"
Although the family did not know the reasoning for the hospitalization, Elder Fernandes' relatives said they were later told by military officials the soldier had been suicidal but they didn't know when, according to KCEN-TV.
Fort Hood officials told the family Elder Fernandes was brought to his last known address in Killeen after he was discharged. But he had moved out of the home last month, the family told the news station.
"The roommates told us he was never there. They had never seen him on that Monday. He had already moved out from that apartment," Ailina Fernandes said. "Nobody had seen him open the door or get inside the house. We don't know after that."
According to the Globe, Ailina Fernandes found her son's car packed and ready to move into a new apartment, but he apparently never picked up his keys. She also did not know her son was moving.
The family is concerned Elder Fernandes was not taken to the home in Killeen, KCEN-TV reports.
"There is no proof of who picked him up," said Isabel Fernandes, the soldier's aunt. "There is no proof of where he went. There is no proof of where he was really dropped off. There is no proof of anything."
In response to question regarding the process for a soldier's discharge from the hospital, Brautigam told the news station: "Commanders generally have the authority to take necessary and appropriate action for the care and welfare of the soldiers under their charge. Specific to your question, yes, Army Command Policy provides that '[d]etention on closed wards may be required when needed to ensure proper medical supervision or to protect the soldier or others from harmful acts.' However, such orders or directions are given with the advice and guidance of medical officials and legal advisors."
Brautigam did not answer a question asking if the people who picked up Fernandes were assigned by his unit.
According to Fort Hood, Elder Fernandes was born in the Republic of Cabo Verde and joined the Army in September 2016.
His family, even before his body was found Tuesday, has called on lawmakers for a congressional investigation to determine what exactly happened to Elder Fernandes.
Sen. Ed Markey expressed his condolences and voiced support for a federal probe in a statement Wednesday.
"Elder Fernandes was a patriot who chose to serve his country, but when he needed support, his country failed him. No parent or family should lose a son in this way," Markey said. "The Army did not uphold its obligation to keep Sergeant Fernandes safe. There must be an independent investigation into Sergeant Fernandes's death so we can get a full accounting of what went so terribly wrong and hold accountable those who failed him. The Fernandes family deserves answers, and Sergeant Fernandes deserves justice. My prayers are with him and his family."
Sen. Elizabeth Warren, meanwhile, posted to Twitter Wednesday afternoon describing Fernandes' death as " a tragedy" and promising an investigation.
I'm heartsick for Sgt. Elder Fernandes' family and his hometown of Brockton. This is a tragedy. @SenMarkey, @RepStephenLynch and I will use every tool we have in the House and Senate to investigate Sgt. Fernandes' death and the other deaths at Fort Hood. https://t.co/9VOXuobzLy

— Elizabeth Warren (@SenWarren) August 26, 2020
Get Boston.com's browser alerts:
Enable breaking news notifications straight to your internet browser.