Local News
In Danvers, 'thin blue line' flags will no longer fly from fire trucks
"The symbol has ... become a form of political speech in today's social landscape that has the power to make marginalized members of our community feel unwelcome and unsafe."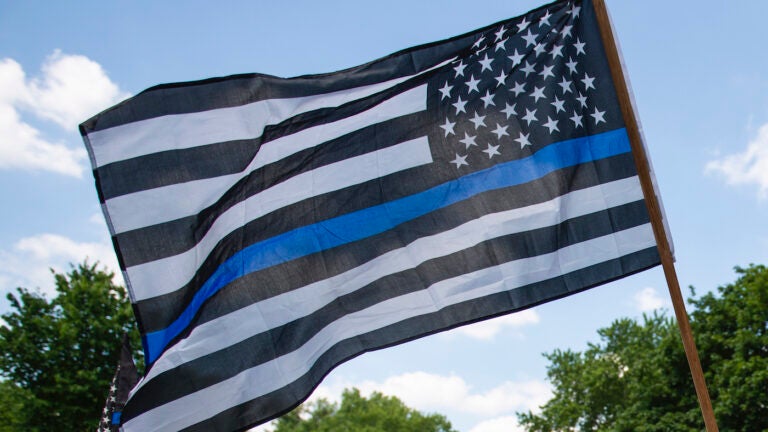 The 'thin blue line' American flags that have flown atop fire trucks in Danvers for the past two years no longer do so.
Town Administrator Steve Bartha, in a statement Tuesday, said he ordered the removal of the flags this week, citing how the symbol has increasingly taken on a different meaning to each person.
"The thin blue line flag means different things to different people, and it has long been an important symbol of support and solidarity for members of public safety departments and their families," he said. "Unfortunately, the symbol has also become a form of political speech in today's social landscape that has the power to make marginalized members of our community feel unwelcome and unsafe, so this week I ordered them to be removed from Danvers fire apparatus."
Bartha said the decision was made in consultation with the Board of Selectmen chairman and after he notified both the police and fire chiefs.
"As local government officials and public servants, our responsibility is to work in support of all residents of and visitors to Danvers regardless of their belief systems or lived experiences," he said. "When we as public servants, through speech, actions, or the symbols we display, have intentionally or unintentionally undermined the confidence of marginalized members of our community, we are obligated to act."
Danvers is the latest local community to opt for removing the flags as police brutality against Black Americans has sparked a national discourse on racial justice in recent months.
Controversy first ignited in Hingham in July, when, upon receiving a citizen complaint, officials decided to take down the flags that were installed to recognize the anniversary of the line-of-duty death of Weymouth police Sgt. Michael Chesna, who was killed in July 2018. Somerville followed suit earlier this month.
While the "thin blue line" has been used for almost a century to represent law enforcement officers in the United States, some Hingham residents said they supported removing the flags because the symbol has been co-opted by white supremacists over the past several years.
Firefighters across Massachusetts have since vowed to fly the flags from their fire trucks, as the Professional Fire Fighters of Massachusetts is leading a campaign for one of the Hingham flags to tour departments around the state.
In Danvers, the decision to take the flags down was met with opposition from the Danvers Firefighters Association Local 2038.
President Brian Barry, in a Facebook post Tuesday, wrote the flags were first installed after Chesna's death and were intended "as a sign of support to the Chesna family as well as all law enforcement personnel in Danvers, throughout the Commonwealth, and the entire law enforcement community."
He reached out to Bartha to explain what the flag means to the department.
"The public safety community depends on our network of support each and every day," Barry said. "This network, and the need for it, may be difficult to understand by an outsider, but I can assure you it means everything to us on the inside."
Barry wrote he was told the town received a complaint regarding the flags, which referred to them as "Blue Lives Matter" flags.
"The fact the complaint referred to the 'thin blue line' flags as 'Blue Lives Matter' flags is a clear sign they are trying to make this political," Barry said.
"We have been displaying this for over two years and this is the first complaint," he added. "This is not, and never will be, political to us. We are simply continuing to show our support for our brothers and sisters in blue and letting them know we will always be there for them."
Barry, who told Bartha union members would not remove the flags themselves, said Acting Fire Chief Robert Amerault took them down himself to avoid the consequences of having department members disobey an order.
"That gesture was well received and will not be forgotten," Barry said. "I would be remiss if I did not mention that Chief Amerault understands the true meaning of the 'thin blue line,' what it means to the members of his department, and what it means to everyone in public safety. He shares that passion with us."
The union is now offering the flags to community members who would like to fly one, Barry wrote.
An online petition calling on town officials to reverse their decision began Tuesday and had collected over 540 signatures by late Wednesday afternoon.
Bartha, in his statement, said Danvers has and continues to support its first responders.
"I understand that this decision may not be universally supported, and that some may view the decision as lack of support for our public safety departments. That could not be further from the truth," he said. "To the contrary, it is a decision intended to reaffirm our support and commitment to every single member of our community."
Vote in our poll:
Get Boston.com's browser alerts:
Enable breaking news notifications straight to your internet browser.