Local
Some voters in the Boston area got the wrong mail-in ballot. Here's what you need to know.
Election officials say they have addressed mistakes immediately, but that some voters "may not notice right away" if they got the incorrect ballot.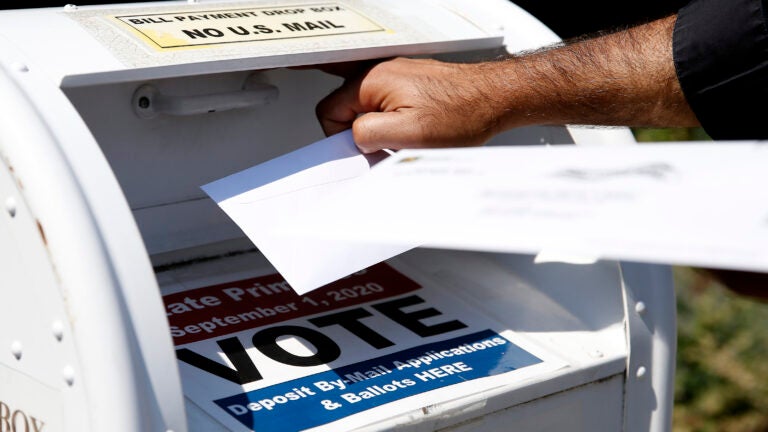 Massachusetts has sent out more than 1 million vote-by-mail ballots in the run-up to its first statewide election in the midst of the coronavirus.
However, the unprecedented undertaking has not been without mistakes.
Officials in Arlington and Brookline have sent hundreds of replacements after patterns emerged of voters getting ballots with the wrong party or precinct for next week's Massachusetts state primary. And other "isolated errors" have been reported outside of those communities.
Local officials stress that they have scrambled to correct any mistakes as soon as they are made aware, though they acknowledge that some errors, such as a ballot with the wrong precinct information, can go undetected if voters are not closely familiar with their local legislative race.
Voters can check an online version of their ballot to make sure their local ward and precinct match up with the information on the ballot they received.
Brookline officials first announced on Aug. 5 that approximately 30 voters in the town received mail-in ballots that were not the political party primary they requested. However, Jordan Mayblum, a spokesperson for the town, told Boston.com that, as of this week, the number had reached 300 out of the roughly 16,000 ballots distributed.
"All voters affected have been provided correct ballots," Mayblum noted.
In Arlington, officials announced on Aug. 14 "that some voters were sent incorrect ballots," urging residents to double-check their precinct number.
Arlington Town Clerk Juliana Brazile says they aren't sure exactly how many voters got the wrong ballot. But after detecting a pattern, they ultimately sent new ballots to about 120 voters who might have received the wrong ballot for their precinct, and an additional 200 ballots to voters who might have received the wrong party.
"Not all of those households reported a problem, so that was intended to cast a wide net," Brazile said, noting that voters who got the wrong precinct, as opposed to the wrong party, "may not notice right away."
Secretary of State Bill Galvin's office says they worked with local officials in Arlington and Brookline to respond to the issues, which mostly affected early ballot batches sent in response to the wave of vote-by-mail requests. Deb O'Malley, a spokeswoman for Galvin, said the two Boston suburbs "are at the top of the list in terms of percentage of voters voting by mail."
"Unfortunately, in their haste to fulfill the requests, some voters were sent incorrect ballots," O'Malley told Boston.com in an email. "We advised both towns that they needed to proactively reach out to their voters to make sure they had the correct ballots and send replacements ASAP when necessary."
O'Malley declined to name any other specific communities where mistaken ballots had been sent, but said mistakes outside of Arlington and Brookline were few and far between.
"With over a million ballots mailed out in the last few weeks, there have been occasional isolated errors," she acknowledged.
Boston Mayor Marty Walsh's office says the city's Election Department has not received any reports of incorrectly received ballots.
At least two Somerville voters received the wrong ballots, according to a city spokesperson. And in Cambridge, spokesman Lee Gianetti says the city is "only aware of seven issues" out of the more than 26,000 early and absentee mail-in ballots that were sent to residents.
"Once we were notified, the Election Commission staff immediately reached out to the voters to help them get new ballots," Gianetti said. "The incorrectly issued ballots were invalidated so that they could not be cast."
While election experts say that concerns about mail-in voting fraud are overblown, mistakes are nothing new — or unique to Massachusetts; in California, officials rejected more than 100,000 mail-in ballots during the state's March presidential primary and, more recently, a third-party voter registration group in Virginia sent more 500,000 mail-in ballot applications with the wrong return address.
With less than a week until the Sept. 1 primary election, Secretary of State Bill Galvin's office is encouraging "all voters" who haven't already returned their ballots to either hand-deliver them to their local election office or drop box, if not take advantage of the state's expanded in-person primary voting, amid widespread mail delivery delays.
"As Election Day approaches and there is less time for the mail to arrive, we certainly encourage all voters who have not already returned their ballots to hand-deliver those ballots or take advantage of early voting or vote at their polling places," O'Malley said.
Any Massachusetts voter who received a mail-in ballot — correct or not — can still choose to instead vote in person during early voting hours this week or on the Sept. 1 primary day, but only if they haven't already returned their ballot.
"We are hearing of very light in-person turnout because so many voters have already voted by mail, so large crowds are not expected," O'Malley said. "We have also ensured that all voting sites are set up for social distancing and safe in-person voting."
And if any voters in Massachusetts accidentally sent back a mail-in ballot for the wrong precinct, their vote wouldn't be be completely invalidated; according to O'Malley, all offices for which one was eligible to vote still would be counted.
"But obviously we would much rather make sure the error is corrected," she added.
Get Boston.com's browser alerts:
Enable breaking news notifications straight to your internet browser.