Local
'We had to tell the story': MTV to premiere series on teenagers battling addiction in Mass.
"I started to feel like this is my responsibility, knowing what I know, to do something about it."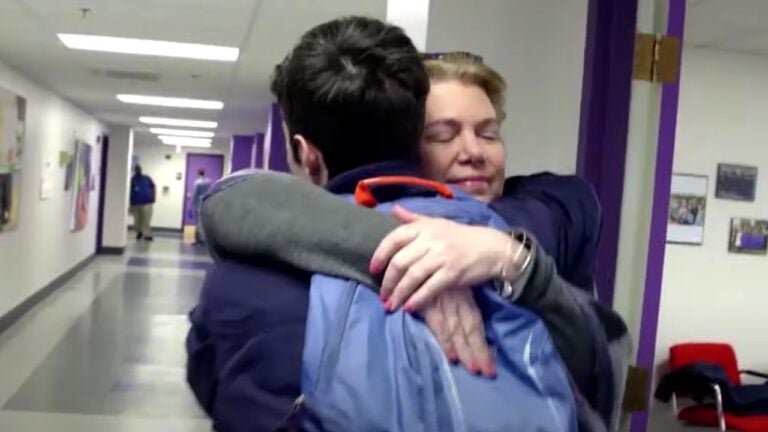 Thinking back over the year her students and staff at Northshore Recovery High School in Beverly were filmed for a documentary TV series, the school's director, Michelle Lipinski, reflected on the years she's spent working to help young people with their recovery — including how much has not changed or improved in the battle to help save them.
That's why she decided to let others see what the battle of addiction looks like. It's a story that – while it may be difficult to watch, and difficult for Lipinski, her students and staff to live through each day – is one that needs to be told, she said.
That particular year at the school, much of which was caught on camera, was particularly difficult, said Lipinski. Eight members of the school community died that year – a current student, a former student working as an intern, and others who had attended the school in the past. Those losses are catastrophic for a small student body – the school had 55 students last year.
But the benefits of allowing the rest of America in to see what it's like for teenagers and young adults battling addiction, and the work that can be done to help them via intervention, is worth it, Lipinski said.
"Definitely for me and for my staff, and for my students and their families, the benefit [is] being able to normalize it," she said in a recent interview with Boston.com, noting that families of her students supported having the school's story told.
In a new, four-part documentary dubbed "16 and Recovering," MTV will let viewers into the high school, allow them to become familiar with nine of the students, and see their triumphs and challenges throughout one year of school. It's an intimate look at the struggles of overcoming a substance abuse disorder while also trying to be a normal teenager or young adult – graduating high school, going to prom, and just being a young person.
The documentary series was directed and produced by Steve Liss with support from the Artemis Rising Foundation. Liss decided to film the school, then he and MTV worked to create the series.
Along with the series, the TV station is launching 16andrecovering.com, which will provide resources, and help to start conversations, about how to help, and better understand addiction. The series and new website come during September, which is annual National Recovery Month. The series premieres at 9 p.m. on Tuesday, Sept. 1, according to a press release from MTV.
'Nobody is talking about it'
It's something America needs to see, Lipinski said. One in 10 students struggles with addiction, she said. That means that in a typical school of 1,000 students, 100 of them will face this challenge.
"They probably won't make it through school, or if they make it through school, they probably won't make it through early adulthood without significant intervention," she said. "Nobody is talking about it."
The series includes the announcement of a student's fatal overdose, and the reactions from students at the school. The student who died was "one of the most well-loved students in the entire student body," Lipinski said. Of the graduates who died that year, not all of them succumbed to an overdose; some died from other causes.
It isn't as if Lipinski hasn't made an effort to get widespread conversations going in the past about addiction in teenagers. Since the school opened in 2006, she said she's given many speeches in front of different audiences. She also did a TED Talk at one of the media organization's conferences eight years ago.
"And I still can't believe my TED Talk is eight years old – nothing's changed," she said. "It's still relevant today. I can't wrap my head around that."
Over 67,000 people died of an overdose in 2018, with opioids — particularly synthetic opioids — being the most lethal, according to the U.S. Centers for Disease Control and Prevention. Lipinski said that considering what she's learned about addiction over the years, she felt like she needed to help in some way.
"I started to feel like this is my responsibility, knowing what I know, to do something about it, and to show these children are beautiful," said Lipinski.
"That's what I don't get," she said. "They're stigmatized because they were treated so badly by so many different systems, not just their academics, but like so many different systems. They're ostracized by their friends. The stress that they're under, really people need to know what happens when we don't treat them with respect and dignity, and compassion, and kindness and empathy, [when] we don't put everything we have towards them."
There's also stigmas that follow addiction. Lipinski noted that her students are children, and that every person struggling with addiction was a child at one time, and she and staff at the recovery high school get to intervene, and change the track of their lives.
"You can't watch these children and not fall in love with them," she said.
'I want people to walk away and think differently'
When people watch the show, she hopes they think of someone in their life who was struggling who they may have not helped, or to think about those who are incarcerated and how they should be in recovery instead.
"I want people to walk away and think differently and think, what can I do?" she said.
The point, however, is not to open more recovery high schools, according to Lipinski. She said she wants other places to think about how they can incorporate intervention into addiction and ways to help the students who need it without them leaving their school district.
By the end of the year of filming, Lipinski said she remembers sitting in the middle of the hallway and "it looked like a bomb went off."
"We were just clawing to the finish line," she said.
The school's intern, a past graduate, had died a week before graduation, Lipinski said. 
Usually the school, like any other, celebrates on the last day. The end of that school year, everyone left unceremoniously.
In the days since the trailer aired, Lipinski says she's received messages about being brave, but the decision to continue to operate the recovery high school, and to allow it to be filmed, isn't about bravery.
"For me, it just felt that somebody had to tell the story," she said. "I didn't share it because it was brave, I felt it was necessary. We had to tell the story."
Watch the trailer for the series here: 
https://www.youtube.com/watch?v=TT5xjtyBEcM&feature=youtu.be