Local News
'Flu You Baker' group intends to file class-action lawsuit over flu shot mandate
The state announced the mandate for kids attending school or child care back on Aug. 19.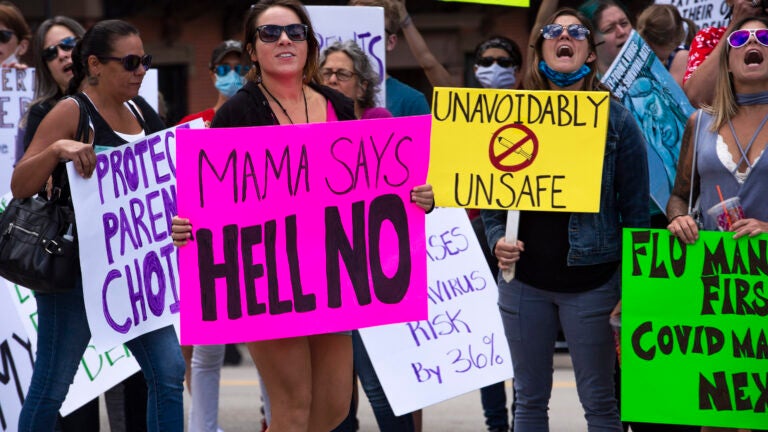 A group called "Flu You Baker" is reportedly filing a class-action lawsuit against the state's requirement that all children, ages six months and up, get a flu shot this year.
The group is currently gathering signatures, according to NBC10 Boston.
The state announced the flu vaccine mandate for children back on Aug. 19. It endeavors to help child care centers, pre-schools, schools, and colleges avoid flu outbreaks during the coronavirus pandemic. Children are required to get the vaccine before the end of the year; there are a few medical and religious exemptions.
"Every year, thousands of people of all ages are affected by influenza, leading to many hospitalizations and deaths," Dr. Larry Madoff, the medical director of the state Department of Public Health's Bureau of Infectious Disease and Laboratory Sciences, said in a statement to the Associated Press at the time of the announcement. "It is more important now than ever to get a flu vaccine because flu symptoms are very similar to those of COVID-19 and preventing the flu will save lives and preserve health care resources."
But not all parents are pleased with the idea, even ones whose children have received a flu vaccine before.
"I don't think the government should be forcing anything medically for my child to attend public school," Sheila Toomey of Woburn, who has an 8-year-old daughter, told NBC10 Boston, despite her daughter having received a flu vaccine before.
Another member of the group said it's about government overreach.
"I believe it should be between a parent, their child, and the doctor," Vincent Delaney told the news station.
A protest was held in front of the State House on Sunday in opposition of the measure. Protesters held signs emblazoned with messages like, "Parents call the shots," "Mama is pissed," and "Stop the Vaccine Experiment."