Animals
When Libby the horse got stuck in the mud in Hanson, dozens showed up to help hoist her out
Libby's ordeal began at around 2 p.m. on Tuesday.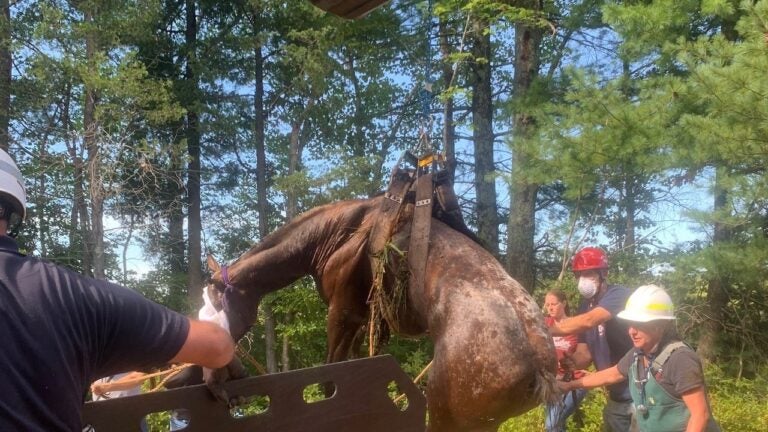 When Libby, a 13-year-old horse, became stuck in the mud in Hanson, it took a technical rescue team, a harness, and a backhoe to help hoist her out of the sticky situation.
Luckily for Libby, she escaped from the ordeal mostly unscathed, and probably just in need of a bath.
Authorities were called to the Burrage Pond Wildlife Management Area off of Elm Street around 1:54 p.m. on Tuesday for a report of a horse stuck in the mud, according to the Hanson Fire Department in a press release. The Plymouth County Technical Rescue Team's large animal specialists were soon called. A Hanson Water Department backhoe was also sent to the scene.
"The request for the PCTRT large animal specialists brings specially trained firefighters from departments within Plymouth County as well as veterinarians," the release said.
Photos from the scene show Libby laying on her side stuck in some deep-looking mud. A harness was wrapped around her, and one photo shows the backhoe lifting her out of the mud, her hooves dangling a few feet off the ground. Once placed upright on mud-free land, Libby can be seen in another photo standing up, members of the rescue team standing around her, a hand placed on her snout.
Photos from the Plymouth County Technical Rescue Team on Twitter show Libby being petted by firefighters, her four legs beneath her. Another shows her up and walking.
Amazing teamwork rescuing Libby a 13 year old horse who was buried in the mud in Hanson. The #PCTRT has a group of highly trained large animal rescue specialists. #Horse #Rescue #hanson @HansonFire @hfd2713 @ROCCC911 pic.twitter.com/HA7xYLdgF9

— Plymouth County TRT (@PCTRT) September 1, 2020
Duxbury Fire Capt. Rob Reardon told the Patriot Ledger that Libby's owner had been riding her and slipped off. The rider was trapped beneath Libby, but was eventually able to escape from the mud. The rescue took between 20 and 30 people.
Libby was out of the mud within an hour. She and her owner both had just minor injuries, according to Hanson officials. Those who responded to the scene were cleared to leave at 4:47 p.m.
Get Boston.com's browser alerts:
Enable breaking news notifications straight to your internet browser.