Local News
'This is what happens after the march': Monica Cannon-Grant is opening a social impact center in Hyde Park
The Violence In Boston space will house a range of services, including a food pantry, mental health resources, and offices for civic engagement and voter registration efforts.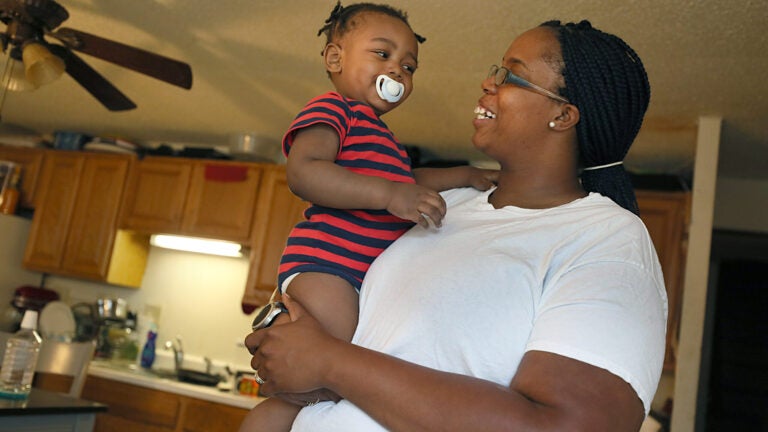 Monica Cannon-Grant has been focused on violence prevention work in Boston for more than a decade, but, come Monday, her efforts will officially have a new home with the opening of the Violence In Boston Social Impact Center in Hyde Park.
The activist and founder of Violence In Boston, Inc., whose protests against racism and white supremacy in Boston in recent years have drawn thousands, told Boston.com she is excited and anxious to get to work helping the community in the new space.
It's humbling, she said, to see the growth and recognition of the work she's done.
"I'm truly blessed," Cannon-Grant said. "I'm grateful that so many people believe in the work that Violence In Boston does and believe that we can make a difference. And I'm excited to continue to do this work. I think for me, it's always been — I've done it out of my kitchen. So to now have this amazing facility and be able to do it on a granular level, I'm looking forward to the impact that we're going to have in our community and documenting that."
The new space will feature eight offices, conference rooms, a podcasting and studio space, and an onsite food pantry with toiletry distribution, among other amenities, spread across two floors and 4,200 square feet. Cannon-Grant said the center will have a staff of at least six, salaried positions, with additional support from volunteers.
"We will have healing space, as well as resources for mental health," she said. "We will provide resources to those who are struggling with their rent and utilities, centered around the completion of a financial literacy course."
The center's "Transcend Program" will provide resources to teens and young men, aged 15 to 28, who are formerly incarcerated or "proven high risk," Cannon-Grant said. Participants in the program will be offered everything from legal assistance to help finding housing.
Due to the coronavirus pandemic, the grand opening ceremony on Monday is by invitation only, but a livestream of the speaking program will be available online.
As the center opens up, there will be some restrictions as to the use of the space due to the pandemic — individuals will have to sign up for appointments to access the food pantry or use the podcasting studio.
With the grand opening, Cannon-Grant said she is most looking forward to working with young people in the space. Already, she hired five local, Black artists to come into the center and create murals throughout the space.
The other effort she's looking forward to settling in the center is providing food access to the community. Since the start of the pandemic, Cannon-Grant has partnered with Food for the Soul restaurant owner Donnell Singleton to provide free meals to the community.
"I'm super excited about our pantry space to be able to provide direct service for the food inequities in our city," she said.
Cannon-Grant stressed that she is "only as strong" as the partnerships she has in the community. She said she hopes to continue to build upon her existing network and is talking with researchers at Harvard and MIT about how she and her team can gather metrics and data on the work they do, which can be shared with the community.
"We want to capture who we're working with, what our services look like, what are our success rates, what are our failure rates — be able to report back to our community," she said. "I think for me it's extremely important. But we'll also be [communicating] through our work with civic engagement, having town halls, informing people of the data around crime, violence prevention, and the things that are happening so that people are aware. I don't think we do that well on a ground level, so I'm excited to be able to provide that."
All of the services and resources housed within the center aim to address existing gaps in services, Cannon-Grant said.
"When you do violence prevention and social justice work — for me this is a continuation when people say, 'What happens after the march?' This is what happens after the march," she said. "You jump in and you create resources to continue to take care of communities of color and those communities who are the heaviest impacted by COVID, but also poverty."
There will also be a focus on civic engagement and voter registration, she said.
"There's protesting and there's mobilizing and then this is the real work around taking care of our communities, uplifting them and then also making sure that people understand the correlation between legislation and poverty," the activist said.
🔥 Join @ProRockThrower and @ViolenceNBoston for our Grand Opening on Sept. 7th, 2020 at 11:00 am. 10 Years in the making. #BlackLivesMatter #TillWeFree pic.twitter.com/d9EFWRPz2s

— Violence In Boston Inc. (@ViolenceNBoston) July 14, 2020
Get Boston.com's browser alerts:
Enable breaking news notifications straight to your internet browser.