Local
'Well then, can I vote naked?': Topless N.H. voter said she doesn't regret her decision
The woman said she kept her face mask on since it would be "unhealthy" to have taken that off, too.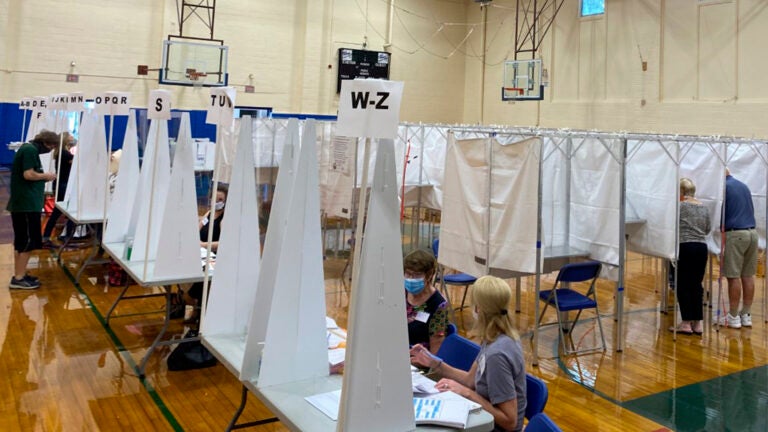 When a New Hampshire woman went to vote Tuesday, she was told by election officials that she couldn't enter the polling place while wearing her anti-Trump t-shirt.
Instead of going home to change, or turning it inside out, she decided to rip the t-shirt off instead. 
She wasn't wearing a bra.
Now known as the "Topless Voter," according to the New Hampshire Union Leader, the woman told the newspaper she doesn't regret her move.
The incident went down in the Seacoast School of Technology in Exeter  during the middle of the afternoon. There weren't many voters, just over a dozen, town Moderator Paul Scafidi told the newspaper.
The woman, who is thought to be in her 60s, was wearing a shirt that said "American" across the top. Beneath was a photo of the late U.S. Sen. John McCain, and the word "hero." Next to it was a photo of President Donald Trump with "zero" under his photo, according to the Union Leader.
The woman, who asked to remain anonymous, said another voter entered wearing a shirt with a flag. That shirt was allowed, but since the woman's shirt featured a political candidate, it could be thought of as electioneering, the Boston Globe reported.
The worker who initially told her she couldn't wear the shirt went to get Scafidi, who then approached her, according to the Union Leader.
"I said, 'Well then, can I vote naked?' He turned to me and said, 'If you want to.' So I took off my shirt," she told the Union Leader. Her mask stayed on, she said, because to remove it would be "unhealthy."
"It didn't take her more than three seconds," Scafidi said, according to the Globe. "I didn't know she had nothing on underneath it."
He didn't try to stop the woman from voting topless.
"They all went 'Whoa!'" he said of others in the room. "I was like whatever, just let her go vote."
The woman said she put her shirt back on while at the voting station, according to the Union Leader. Once she was out of the voting area, she reclothed herself.
She said the episode has caused people to talk about breasts.
"It's the old argument that men can go shirtless and women can't and that our behavior is considered insidious behavior, which sexualizes and criminalizes a woman's rights," she told the New Hampshire paper. "True to form, I'm going to say that men immediately went to sexualize the entire episode, but it's America. That's what we teach our boys."
The woman didn't have anything to say to Scafidi after turning in her ballot.
"She walked right by me as she walked out," he told the Globe. "She didn't say a word to me." 
Get Boston.com's browser alerts:
Enable breaking news notifications straight to your internet browser.